The Brilliance of Sphene
In the gemstone world we have a number of technical terms we use to describe the luster of a gemstone. These terms include metallic, adamantine, pearly, silky, vitreous, resinous and waxy. The term adamantine means 'like diamond' and is used to refer to gemstones that have especially high brilliance and intensive dispersion or fire.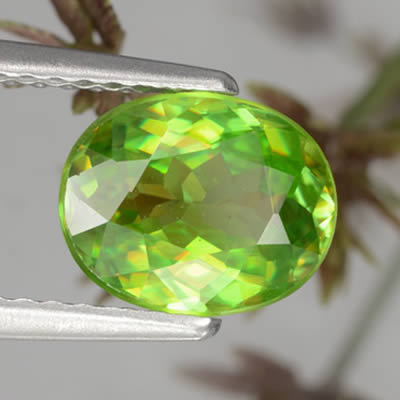 There are very few gemstones that have a luster that deserves to be called adamantine. Diamond is one, of course; the rare demantoid garnet is another (the name 'demantoid' means 'diamond-like'). But one of the members of this exclusive group is a gem that few people have heard of, and even fewer have seen; sphene.

Sphene is composed of calcium titanium silicate and is also known by its mineralogical name, titanite. The name sphene comes from the fact that its crystals are typically sphenoid (from the Greek sphenos meaning wedge). The name titanite comes, not surprisingly, from its titanium content.
Sphene occurs as translucent to transparent, reddish brown, gray, yellow, green, or red monoclinic crystals. Sphene has an unusually high refractive index (1.843 to 2.110), higher than zircon, ruby and sapphire (but lower than diamond which is 2.417-2.419). But it is sphene's dispersion, or fire, which is truly exceptional, exceeding even that of diamond.

When you hold a gemstone and turn it in the light, some gems will display flashes of color, which is the result of the dispersion of white light into the colors of the spectrum. Dispersion occurs when different wavelengths of light are separated by refraction. Diamond is famed for this quality, but sphene actually has a higher dispersion value than diamond. This is why high quality sphene typically looks multicolored in photographs.
In addition to its exceptional fire, sphene is also strongly pleochroic, meaning it displays more than one color when viewed from different angles. Sphene typically displays at least three colors (colorless, greenish-yellow, reddish) depending on the viewing angle. Sphene is usually found with some inclusions and the rare clean pieces are highly sought after.
Sphene has traditionally been rare and is mainly favored by collectors. Recently the supply has improved with new material from Sri Lanka and Madagascar, and sphene is now being used for jewelry. However, sphene is diamond-like only in some respects. It is a fairly soft stone - 5 to 5.5 on the Mohs scale - about the same hardness as apatite, chrome diopside, turquoise and lapis lazuli. So sphene is not suitable for everyday-wear rings, but it makes outstanding pendants and earrings.