Luxury Gemstone Watches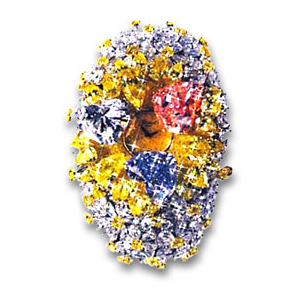 Chopard 201-Carat Watch
One of the most luxurious jewelry items that are produced are gemstone-encrusted timepieces. These range from affordable watches with a few small gemstones or mother-of-pearl inlay decorating the dial, to showcase timepieces that are completely covered in colored gems, with a "secret" dial that is hidden by a decorative feature. Some brands have their own signature style; for example, Graff Diamonds have a signature triangular gemstone on the faces of their classic watch collection.
When it comes to men's luxury watches, it is important to consider wrist size, function and budget. A man with a large wrist size should consider a chunky timepiece, where a man with a more slender wrist can wear a smaller watch. Some like to combine luxury with technology and others prefer classic workmanship. If the watch is to be worn daily, durability must be considered, and some leather straps may need to be replaced after being worn for some time. Men's watches tend not to have gemstone-encrusted bands, unless you happen to be Jay Z, who received a specially commissioned "Hublot Big Bang" watch from his wife Beyoncé that contained over 1000 white diamonds. It is worth around $5 million dollars and even the case is 18K white gold and decorated with diamonds.
Another bling men's timepiece is Piaget's Emperador Temple Watch. This is a white diamond secret watch with a difference; there are two dials, one behind the other. The first is a relatively simple mother-of-pearl dial with a brilliant-cut diamond border and the second, larger face has 162 brilliant-cut diamonds. It sold as a $3.3 million special edition. A more colorful gents' white gold gemstone watch is the Jacob & Co. Caviar Emerald Tourbillon Watch. This one-of-a-kind piece is set with 424 "invisible-set" matching emeralds (many of which are on the case), with a matching green leather strap. Its price is approximately $2.5 million.

Graff Hallucination
With regard to ladies' luxury watches, gemstone embellishments can really take over the whole watch. In fact, some of the most valuable ladies' luxury watches are bracelet-watches or secret watches, where the dial is one of the least prominent features. One such creation is the Bulgari Serpenti Secret watch, which takes the form of a coiled snake encrusted with turquoise gems and white diamonds set in rose gold. The dial of the watch is ingeniously hidden inside the mouth of the serpent. Van Cleef & Arpels created an incredible work of animal art known as the Carpe Koï Watch Bracelet. The watch dial is hidden inside the mouth of the fish, which is covered with thousands of colored gemstones, including diamonds, yellow sapphires, "Paraiba-like" tourmalines, black spinels and spessartite garnets. The watch was displayed at Geneva Salon International de la Haute Horlogerie (SIHH) in 2015, where it was admired for its life-like resemblance of the Japanese koi carp, which is a symbol of happiness in Japan.
One of the most valuable timepieces in the world is Chopard's 201-Carat Watch. The watch contains three heart-shaped, colored diamonds and hundreds of fancy intense yellow diamonds, along with white diamonds. The dial is not hidden, but it is certainly not the most noticeable aspect of the expensive gemstone watch, which has a price tag of $25 million. Possibly the most valuable watch in the world is the $55 million Graff Diamonds Hallucination. The value is due to the rare colored diamonds used in the colorful watch and the unusual and varied shapes, such as hearts, pears, marquises and emerald-cuts. These include fancy intense blue, yellow and pink diamonds. At the center of the rainbow of colored gems is a small dial, embellished with pink diamonds.
It is clear from exploring the bejeweled creations above that timepieces have developed into something much more than simply portable clocks or functional tech. The world of luxury watches is a colorful sphere of precise gemstone matching, cutting and setting, which requires great skill and expertise. The results can be admired and enjoyed by those fortunate enough to own such wonderful timepieces.