Hand Jewelry; Pretty Palm Bracelets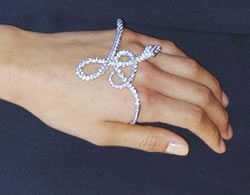 Snake Design White Gemstone Palm Bracelet
The line between types of jewelry and where they are worn is continually blurring as jewelers come up with innovative new designs. One such trend is hand jewelry, which was seen on the hands of Sarah Jessica Parker, Salma Hayek, Nicole Scherzinger and Jennifer Lawrence. These hand accessories then spread to other gemstone jewelry lovers. Traditionally, only rings were worn on the hands and bracelets on the wrists. However, contemporary designs are made to be worn over the palm of the hand. These are referred to variously as hand cuffs, hand bracelets, palm cuffs, handlets or palm bracelets.
Some fashionistas wear their hand bracelets along with rings and bracelets, so that the hand bracelet sits between the two. Hand bracelets may also match a ring or bracelet and be sold as part of a set. Hand bracelets may even incorporate a ring and bracelet, like the Indian or Middle Eastern-style chain jewelry. These are slightly different to the trending hand bracelets, since the chain only runs over the palm between the bracelet and ring, rather than hugging the palm. Some jewelry lovers are of the opinion that a hand bracelet is a statement piece that should not be worn with other bracelets, since it would appear as though one bracelet is misplaced. Unlike wrist bracelets, hand bracelets are an elongated shape, for comfortable wear, since they hug the palm and are not circular or loose like bangles. The underside, which goes across the palm of the hand, is usually plain, and the top is decorated with a metal design or colored gemstones.

Silver Palm Cuff with Channel-Set White Gems
Popular designs for hand bracelets include feathers, crosses, snakes and channel-set gemstones. When making or buying hand bracelets, it is important that the correct size of hand bracelet is fitted, so that it fits snugly on the hand. A hand bracelet should be not so tight that it limits manual movement and not so loose that it moves around. Palm bracelets can be adjustable, so that they are able to fit several hand sizes. Some hand bracelets have a cuff design and the gap is worn over the top of the palm. For such designs it is important that the two ends of the cuff do not dig into the hand, but fit comfortably, especially when the design incorporates pointed ends, such as the head and tail of a snake.
The idea of the hand bracelet may have come from the Middle-Eastern or Indian-style chain bracelet ring sometimes known as a "hand flower" or "slave bracelet". Alternatively, it could simply be a natural evolution of hand jewelry, such as rings, which have now been developed into various styles, including knuckle rings and midi rings. Either way, hand bracelets are another accessory option that can add a little extra glamour and interest to casual day wear, or spice up evening wear with some added sparkle. Just like other jewelry items, hand bracelets can be simple and casual for everyday use, or dazzling and elegant for more formal occasions.