The Incredible Life and Jewels of Imelda Marcos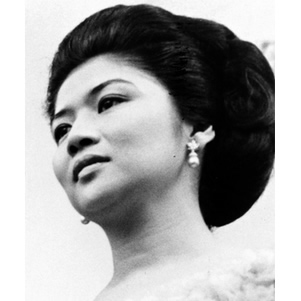 Young Imelda Marcos Wearing Pearl Earrings
Imelda Marcos is a former Filipino first lady who is known for amassing an extensive collection of shoes and other beautiful things. Of this, she was reported to have said, "People say I'm extravagant because I want to be surrounded by beauty. But tell me, who wants to be surrounded by garbage?". Her jewels have not been talked about as much as her shoes, but are equally astounding.
Imelda Marcos was not always incredibly wealthy; her childhood was not privileged and she lost her mother when she was just nine years old. Imelda grew up to be an extremely beautiful young woman who returned to the city of her birth; Manila, to seek a better life. She first worked in a music store and then at the Central Bank. She met politician, and future President of the Philippines, Ferdinand Marcos in 1954 and they married after just 11 days of courtship. During the twenty-one years that Imelda served as First Lady, because of her glamorous appearance, she was compared to former US First Lady, Jacqueline Kennedy. However, she was also criticized for her spending while so many of her compatriots were living in poverty. On this subject, she apparently said, "Filipinos want beauty. I have to look beautiful so that the poor Filipinos will have a star to look at from their slums."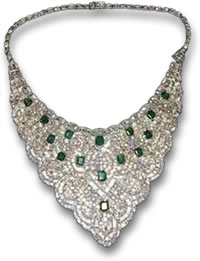 Imelda Marcos's Diamond and Emerald Necklace
It is said that the First Lady employed a maid who was devoted to caring for her jewelry. During the Marcos administration from 1965 until 1986, Ms. Marcos enjoyed lavish overseas shopping trips during which she would purchase valuable jewels and other luxuries, including US real estate and famous works of art. It is rumored that halfway back from a trip to Rome, Imelda ordered the pilot to turn around because she had forgot to buy cheese. Imelda would often buy several sets of items she liked, such as blouses by the dozen. Thus, it is not surprising that she acquired a great deal of gemstone jewelry, such as necklaces dripping with large diamonds, rubies, emeralds and sapphires; her collection befitted a queen.
Ferdinand Marcos was reelected in 1969 amid rumors of vote-buying and violence. Increasing unrest caused a decree of martial law, and then in 1983, the assassination of opposition leader, Benigno Aquino Jr. led to another election, which Marcos was said to have rigged. Life at the top of the political ladder soon ended for Ferdinand Marcos with an uprising in 1986, when he and Imelda fled the Philippines, leaving behind their palace, a collection of over one thousand pairs of designer shoes and a similar amount of designer purses, mink coats and other items.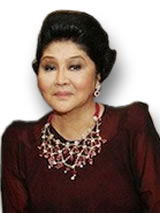 Imelda Marcos Looking Imeldific in Ruby Jewelry
A large amount of jewelry was seized by the authorities and stored at the Bangko Sentral (Central Bank) of the Philippines. The collection was valued around twenty years later and estimated to be worth between $5 and $7 million. The Philippine government has considered auctioning the jewelry or displaying it in a museum. It has now been dusted off and appraised once again, by Christie's and Sotheby's. The astounding collection contains extremely rare jewels, such as a 25-carat pink diamond thought to be from India. If the jewelry is auctioned, both its provenance and quality would no doubt attract attention from collectors all over the world.
Imelda and Ferdinand Marcos settled in Hawaii where a subdued start soon turned into old habits and a lavish lifestyle. The former president passed away in 1989. Imelda was cleared of embezzlement charges and allowed to return to the Philippines in 1991 and later campaigned for office. She is currently 86 years old and a member of Congress. Whether loved or hated, Imelda Marcos certainly seems like a character. She was known as the "Iron Butterfly" because of her beauty and steeliness. She is one of a kind, which is reflected in a song written about her and an adjective invented especially to describe Imelda-like ways - Imeldific.