Popular Engagement Ring Designs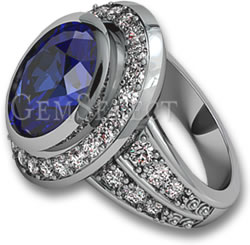 Blue Sapphire Halo Engagement Ring
Over the decades, engagement ring trends come and go, whether it is the type of precious metal used, gemstone shape, setting or other aspects of the ring. While an engagement ring should be timeless, since it will (hopefully) be worn for several decades, some ladies like to be in-trend during their engagement and then upgrade their engagement ring later in life, when they have a larger budget or when it is time for a fashion makeover. Let's take a look at some of the current engagement ring trends.
The Band
Open shanks or split shank rings are a popular and modern choice. The open shank is not a complete band, but as the name suggests, has an open space at the head. Split shank rings are split at the head, into two or three sections to enhance the central gem without the need for a wide band. Open and split shank rings are most often solitaires with pavé-set white diamonds. On the other hand, plain, polished bands are a sleek and simple choice which is easy to match with a wedding band. Stackable wedding bands are also popular, some of which have a semi-circular or irregular shape to fit around a round solitaire engagement ring. These often match with the wedding band, so that the engagement ring and wedding band fit on the finger flush with each other and appear seamless. Square-shaped rings are also very current. Stackable rings sometimes come as a trio; two bands that flank the engagement ring. Other popular engagement rings are twisted or knotted with milgrain or pavé detail.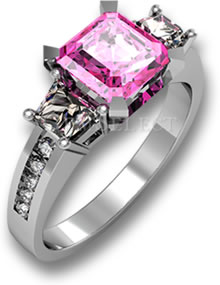 Pink Sapphire Three-Stone Engagement Ring
The Gemstone
While white diamonds are probably the most popular engagement ring choice, colored diamonds and other colored gemstones are always an alternative. Possibly the most famous colored gemstone engagement rings include Kate Middleton's blue sapphire and Jackie Kennedy's emerald, both of which sparked trends at the time. The best way to decide on a gem type for an engagement ring is to first choose a preferred color. There are several gems of each color. For example, when it comes to pink gems for jewelry, there are pink sapphire, morganite, kunzite, spinel, garnet, tourmaline and more. Another thing to consider is that an engagement ring should be durable, so a suitably hard and durable gemstone should be chosen. A classic style that has been given an update is the three-stone ring. Traditional three-stone rings feature rounds or ovals with pears, but more modern and fashionable three-stone rings use square or octagonal gems. Three-stone rings may be matching gems or two colors, depending on the preference. Three-stone rings are generally for larger budgets because of the amount of stones required. Another option that has been seen on the fingers of celebrities recently is a two-stone "moi et toi" ring. These are ideal for people who cannot choose between two favorite gem types. For two- and three-stone rings, a simple band and setting is a good idea, so that the stones speak for themselves without too many fussy embellishments.
The Shape
As well as the gem color, certain shapes are preferred at certain times, and although the round brilliant is the most often worn engagement ring gem, square and octagonal gemstones have become very popular. White diamonds are generally cut to maximize brilliance, but the emerald-cut, which was designed to maximize color, is a fashionable shape for white diamond engagement rings. Examples of these are worn by Camilla Parker-Bowles (Duchess of Cornwall) and Angelina Jolie. Some emerald-cut gems have extra facets to increase sparkle. Alternatives that tend to have more sparkle are the princess cut; a square modification of the brilliant cut, or the cushion cut, which can be square or rectangular, depending on the gemstone. The Asscher cut is a modified emerald cut, which was designed to increase brilliance and is also very popular for engagement rings. Heart-shaped engagement rings are also coming back now, thanks to the likes of Lady Gaga and Rochelle Wiseman. Pear and marquise-shaped gems are also emerging anew after being snubbed for several years. It might be worth doing some research before setting your heart on a particular gem type and shape since some gemstones are difficult to find in certain shapes. For example, it could be difficult to find a heart-shaped emerald or ruby.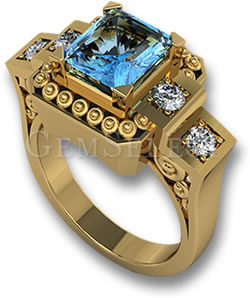 Aquamarine Yellow Gold Engagement Ring
The Metal
White gold and platinum have been the most popular metal for engagement rings for several years, but yellow gold is now making a comeback. Also popular are rose gold and mixed metals. Filigree and other embellishments such as milgrain are currently in-trend too. While some sneer at yellow gold, it compliments olive skin tones very well and goes very nicely with colored gems, especially stones with golden hues. For those with a paler skin tone, rose gold is a great option, especially for pinkish gems. The choice of metal is a personal matter and brides-to-be should not be afraid to break the white metal mold.
The Setting
Halos are big this year, with double and even triple halos being seen. These enhance the size of the gemstone and frame it in more sparkle. Art Deco-style colored gemstone geometric-shaped halos surrounding white diamonds have vintage appeal. Cluster settings are popular - they give the impression of a large solitaire, but use smaller gems placed closely together. This can also be achieved with an "illusion setting", where a stone appears larger than it is due to the surrounding metal. For example, a round gemstone may be set into a white metal square, to give the impression of a larger, square gemstone. Cluster settings are a good choice for those who want bling on a budget. Simple pronged settings are a timeless classic that allow the most light to enter and exit the gem. Four prongs allow the most light in, but six prongs are more secure. If the gemstone is small, however, more prongs will overwhelm it. Prongs should be checked regularly to make sure that they are secure because they can snag on clothing. Rings that have high settings will show off the gemstone, but may be a little cumbersome when it comes to daily wear, so if the bride-to-be is active, the height of the setting should be considered. Sometimes, the prongs of a setting are matched to the gem color. For example, a pink gemstone may have rose gold prongs and a white gemstone may have white metal prongs. This helps to enhance the gemstone color.
The many choices facing those shopping for engagement rings can be baffling at times, so it is a good idea to learn a little before committing to a certain style. Many modern couples shop for an engagement ring together to ensure that the bride-to-be is happy with the ring that she will be wearing for the rest of her life. After all, jewelry is very personal and every woman has her own taste. We hope that this article can provide a little insight into the popular designs, so that you can choose whether to pay attention to current trends, or swim against the tide.