Fabulous Fabergé; Extraordinary Eggs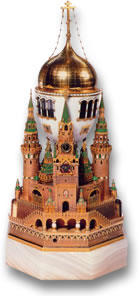 The Fabergé Kremlin Egg
The House of Fabergé is probably best known for creating delightful bejeweled Easter eggs for Russian royalty. These masterpieces were the ultimate in opulence and the brainchild of Peter Carl Fabergé; the official Russian Imperial goldsmith. He was described as an artist who used gemstones to paint colorful masterpieces. Peter Carl Fabergé was born in St. Petersburg in 1846. His father, Gustav, was a jeweler. Indeed, his father's company is where he learned his craft and became the leader of a successful workshop.
Fabergé was recognized by the nation in 1882 when the company received an award from the Russian Industry and Art Exhibition for ancient Greek-style gold jewelry. This is the same year that Tsar Alexander III made Fabergé the "Master Jeweler". The first Exquisite Easter egg was created for Russian royalty in 1885, according to the Tsar's instructions and suggestions. The result was a golden Hen Egg, complete with enamel shell, which opened to reveal a gold yolk with an incredibly detailed golden hen inside, and finally, a miniature crown and ruby egg pendant within the hen. These final contents were lost, but the Egg itself now belongs to Viktor Vekselberg and is housed in the Fabergé Museum in St. Petersburg, along with eight other eggs. The Hen Egg was a gift for Empress Marie Fedorovna and she was so delighted with it that a tradition was born.
Some of the eggs contained religious images or personal portraits, such as the 1898 Lilies of the Valley Egg and the 1907 Rose Trellis Egg. Others, like the 1900 Trans-Siberian Egg and the 1906 Moscow Kremlin Egg, are of historical interest. In total, fifty eggs were produced for the Tsars, forty-three of which are accounted for. After the first two, Fabergé was granted artistic freedom, with the stipulation that each egg should contain a surprise. These surprises came in the form of jewels, timepieces and even toys, including a wind-up elephant and a peacock that could walk and spread its tail feathers.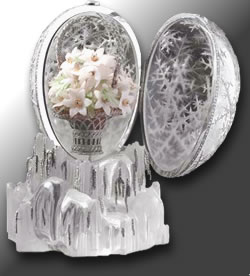 The Winter Egg
While most of the Fabergé Imperial Eggs remain in Russia, some of them made their way into collections all over the world. One collection is owned by the Forbes family. Queen Elizabeth II of England owns three including the Mosaic Egg. A 1902 egg made the news in 2007 when it sold for around $13 million to a Russian collector. It was made as an engagement gift to the Rothschild family, rather than for the Russian Court.
One of the most valuable Imperial Eggs and arguably the most impressive is the Winter Egg, which was made in 1913. This work of gemstone art is carved out of rock crystal (transparent white quartz), embellished with engravings and decorated with platinum and diamonds. It embodies winter with the appearance of frosted ice. It stands on a quartz base that looks like ice. Inside the egg is a platinum basket of flowers made from quartz, nephrite jade, demantoid garnet, diamond and gold. The Winter Egg was given to Tsar Nicholas's mother and cost around $9,390 to produce, but it sold to the Emir of Qatar for over $9 million in 2002.
An incredible Fabergé egg story is that of an early creation containing a timepiece that an American scrap gold dealer purchased for $8,000; the estimated value of its constituents of gold and gemstones, including diamond and blue sapphire. The gold dealer attempted to sell the egg to be melted down, but prospective buyers complained that the price was too high. Therefore, the valuable egg was left in the kitchen of its owner for several years until one day, when he happened to do an internet search that astonished him. A London jeweler identified the jewel as the Vacheron Constantin Egg made in 1887. It had been sold in the 1920s and was auctioned by Sotheby's in 1964 for around $1,266 to an American lady, whose estate was sold after her death. The London jeweler passed it on to a Fabergé collector for a sum in the region of $29 million dollars. This surpassed the previous record for the most costly piece. Unsurprisingly, the American gold dealer wishes to remain anonymous.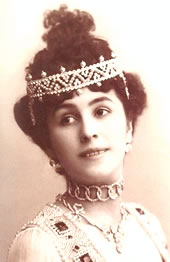 Mathilda Kschessinska Wearing Diamonds and Pearls
In addition to the eggs, Fabergé produced stunning ornaments and jewelry, including miniature egg pendants and pieces owned by Mathilde Kschessinska, prima ballerina assoluta at the Imperial Ballet. She had relationships with several of the Romanovs and an impressive collection of Fabergé diamond, pearl and sapphire jewelry, some of which she would wear during performances. She met the young Crown Prince Nicholas II, and he presented her with a great deal of Fabergé pieces, which she kept safe at the company premises. One of her necklaces was said to contain "walnut-sized" diamonds and another was a platinum chain featuring a diamond eagle holding a pink sapphire. Tsar Nicholas built Mathilde an Art Nouveau mansion, from which she fled for France in 1917. Her beautiful home was taken over by the Bolcheviks during the rise of communism and its balcony became the podium for some of Lenin's most famous revolutionary speeches. According to some sources, Mathilde desperately gambled away some of her fabulous Fabergé jewels in Monte Carlo before opening a ballet school in Paris.
The Russian Revolution of 1917 caused the abdication of Tsar Nicholas II and the end of the Romanov era. The Fabergé family fled Russia, and their workshops ceased production. Sadly, the family lost their claim to the business after the death of Peter Carl Fabergé in Switzerland in 1920. However, in 2007, the Fabergé brand reemerged, and then launched a new jewelry collection in 2009; the first in more than 90 years. In 2013, UK-based colored gemstone giant, Gemfields acquired Fabergé and appointed Mila Kunas as its brand ambassador. Fabergé is on the rise once again, like a phoenix, from the ashes of Imperial Russia.
First Published: June-29-2016
Last Updated: January-22-2019
© 2005-2021 GemSelect.com all rights reserved.
Reproduction (text or graphics) without the express written consent of GemSelect.com (SETT Company Ltd.) is strictly prohibited.