Bohemian Jewelry History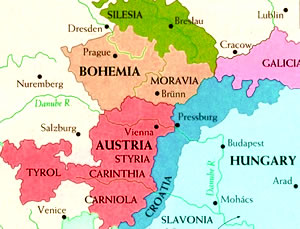 The Kingdom of Bohemia
Bohemia is not only an alternative art and literary scene, but was also a kingdom of Central Europe, which is also referred to as the Czech Kingdom because of its location in the Western Czech Republic. Bohemia, named after the home of the Celtic "Boii" people, was part of the Holy Roman Empire which encompassed Western and Central Europe for around one thousand years until 1806.
The land of Bohemia has a long history of gems and jewelry. Bronze swans were found here dating back to the early Iron Age. With regard to gemstone materials, 14th Holy Roman Emperor, Charles IV founded Karlstejn Castle to keep the Bohemian treasure safe, and was said to have ordered an exploration for jasper. Significant deposits of red pyrope garnet were discovered in Bohemia (Central Europe) around the turn of the 16th century. At this time, the ruler of the region was Rudolph II, Emperor of the Holy Roman Empire from 1576 to 1612 and King of Bohemia, who suffered from depression, studied astronomy and had a penchant for collecting objets d'art. Rudolph II was the most famous gem and mineral collector of his time, with an impressive amount of both, curated by Anselmus de Boodt, who was also appointed Court Doctor. Rudolph II had a keen interest in science and alchemy, and was a keen seeker of the Philosopher's Stone. His Danish astronomer, Tycho Brahe had a nose that was partly fashioned from gold and silver after an unfortunate duel left him slightly deficient in the nasal department.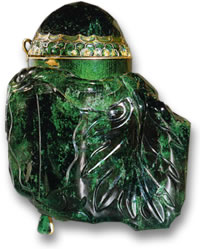 Colombian Emerald Vessel
Rudolph II inherited the title of Emperor along with his father's "Habsburg Jaw"; a jutting lower jaw and abnormally large lower lip. More treasured items owned by the Habsburg family included a Colombian emerald unguentarium (a bottle-like vessel, see image, left) of over 2,800 carats and a large red almandine garnet jewel known as "La Bella Hyacinth", mounted at the center of a double-headed eagle; a symbol of the Habsburg family. According to rumors, he was bisexual; a possible reason for his postponing marriage. His gold, enamel, diamond, ruby, spinel, sapphire and pearl crown became the Imperial Crown of Austria.
Rudolph II moved the court from Vienna to Prague and encouraged Viennese gem cutters, goldsmiths, including the celebrated Callegari, and other eminent artists and scholars from all over the world to take up residence nearby. Prague therefore became known as an important center for art and culture. The famous garnets of Bohemia were found in the hills to the northeast and northwest of Prague. The glistening red jewels were (and still are) cut in Prague and then the town of Turnov, to the northeast of Prague. Turnov is part of the Bohemian Paradise Geopark; a UNESCO listed nature reserve where people can discover unique geological phenomena such as dolomite caves, petrified forests, olivine balls and gem materials, such as chalcedony, opal, amethyst, jasper and garnet. Turnov has been known for stone cutting, engraving and jewelry making for hundreds of years, the most prolific period being the 1700s. A jewelry school was established there in 1884 and two years later, a museum was opened. "The Museum of the Bohemian Paradise" is a very interesting place for visitors eager to learn about gems, jewelry, mineralogy and more, particularly Bohemian garnet. Turnov's highest mountain, Kozákov is the site where deposits of garnet have been found. Indeed, the Vincenc Votrubec Quarry in the foothills of Mount Kozákov allows visitors the opportunity to search for gemstone materials, for the price of renting a small hammer.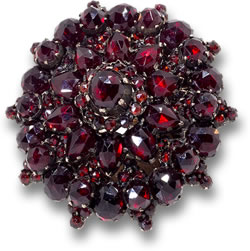 Victorian Bohemian Garnet Brooch
Bohemian garnet gems are said to have excellent clarity and purity. Traditional garnet jewelry from this region brings to mind the inside of a pomegranate fruit, ripe with glistening red seed pods. This is because the gems had a similar shape and were traditionally set closely together with very little metal showing. Bohemian garnet jewelry was extremely popular during the late nineteenth century, when it was worn by Victorians. It was around this time when a jewelry school was opened in Turnov. The jewelry produced there did not enjoy such great popularity in the 20th century, but in the 21st century, traditional Bohemian garnet jewelry enjoyed a revival.
The beautiful fiery, red garnets of Bohemia are showcased by the artistry of the jewelry workers who continue the legacy of the Kingdom of Bohemia. Genuine Bohemian garnet jewelry is admired by gem and jewelry enthusiasts all over the world including US First Lady Michelle Obama, who took home a Bohemian garnet brooch after visiting the Czech Republic in 2009. Since her birthday is in January, garnet is her birthstone. For those intending to purchase such pieces directly from the production source, certification is recommended to ensure gemstone authenticity.