Summer Jewelry Style, Hot and Cool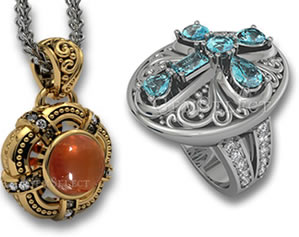 Spessartite Garnet Pendant & Aquamarine Ring
June is the first month of summer in the Northern Hemisphere, which means a change of style. Summer is the time to cast off bulky clothing and emerge from our warm winter clothes. Spring also offers a chance to prepare for the heat of summer, with some lighter clothing and brighter colors. Once summer is in full swing, the jackets come off, feet come out of shoes and flesh is shown off. Colors that trend are bold hues or pretty pastels. Thus, summer fashions seem to go two ways; either cool or hot. The bright sunlight really enhances colors and the hotter weather opens up possibilities for many different jewelry styles that are not always possible in the freezing winter.
Bright colors may be worn as clothing and complemented by toned-down jewelry colors or vice versa. Colors have an effect on mood, so using them to your advantage will get you into the lively summer spirit. White, cool blue and pale pink are always popular summer colors. There are several gem types to choose from that are white, from rock crystal (white quartz) and brilliant zircon to pearls. In pale blue, the most popular choices are aquamarine and topaz, but there are some other interesting gems in pale blue, such as Larimar. There are several romantic pastel pink gems, including tourmaline, rose quartz, kunzite, spinel, sapphire and more.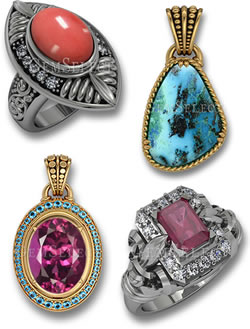 Coral, Azurite, Rhodolite and Ruby Jewelry for Summer
Nothing embodies the spirit of summer more than the colors of sand and sea, which are suggested by gold and blue. However, this is not the only choice of color schemes; there is a lot of room for experimentation. After all, it would be boring to wear the same colors all summer. Coral, orange and yellow are great summer colors, as are lime green and hot pink. Some of the most vivid gems in these hues include orange fire opal and spessartite garnet; green peridot and tsavorite garnet; bright blue sapphire, topaz and tanzanite; and yellow citrine, lemon quartz and golden beryl. Lastly, one of the hottest colors is ruby red, which provides the perfect complement to glamorous red lipstick. Colorful makeup can be used as an accessory to attractively accentuate a summer outfit. In this way, a bright lipstick, eyeshadow or eyeliner can bring together a summer color scheme. Floral motifs are popular during the summer months and bring a touch of romance.
In the summertime, the heat causes us to reveal more of our bodies, which means that we can wear items that we would not during cooler times of the year. Feet that are exposed in sandals look great when decorated with toe rings and anklets. Likewise, décolletage can be embellished with layered necklaces, collar necklaces or breastplate necklaces. Upper arms are complemented by armlets and bracelets enhance bare forearms. Even midriffs can be draped in chains. When it is hot, hair goes up, which allows us to show off statement earrings, tiaras and hair accessories. The trick is to choose items that suit our body shape, such as dainty pieces for those with thick limbs and chunky pieces for those with long, slim limbs. Jewelry should be well-chosen so that one or two pieces enhance the outfit, rather than overwhelming it. Therefore, one statement item such as a cuff bracelet or several smaller layered bracelets will look better than a whole suite of earrings, necklace and arm jewelry, which could look over-the-top or distracting. Large pieces can be worn alone, but smaller, dainty items can be stacked for a more dramatic effect.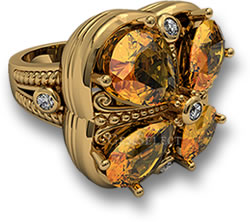 Citrine Floral Design Ring
For those who feel uncomfortable in brightly colored outfits, jewelry can be a great way to express yourself with bright colors without going all out. Moreover, a neutral colored outfit can look drab and fade into the background unless it is worn with a sizzling hot accessory, such as a fire opal necklace or a bright pair of peridot earrings. The color will bring a summer feel and add personality. Another way to use summer color if you're unsure about bright hues is to wear them on a ring. Some colors worn near the face are not suitable for certain skin tones, but when worn as rings they look stunning on anyone.
Summer jewelry style really depends on the outfit. Boho-chic looks great for a casual day at the beach, while a statement ring, earrings or a cuff are suitable for a night out on the town. Whatever summer jewelry style you decide upon, let it sizzle in the sunshine or keep you looking cool in the heat.