Blooming Carved Flower Gemstone Jewelry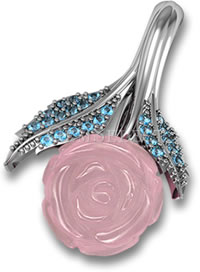 Carved Rose Quartz Flower Pendant
Gemstone jewelry carvings have been made for thousands of years; since before faceting techniques were developed. Gemstones such as jade and carnelian were carved by the ancient Mesoamericans, Sumerians, Egyptians, Greeks and Romans. In ancient Egypt, scarab beetles and other animal forms were fashioned from gemstone material like turquoise, and used as amulets. One well-known ancient Egyptian ring is made from gold and features a carnelian carving of a cat. It is displayed in the British Museum.
In China, jade has always been carved and some ancient Chinese jewelry items fashioned from jade, such as bangles, are carved with flowers. A famous Indian carving known as the Taj Mahal Emerald was decorated on one side with chrysanthemums, poppies and lotuses around the time of Shah Jahan's rule of Mughal India. This hexagonal gemstone became the centerpiece of a much-admired Cartier neck ornament known as the Cartier Collier Bérénice, and was exhibited at the Paris Exposition Internationale des Arts Décoratifs at Industriels Modernes in 1925. Many years later, the carved emerald was set into a brooch. Gemstone carvings were incorporated into jewelry during the Art Nouveau movement, as natural objects such as human or plant features, and Art Deco jewelry used more abstract geometric-shaped carvings.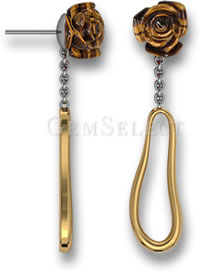 Carved Tiger's Eye Dangle Earrings
Contemporary floral motif jewelry has been blooming on catwalks all over the world in the past few years. These romantic pieces range in style from small, delicate flower carvings used as stud earrings and beaded necklaces accented by a single flower to large, bold statement necklaces surrounded by multicolored gemstones and chunky carved flower bracelets. Floral jewelry need not be old-fashioned and reserved for brooches; but can be updated with modern features, such as mixed metals and unusual settings. For example, carved gemstone flowers are ideal for stud earrings, as part of dangle earrings or as elements of charm bracelets.

Carved Citrine Flower Cocktail Ring
In addition to jewelry, carved flower gems make pretty hair decorations. Gems can be added to pins, clips or hairbands for unique fashion accessories. These can be simple clips or elaborate statement headdresses like those seen at the 2015 Met Gala. Such large head decorations are ideal for special events or bridal wear. Additionally, floral motif jewelry makes great gifts for occasions such as Mother's Day and birthdays.
Small gemstone carvings that are suitable for jewelry making are often affordable, attractive and durable. Furthermore, flower carvings are available in many different colors and sizes, as single items, pairs or sets. Gemstone carvings do not need to be sedate items, but can be used to make youthful, fun and unique cocktail rings, earrings, pendants, brooches and so on. When incorporating carved flowers into jewelry designs, they may be used as a flamboyant centerpiece or more subtle accent stones. If you are a fan of flower power, then why not try using carved flowers in your jewelry designs. The colorful carved blooms will burst forth and brighten up even the gloomiest of days.