Six Sizzling Hot Pink Gems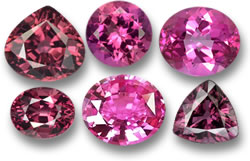 Zircon, Tourmaline, Mystic Topaz, Rhodolite Garnet, Sapphire and Spinel
Soft, delicate pink is not for everyone. Some like it hot and there are some beautiful stones in sizzling hot pink. What exactly is hot pink can be a matter of opinion. For us, hot pink is a vibrant, cerise pink. Sometimes it is difficult to know which gems to look for in particular colors, so we have compiled a guide to gems in deep pink hues for you.
Pink gems look great any precious metal, including silver, platinum, yellow gold and rose gold. Pinks with a purple tone are complemented by white precious metal or contrast with yellow gold. Warmer toned pink gems are perfectly suited to rose gold. The best pink gem for you will depend on the preferred tone and jewelry design.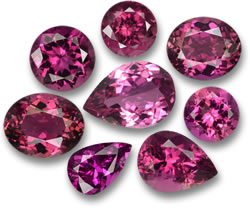 Pink Tourmaline Gems
1. Pink Tourmaline Gemstones
Tourmaline is a gem type that occurs in many different colors; pretty much every color of the rainbow. Pink tourmaline can be found in many shades from pale to deep. Deep, red-pink tourmaline is completely untreated and can be found in some beautiful vibrant pinks, some on the purple side and others more reddish, or even unique bicolors. What's more, pink tourmaline gems are affordable and come in various shapes and sizes, from small, round accent stones to large pear shapes. Tourmaline is hard and durable enough to be worn on a daily basis in rings and stones can be found to suit any type of jewelry. With regard to vivid color, price, wearability and affordability, pink tourmaline is hard to beat.
2. Pink Sapphire Gemstones
Pink Sapphire Gems
Since both sapphire and ruby are corundum, and ruby is defined by its color, there is a fine line between deep-pink sapphire and ruby. In some regions, what is considered to be ruby can be quite pink and in others it is only red. Pink sapphire is a popular choice for engagement rings, and the color can vary from very pale to deep, vibrant pink. Sapphire is superior to many gems with regard to hardness and durability, and has stunning colors. However, pink sapphire can be extremely costly in gems weighing over 1 carat. Therefore, pink sapphire may be best for jewelry designs which require small gems. Sapphire can also be difficult to find in unusual cuts and shapes. For these reasons, sapphire is second on our list.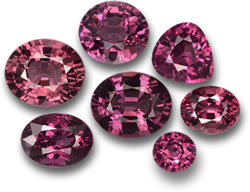 Pink Rhodolite Garnet
3. Pink Rhodolite Garnet Gemstones
Rhodolite garnet is probably the best value untreated hot pink gem, with gems up to 10 carats being under $500. Small gems are also very affordable. Rhodolite is best known and valued for being raspberry red, but this garnet can also be pink, purplish-pink and bright pink. In fact, the name "rhodolite" comes from a Greek word meaning "rose colored" because of its pink hue. Rhodolite garnet is a mix of pyrope garnet and almandine garnet, so it is closely related to these red gems and can appear like either. Like pink tourmaline, rhodolite garnet is ideal for any jewelry design, since both small and large gems can be easily found in many different shapes.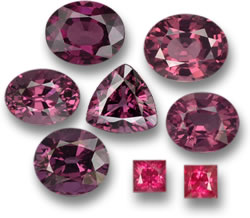 Pink Spinel
4. Pink Spinel Gemstones
Spinel can be extremely vivid red and pink, like ruby and sapphire. However, such gems are difficult to find except in small sizes. Many spinel gems are a paler pink. Vivid red and pink spinel gems are more valuable than paler pinks, and such spinel from Burma and Mahenge in Tanzania are particularly valued for their bright color. Although spinel is an exceptional gemstone with regard to versatility, value, sparkle and color, for hot pinks, it is not as easily found as rhodolite garnet. On the plus side, spinel is usually untreated, has great brilliance and is suitable for any jewelry design.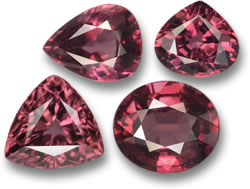 Pink Zircon Gems
5. Pink Zircon Gemstones
Zircon gems come in many colors, including pink. However, pink zircon tends to be more red or rose than hot pink, so is a little more subtle than some of the other pink gems, and this is why it is further down on our list. Zircon is mostly untreated and affordable. It is important to care for zircon because while it is hard enough for jewelry, it can be sensitive to knocks and pressure. When it comes to brilliance, zircon is one of the most impressive gems, which is why white zircon is one of the best diamond substitutes. Therefore, those who buy zircon gems are never disappointed with the sparkle.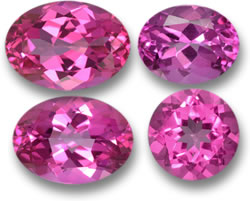 Pink Mystic Topaz Gems
6. Pink Mystic Topaz Gemstones
Mystic topaz has an impressive color. However, it is actually colorless topaz which has been coated with an extremely thin film to produce a color alteration. The colors of mystic topaz can be rainbow colored, greenish, bluish, or a bright pink. Pink mystic topaz gems are extremely popular because of their color and affordability. Since the coating is only on the surface of the gemstone, it is not permanent, so if the gem is recut or scratched, the coating can be compromised. This is why mystic topaz is sixth on our list of hot pink gems. Having said this, the coating is stable and will last well if cared for. Untreated pink topaz does occur, but it is extremely rare.
The beauty of natural gemstones is that each one is unique. Therefore, if you are looking for a deep-pink gem with a hint of purple, or a pure pink, then you will find it. When shopping for loose gemstones, it is possible to find the exact color, shape and size that you desire and then design the perfect piece of jewelry to fit it. With finished jewelry, the choice is more limited with regard to color and design. If you are a pink lady who loves jewelry, loose pink gemstones make it possible to create your own unique designs.