GemSelect June 2015 Newsletter - The Sun and Gems
| | |
| --- | --- |
| | Sphalerite Gemstones |
June Solstice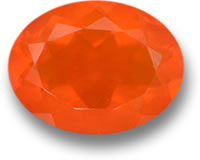 Bright Fire Opal Gem
With the month of June comes a solstice. Solstice comes from the Latin word for sun, sol and sister, which means to stand still. This is because the sun appears to be still during this time. Depending on which part of the world you are in, June is the month for either Midsummer or Midwinter's Day. This is the time of the year when the sun is directly above the Tropic of Cancer, causing the longest day in the Northern Hemisphere and the shortest day in the Southern Hemisphere. The summer solstice weekend in Reykjavik, Iceland lasts for three whole days, since the sun does not set during this time in the land of the midnight sun. This must be a marathon of a party.
The sun has been celebrated and worshipped by ancient cultures all over the world. One of the ancient civilizations famous for this were the Incas, who worshipped Inti, the sun god. The greatest Inca temple was the Temple of the Sun in Cuzco, Peru. This was decorated with sheets of gold and some say the walls were studded with emeralds. Within the temple was a gold, jeweled statue of Inti. Inside the temple complex, there was a field made from gold and silver corn, animals and other figures. To this day, a sun festival is held in Cuzco each June during the winter solstice. It is easy to see why ancient civilizations deified the sun, since without the sun emitting light and warmth, life on Earth would not be possible. Our modern calendar is a solar, rather than lunar one. But some events, especially religious ones are based on a lunar calendar.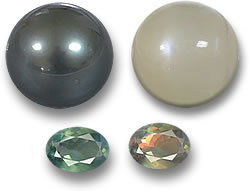 Birthstones for June: Pearl, Moonstone and Alexandrite
Although June is the month of the solstice, sunstone is not the birthstone for June; the birthstones for June are moonstone, pearl and alexandrite. Moonstone gets its name from the magical sheen that can be seen on its surface. This is known as "adularescence" and appears similar to light reflecting off the surface of the moon. Due to this unusual trait, moonstone is quite unique, yet it is an affordable gemstone. Moonstone is available in a variety of colors and types. It is typically colorless, but can also be found in mocha, orange, yellow, gray, green, pink, blue and white. Other varieties of moonstone include gems that display asterism (the star effect), such as star moonstone and cat's eye moonstone. Moonstone is usually cut into cabochons, though rarely, it can be found faceted.
Pearls are organic gemstones that come from bivalve mollusks. Natural pearls are incredibly rare, but cultured pearls are widely available. Pearls can be white, silver, pink, cream, golden, lavender, blue, green or black. Therefore, there is a pearl to suit everyone. Indeed, there are various other types of pearls too, such as conch pearls and abalone pearls.
Alexandrite is a rare variety of color change chrysoberyl that was originally named after Czar Alexander II after being discovered in Russia in 1831. Alexandrite is typically green with a reddish color change. The color change can be seen under incandescent light (an electric light that has a heated wire filament). Alexandrite is usually found in small sized gems and is mostly sold as lots. However, we sometimes acquire larger gems weighing 0.50 carats or more. Although alexandrite was discovered in Russia, nowadays, alexandrite gems are sourced from other places such as Tanzania and Sri Lanka.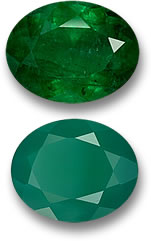 Emerald and Agate Gemstones
Apart from the traditional birthstones that are assigned to each month of the year, there are zodiac stones according to sun signs (astrological signs). Sun signs are set according to the position of the sun at birth. There are twelve sun signs. The sun signs for June are Gemini for the 1st to the 21st and then Cancer for the 22nd to the end of June. The zodiac stone for Gemini is agate and the stone assigned to Cancer is emerald.
Agate is an affordable type of cryptocrystalline quartz which has a wide range of colors and patterns and can be found transparent, translucent or opaque. Therefore, there is an agate to suit everybody, from subtle colors to bright, vivid hues.
The best emeralds are extremely valuable and have a deep emerald-green hue. However, more affordable options are still available in smaller-sized or lighter-colored stones. Emeralds have been treasured by gemstone and jewelry lovers for centuries and some of the most fantastic jewels have been made from these beautiful green stones, which have a timeless beauty.
There is a gemstone named after the sun, due to its spangled appearance and orange to reddish color. Sunstone is the state stone for Oregon. It is aventurine feldspar (not to be confused with aventurine quartz) that contains tiny platelets of hematite or goethite which cause the metallic schiller. It is thought that the Vikings wore sunstone as talismans, and also used it for navigational purposes, since it was associated with the sun. In ancient Greece, sunstone was a symbol of the sun god. Sunstone can be faceted or cut en cabochon and is an interesting and unique gem.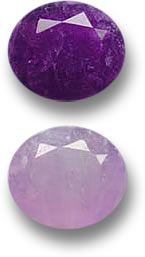 Hackmanite Gems
Some unique gemstones can fade when exposed to direct sunlight for prolonged periods of time, such as azurite, amethyst, citrine, kunzite and smoky quartz. Other gemstones possess a rare optical phenomenon called tenebrescence, (also known as reversible photochromism) which causes them to change color when exposed to sunlight. One example of these amazing gems is hackmanite, a rare variety of sodalite. When hackmanite is mined, it is violet, but after being exposed to sunlight, the color fades to lilac, or greenish/grayish-white. Then, when the gem is placed in a dark place, the violet color slowly reappears. This property can be seen in photochromic eyeglasses, which darken under UV light and then lighten in darker environments. These are typically coated with two layers of photochromic molecules; one on the inside and one on the outside.
Those who believe in crystal healing place their gems in the sun to be 'cleansed' and/or 'energized'. Gems that fade in direct sunlight can be placed in moonlight.
Gems are from the earth, but in order for their beauty to be fully appreciated, they need sunlight. As the sun lights up our lives and enlivens us, it does the same for colored gemstones. Indeed, it is known that gemstones are best viewed in daylight, under the rays of the sun. This is why the gem market in Chantaburi only operates during the daytime. Sunlight show the true colors of a gemstone.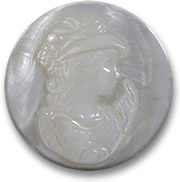 Mother-of-Pearl Cameo Gemstone
We recently acquired some mother-of-pearl gemstones. Pearl is one of the birthstones for June and mother-of-pearl is made from the same material as pearl; nacre. Therefore, it is also considered to be a June birthstone. Mother-of-pearl is the inner shell coating of pearl-producing mollusks and has been used as a decorative material for thousands of years. This beautiful organic substance can be various colors and is often used as inlay. However, we have been fortunate enough to find mother-of-pearl gemstones that are ready to be set into jewelry. The pearly luster and attractive iridescence of mother-of-pearl makes it a beautiful jewelry gemstone.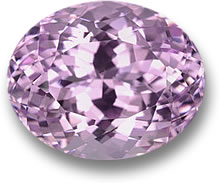 Oval Pinkish-Violet Kunzite Gem
Kunzite is a variety of pink to light-violet spodumene. The name "kunzite" comes from its discoverer; George Frederick Kunz, who was an American mineralogist, and Vice President and buyer for Tiffany & Company. Kunzite can be found in large gemstones, but not usually as vividly colored as the one on the left. We have recently acquired some large, beautifully colored kunzite gems which would be perfect for statement jewelry, such as the large 18 karat gold kunzite ring that JFK bought for his wife, Jackie, before he died. This featured an oval kunzite gemstone surrounded by white diamonds.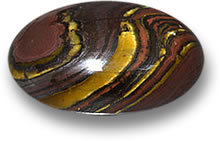 Colorful Tiger's Eye Matrix Cabochon
Tiger's eye is an interesting fibrous quartz gem with a beautiful chatoyancy, and tiger's eye matrix is even more unique. Additionally, it is an extremely affordable gemstone. Tiger's eye matrix is a trade name for tiger's eye that has some of the matrix (host rock) included. Tiger's eye matrix is a perfect gem for men, with its deep colors. This makes it a great Father's Day gift. It can be dark-gray with yellow, brown, golden, bluish, orange, red or a mixture of all of those colors. The stripes and wavy patterns of tiger's eye matrix make each gemstone unique. Tiger's eye matrix cabochons make excellent tribal style necklace pendants or rings.
An extremely rare pigeon's blood Burmese ruby, called the "Sunrise Ruby" has become the most expensive ruby to be sold at auction. The 25.29-carat ruby achieved $30 million US at Sotheby's Geneva on May 12. The cushion-shaped red gem is set into a Cartier ring and flanked by shield-shaped white diamonds. The ruby also set a new Cartier jewel price record. The buyer was not named.
Nine men have been arrested and charged in connection with the Hatton Garden jewelry heist, which took place in April 2015 in the diamond district of London. During the burglary, the contents of over 50 safety deposit boxes, including gemstones and jewelry, were stolen by a group of thieves who drilled a hole through the concrete wall of Hatton Garden Safe Deposit Ltd. The men are aged between 42 and 76, and have been charged with conspiracy to burgle. Eight of the nine men have been refused bail and will appear in court again on June 4.
| | | | |
| --- | --- | --- | --- |
| Event Name | Location | Venue | Dates |
| JCK Las Vegas | USA | Mandalay Bay Resort & Casino, Las Vegas, NV, USA | May 29 - June 1, 2015 |
| International Jewellery Kobe | Japan | Kobe International Exhibition Hall, Kobe, Japan | May 30 - June 2, 2015 |
| EPHJ | Switzerland | Geneva Palexpo, Grand Saconnex, Geneva, Switzerland | June 2 - 5, 2015 |
| ElitExpo Summer | Ukraine | Lviv Palace of Arts, Lviv, Ukraine | June 4 - 7, 2015 |
| Hyderabad Jewellery, Pearl and Gem Fair | India | HITEX Exhibition Centre, Hyderabad, India | June 7, 2015 |
| Jubinale | Poland | Expo Krakow, St Galicyjska 9 (Centralna 53), 31-586 Krakow, Poland | June 11 - 13, 2015 |
| Jewellery & Watch Show | UK | Saatchi Gallery, Duke of Yorks HQ, Kings Road, Chelsea, London, UK | June 17 - 18, 2015 |
| The 7th Cambodia Gems & Jewelry Fair 2015 | Cambodia | Diamond Island Convention & Exhibition Centre, Phnom Penh, Cambodia | June 18 - 21, 2015 |
| 16th Beijing International Jewellery Fair | China | China National Convention Centre, Tianchen East Road, Chaoyang District, Beijing, China | June 20 - 23, 2015 |
| Chasing Tools: Make Your Own Workshop | Canada | Alberta College of Art and Design, Calgary, AB, Canada | June 21 - 22, 2015 |
| Bridge Conference | USA | Stuller Inc., Lafayette, LA, USA | June 23 - 25, 2015 |
| Hong Kong Jewellery & Gem Fair | Hong Kong | Hong Kong Convention & Exhibition Centre (HKCEC), 1 Expo Drive, Wanchai, Hong Kong | June 25 - 28, 2015 |
| GTS Florida Jewelry & Accessories Expo | USA | Osceola Heritage Park & Exhibition Hall, Kissimmee, FL, USA | June 27 - 29, 2015 |
| Mineral & Gem Asia | Hong Kong | Halls 3 & 6, AsiaWorld Expo, Hong Kong International Airport, Lantau, Hong Kong, SAR, China | June 27 - 30, 2015 |
| Jovella 2015 | Israel | Tel-Aviv Fairgrounds, Tel Aviv, Israel | June 30 - Jul 1, 2015 |
Every month we answer questions of general interest from our customers. Please feel free to send your questions or suggestions to our support team at help@gemselect.com!
Q:
I have just made an order and received my tracking information. However, I am not able to track my shipment at all, is there a problem?
A:
Please rest assured that there is no problem. If you have chosen standard registered mail, it is advisable to allow at least five days before attempting to track your shipment. This is because the shipment will not be entered into your country's postal system until it has left Thailand and then passed through customs. If you requested express shipping, please allow 12-24 hours for the shipment details to show online.
Q:
Hi, I'm making some jewelry and wonder if you could recommend the best metal to go with green sapphire? I'm torn between silver and gold and can't decide which is best, thanks.
A:

Rose Gold and Green Sapphire Drop Earrings

If you can't decide between white or yellow precious metal for jewelry, you could go with something in between, such as rose gold. Rose gold is a gold alloy, which contains copper and silver and has a lovely soft pink hue that compliments most skin tones (see image, right). Rose gold has risen in popularity recently, so this would be a fashionable choice of metal. Additionally, since pink and green are opposite colors on the color wheel, they go well together. Another suggestion is to use mixed metals; a blend of silver, rose gold and yellow gold, which are also trending at the moment. Many jewelers have been producing pieces that are composed of three different metals that are intertwined. However, these are more complex to work with than a single precious metal.
We hope you found our topics interesting. Please feel free to send us your questions, comments or feedback!
Also, if you haven't already, be sure to join us on any one of our social networking pages. We love interacting with our customers - you can visit us on Tumblr, LinkedIn, Twitter, Facebook or Pinterest!
To ensure you can receive our emails, please be sure to add help@gemselect.com to your list of safe contacts, or you add us into your email address book! Please feel free to contact us with any questions, comments and queries! We respond to each and every email we receive.
Happy gem hunting!
Your friends at GemSelect
First Published: May-22-2015
Last Updated: March-08-2016
© 2005-2017 GemSelect.com all rights reserved.
Reproduction (text or graphics) without the express written consent of GemSelect.com (SETT Company Ltd.) is strictly prohibited.