Hello Halos - Fashionable Jewelry Designs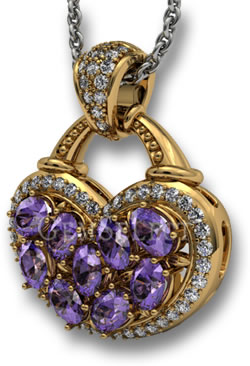 White Gemstone Halo on a Heart-Shaped Gold Amethyst Pendant
In jewelry, a halo is a border of smaller stones encircling a center stone. Halos have been in fashion since Victorian times, but were used before this. Indeed, even before the development of gemstone faceting, small gemstones were set around others, for example in 17th century Mughal jewelry, which often used exquisitely detailed floral designs. Many antique halo rings have decorative enhancements such as milgrain and filigree. Art Deco-style halos were cleaner affairs, often with geometric shapes or contrasting color to the center stone and set in platinum. Both styles are different, but equally glamorous. Halos are having their day again now and are huge at the moment, especially in gemstone engagement rings. However, halos can also be seen in earrings, bracelets and necklace pendants. They offer an elegant way to present gemstones in jewelry. For jewelers, convenient halo half-mounts or semi-mounts are readily available.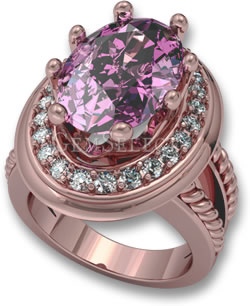 Rose Gold Halo Ring with White Sapphire Halo
The most common halo shapes are oval or circular. Possibly the most famous example of a halo ring is Kate Middleton's engagement ring from Prince William, which was previously worn by his mother; Diana, Princess of Wales. The oval blue sapphire ring with a halo of white diamonds revived the popularity of colored stone engagement rings, along with the halo setting. The well-known engagement ring has a pronged setting. When halo stones are in pronged settings, the position and style of the prongs can affect the overall outline shape. Prongs on the outermost side of the accent stones produce a pointed look. A close-fitting bevel around the halo with a scalloped edge will give the appearance of flower petals and a larger bevel will give a smooth edge (see image, above).
Halos are popularly white gemstones, but they can also be a similar color to the center stone. For example, a pink gemstone may have a pink halo. Art Deco jewelry often juxtaposted light with dark, so a white center stone may have been surrounded by dark blue sapphire or a deep green emerald would have stood out from a halo of white accent stones. There seem to be two schools of thought; blend or contrast. Both methods create equally dramatic designs. Nowadays, the availability of many gem types and colors makes it possible to buy accent stones in almost any color of the rainbow. This makes experimentation possible. A modern halo trend for jewelry, especially necklace pendants is to have a halo without a center stone. These naked halos are open and make use of either white or colored gemstones. An especially popular trend is to set pink gems into rose gold or golden stones into yellow gold. Naked halos make beautiful necklace pendants for casual wear. Furthermore, empty halos are affordable.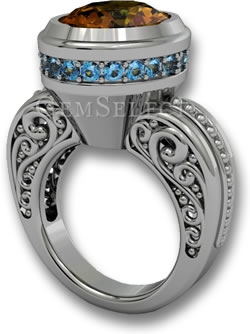 Modern Silver Ring with Blue Topaz Outside Halo
Most halos follow the shape of the center stone, but some are more creative, such as a halo on the side of the bezel (see image, right), spirals or geometric shaped halos surrounding round gems. Halos may be flush around a center stone or fit loosely, with the center stone appearing to "float" in air - these are known as "floating halos". A benefit of floating halos is that they allow more light to penetrate, helping the center stone to gain sparkle. A center stone is usually set higher than its halo; the increased height ensures that it stands out. Halo jewelry designs are most often solitaires, but there are also three-stone halo rings and necklaces, with each stone in its own halo. These tend to be more costly than solitaires because of the increased carat weight. An added advantage of halos is that they can provide protection for center stones, since they surround and prevent the center stone from being exposed to hard knocks. Another benefit of a halo is that it makes the center stone appear larger. When the center stone has a high price-per-carat or is simply not available in large sizes, this can be helpful. A halo can create a statement piece of jewelry on a budget as well as bringing the wow factor to an otherwise simple item.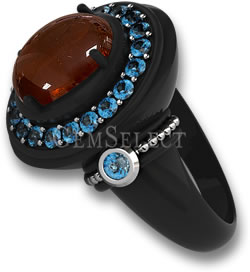 Black Metal Ring with Blue Topaz Halo
From minimalist to maximizing the bling, triple halos that encompass a smaller stone or have alternating round and square stones make dramatic designs. A double halo with the outermost accent stones matched to the center stone color is an interesting variation. When this is reversed, a color matched halo that is set directly next to the central stone will further enhance the size of the central stone. This works well when surrounded by a second halo in a contrasting color. Currently, mixed metals are very popular, and this is reflected in halos which make use of more than one precious metal, for example, a rose gold halo of pink gems between white center stone and a second halo set in platinum. The contrast can make a piece of jewelry unique and interesting. Modern innovations now make it possible to produce metals of almost any color, including black (see image, above). This opens up a whole spectrum of jewelry color combinations.
Like a frame for a painting, a halo can enhance a gemstone. A halo that is too large for the gem will overwhelm the gem and detract from it, and a halo that is too small may lack the drama required to properly complement the stone. Therefore, it is important to consider the size of accent stones for halos in order to create the desired effect. If the accent stones are too small, a double halo can be used for emphasis. When a halo is just right, the gemstone will be perfectly showcased. Just as works of art are framed, gemstones are encircled with halos of accent stones.