Drop Out with Pendant Earrings
Chrysoprase and Blue Gem Drop Earrings
There are almost endless possibilities when it comes to designing gemstone pendant earrings. Nowadays, there is no need to stick to simple shapes and styles, since any kind or shape of gemstone can be incorporated into a pair of drop earrings. With loose gemstones, there is a great deal of freedom of choice, from cabochons to faceted gems, and a whole spectrum of beautiful color. Statement earrings were a prominent accessory on the Emmys red carpet this year, particularly colored gemstone earrings that matched the colors of gowns. For example, Mindy Kaling's yellow gown was complemented by citrine drop earrings, and Sarah Hyland's deep red dress was twinned with stunning ruby dangle earrings.
One thing to consider when designing pendant earrings is the weight, especially when it comes to large statement pieces. Gemstones that are very heavy can be a strain on the earlobes. Weight can be lessened by carefully designing settings that are hollow and do not use too much metal. However, if large, heavy gemstones are used for earrings, the settings must be substantial enough to bear the weight and prevent loss. Some traditional Indian bridal earrings are very large, so they are clipped over the top of the ear to make them more comfortable to wear. Some earrings are clipped to the earlobes too. It is helpful to remember that colored gemstones differ in density, which means that certain gems of the same size will be heavier than others. For example, a 10-millimeter amber gem will be much lighter than a hematite gem of the same size.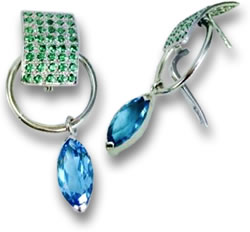 Tsavorite Garnet and Blue Topaz Drop Earrings
When choosing a gemstone for a pair of earrings, matching gemstone pairs are useful, since they are pre-matched for color, size and shape. However, when it comes to earrings, a slight difference will not be as noticeable as jewelry items which have gems set side-by-side. For example, in a ring, gems are close together, so any difference will be quite visible. If gems that are not identical in color or size are worn as earrings, because of the distance between the earrings, the difference will not be easily discernible. Since earrings are not exposed to as much wear and tear as items such as rings, more delicate gems can be used. For example, gems which lack hardness and durability, such as ammolite, opal, pearls and amber can be worn as earrings without the worry that a hard knock will damage them. Gems with interesting optical phenomena, such as play of color or iridescence, make beautiful and unusual earrings.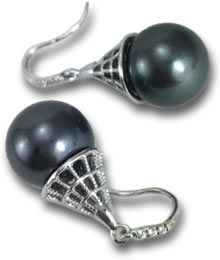 Black Pearl and Silver Drop Earrings
For those who lack the expertise of a jeweler, it is easy to make drop earrings with briolettes, which are usually ready-drilled and can be simply threaded onto metal earring hooks and worn. Many gems are sold ready-drilled or half-drilled so that they can be easily fashioned into drop earrings. Spherical gemstone beads such as turquoise, tiger's eye, jasper or pearls can be threaded onto hoop earrings too. The beauty of easily assembled, drilled gemstone earrings is that they can be easily disassembled and changed to suit your mood or daily style. When buying gemstone beads or half-drilled gems, it is important to pay attention to the diameter of the hole, to ensure that the bead will fit the earring it is intended for.
There is an A to Z of colorful gems waiting for the right ears to adorn, and with some creative inspiration and good resources, drop-dead gorgeous earrings can be worn by all jewelry lovers. Put on, turn heads and drop out!