Jewelry Tassels: Fringe Benefits


Gold and Pietersite Tassel Necklace
Some fashion trends come in cycles. This means that they are too good to just come and go, but tend to experience a revival now and again. Each time, fashion revivals are enjoyed once again, they are updated to suit the present time. One such trend is tassels. These were popular in the 1920s, during the Art Deco era and are now undergoing a shake up. The must-have accessories for fall 2015 include tasseled shoes, fringed bags, swinging chains and tasseled jewelry.
When it comes to famous fine jewelers, gemstone beads that are color and size matched have been used to create tassels. The vintage 1920s style used platinum, rather than yellow gold. During this time, "sautoir" necklaces were popular, and were worn by "flappers". Sautoirs are long necklaces with a decoration; usually a tassel at the end. The 1920s Art Deco style also made use of geometric patterns, which tend to be symmetrical. Some of the vintage tasseled jewelry from this era incorporates Eastern motifs, such as engraved gemstones, especially green jade with contrasting black onyx and white diamond, or ancient Egyptian designs. Small pearls were also twinned with diamonds and platinum to create tasseled brooches, necklaces and earrings. Beautiful, bright tasseled jewelry was often produced from emerald, blue sapphire, red ruby and coral beads, and accented with white diamonds.
One of the most iconic necklaces which features a tassel is the Van Cleef & Arpels Zip Necklace. This innovation was inspired by the Duchess of Windsor and was first produced in 1950. The Zip necklace is a functioning zip fastener which can be worn as a necklace or a bracelet. The tassel hangs from the end of the zip fastener. Van Cleef & Arpels produced Zip necklaces with various materials, such as lapis lazuli and mother-of-pearl, with pearl tassels. Margot Robbie wore a Zip necklace to the 2015 Oscars. The actress's necklace was made from yellow gold, white diamonds and blue sapphire tassels.
The 1970s saw large golden and beaded tassels being worn. Modern tassels tend to be a little slimmer, on long chain necklaces with an asymmetrical design. The new tassels of 2015 may also incorporate a few unique beads that do not match, such as a briolette or two, along with gold or silver chains, rather than matched tassel lengths with the same bead shapes, colors and sizes. Long gold chains and a few choice beads can be also be threaded onto hoop earrings for an updated tasseled look. Another modern trend is the Y-shaped necklace, which has one or two tassels. The lariat necklace is also popular; this is worn crossed over, looped or knotted, and can have a tassel or two.
Tassels can also be incorporated into tribal designs, especially when they are fashioned from leather and twinned with feathers, shells and beads. These are attractive and suited for casual-wear, though fabric and leather are not as durable as metal for jewelry designs. Alternatively, a little Eastern influence can be suggested with the use of tassels, especially with red and gold colors; the colors of prosperity in Chinese culture. These may be incorporated into a jewelry design by using red gemstones along with yellow gold, gemstone carvings or filigree with red beads and yellow gold. Jade is another material that is popular in Chinese jewelry designs.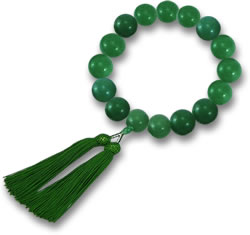 Beaded Aventurine Bracelet with Tassel
Tassels are suitable for necklaces, earrings or bracelets. A contemporary bracelet trend is to wear prayer-type beads, and these may have a tassel attached. Charm bracelets are another style that tassels can be added to. Beaded bracelets may be formal or casual. Formal styles tend to have metal clasps, and casual styles are often strung from thread or leather and may feature charms and mixed beads. A current urban trend is to wear stacked bracelets and to mix metals. For an up-to-date look, a charm or a tassel can be added to a shiny cuff bracelet. Alternatively, something surprising and unusual like cube-shaped beads or silver, gold and rose gold metals can make up a tassel.
In this day and age, there are no set rules when it comes to jewelry designs, and even tasseled rings are being worn. These can be worn on any finger, but look especially good on the pinky finger where the tassel can hang freely. Tassels are no longer confined to curtain ties; it's now time to enjoy the tassel trend before its current cycle ends.