Beautiful Bajoran Earrings


Black Rutile Quartz and Silver Bajoran Earring
The mass media is often the source of jewelry trends and the TV series, Star Trek may have sparked a certain earring trend. The Bajorans of "Star Trek: Deep Space Nine" can be distinguished by a row of wrinkles across the bridge of their nose. While gracing our screens, these humanoids have been seen sporting stylish earrings. Some of these are worn in one ear (usually the right ear) and consist of a stud, clip or dangle earring with a chain connected to an ear cuff that is clipped onto the middle or upper part of the ear. The cuff may also be a cartilage earring. The chain may be attached to a stud, clip or the lower part of a dangle earring that is worn on the earlobe, and there may be two chains. These earrings are worn by both male and female Bajorans.
The STARFLEET, International Star Trek Fan Association Academy Manual, states that Bajoran earrings are called "d'ja pagh" in Bajoran language and are worn as a traditional symbol of their faith, related to their belief in the life force that they call "Pagh". Further details say that the earrings may be decorated with gemstones and that the earrings are personalized with family details on the cuff.
Similar earrings are also sometimes referred to as "slave earrings", a name that may be considered inappropriate. Vogue Italia caused some controversy in 2011 over an article that promoted "slave" style hoop earrings. The famous fashion magazine later removed the feature due to negative responses. However, the earrings featured in Vogue were large hoops and not the style shown by the Bajoran of Star Trek. Vogue Italia later changed the word to "ethnic" and then removed the article.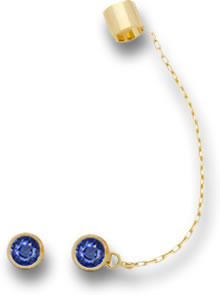 Blue Sapphire and Gold Stud, Cuff and Chain Set
Some claim that the term "slave earrings" refers to the chain that links the ear cuff to the earring, rather than the people who started wearing the jewelry. Thus, bracelets joined by chains to rings have been called "slave bracelets" and anklets joined to toe rings are sometimes referred to as "slave anklets". Perhaps the term "slave" is more apt for BDSM jewelry. A quick online search for "slave earrings" reveals images of both the Vogue hoops and the Bajoran-style earrings. In fact, many retailers refer to the Bajoran-style earrings as "slave earrings". These may be more descriptively and politically correctly referred to as "ear stud with chain and clip-on cuff", or a shorter, catchier name, such as "cuff and chain earrings". But where does this trend come from?
During the punk era, earrings with chains attached were popular. Yet, people have worn earrings with chains and ear cuffs since before the punk scene. Indian ladies wore nose rings with chains that attach to hair ornaments or earrings with chains for many years before the emergence of punk style and jewelry. Indian bridal jewelry consists of several pieces, including heavy earrings. For a long time before the screening of Star Trek, similar jewelry was worn by Indian ladies. Traditional Indian earrings with chains tend to have a chain that attaches to a hair ornament or a part that slips over the top of the ear, to help bear the weight of heavy dangle earrings.
Modern punk style or Bajoran earrings can be simple, with a small silver chain, a plain stud and an unembellished cuff. These look great with casual clothes and are suitable for everyday wear. Other Bajoran style earrings can be extremely intricate and embellished with gemstones, making them suitable for evening wear or weddings. Cuff and chain earrings are best worn on one ear only, though they can be worn as a pair with a simpler earring on one side without a chain or cuff (see image, above). The pair of earrings can also be worn on one ear with multiple piercings. They look best with the hair worn up, and away from the ear. Short hairstyles also suit cuff and chain earrings. Alternatively, those with long hair wear can their hair tucked behind the ear on the side that sports the cuff and chain earring.
Although Bajoran-style earrings became popular after Star Trek, it is not necessary to be a Trekkie or Trekker to wear them, or accompany them with a Vulcan salute. This is a trend that can be enjoyed by everyone as an alternative to traditional ear jewelry.