Gemstone Jewelry Color Combinations
The Color Wheel in Gemstones
It is known by most gem lovers that diamonds have a grading system known as the four Cs; cut, clarity, color and carat weight. These factors are taken into account when assessing the quality of each stone. Colorless white diamonds with a high carat weight, a well-proportioned cut and few inclusions are incredibly valuable.
However, when it comes to colored gemstones, many say that the most important thing is color, color and color. Thus, the most desirable aspect of colored gemstones is their color, and the other factors can be somewhat overlooked when a stone has a top color. For example, emeralds and rubies are admired for their beautiful hues, but often when they are looked at closely, they show inclusions. Similarly, a stunning blue sapphire could have a slightly asymmetrical cut, but because of its size and color, it is extremely valuable, so it is not recut because some of the beautiful color will be lost.
The colors of natural gemstones are beautiful by themselves, but there are some additional factors which can make them really come to life. For example, other colors that gems are seen with. Color can have an effect on mood, perception and even health, so it can be useful to know how to put colors together properly to achieve the desired effect. As a general rule, most color combinations work well when each color is not fighting for first place. Thus, one color can be allowed to dominate and the other/s provide support or accents.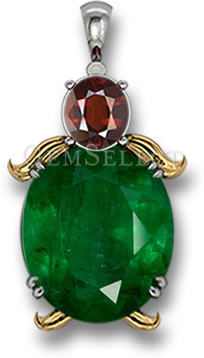 Pendant with Complementary Colors: Green Emerald and Red Pyrope Garnet
Colors that are opposite each other on the color wheel are paradoxically known as "complementary" colors. This is because although they are in contrast, complementary colors seem to look good together because they balance each other out. Examples of complimentary colors are purple and yellow, and red and green. In jewelry, this effect can be seen by setting a purple sapphire into yellow gold, or by pairing peridot with rose gold. These combinations work best in jewelry when one of the complements is muted. For example, yellow gold is not very bright yellow, but the purple sapphire is bursting with color. Similarly, rose gold is not bright pink, but peridot is a lively green hue. As can be seen in the image on the left, the red pyrope garnet is much smaller than the green emerald, so the two colors do not have equal command of the piece. A further contrast is provided by the yellow gold and silver detail.
Analogous colors are ones that are adjacent on the color wheel. Examples of analogous colors are red and orange, and green and blue. Analogous colors may be pairs or three colors which work well together. Like complementary colors, analogous colors work well when one dominates and the other supports. In gemstone jewelry, an example would be a yellow gold ring with a central golden orange sapphire and small, yellow gemstone accents. Alternatively, a rose gold pendant could have a pink tourmaline gemstone with small, ruby accents. Analogous color combinations can also be seen in the current trend for yellow and brown diamonds with rose or yellow gold.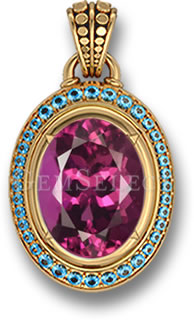 Pendant with Triadic Colors: Blue Topaz, Pink Tourmaline and Yellow Gold
Triadic colors are three colors that are equally spaced on the color wheel, so that if a triangle is placed on the color wheel, each point is in one color; for example, orange, purple and green. Triadic colors are quite tricky to balance well and create harmony, but by using one main color and two others as accents, it is possible to create something wonderful. For example, a blue zircon or a teal apatite in rose gold with golden beryl accents. Another example of triadic colors can be seen in the image on the right, where blue topaz, pink-purple tourmaline and yellow gold are used together to make a necklace pendant.
Split complementary colors are three colors; a color with the two that fall to either side of its complementary color; such as blue, pink and yellow. This could be achieved in a piece of jewelry by using a central gemstone such as blue sapphire, with rhodolite garnet accent stones in yellow gold. Split complementary colors tend to be easier to harmonize than some other combinations.
Tetradic colors are two pairs of complementary colors. On the color wheel, this looks like a rectangle is drawn with each corner in a different color, for example, red, orange, blue and green. A square color scheme has four equally spaced colors from the color wheel, as if a square has been placed over the wheel with each corner on a different color. Color schemes with four colors can often appear a little chaotic, so the colors should be well-balanced with attention paid to the harmony between cool and warm tones. It is best to choose one of the four colors to dominate the others when using four colors.
When designing unique gemstone jewelry, colors can be kept nice and simple or combined in many different ways to produce an effect that is pleasing to the eye. The most important thing is that the wearer is comfortable in the colors. With natural gemstones, and modern jewelry metals, it is possible to find almost any color on the color wheel and to have fun designing something new.
First Published: April-01-2016
Last Updated: August-23-2017
© 2005-2021 GemSelect.com all rights reserved.
Reproduction (text or graphics) without the express written consent of GemSelect.com (SETT Company Ltd.) is strictly prohibited.