Valentine's Day gifts ideas- How to Make Custom Gemstone Jewelry
Yes, its true, Valentine's Day is here once again. And who doesn't want to have something spectacular for their lover on this particular day? While many would agree that giving an unforgettable present is important sometimes choosing a significant gift can be difficult.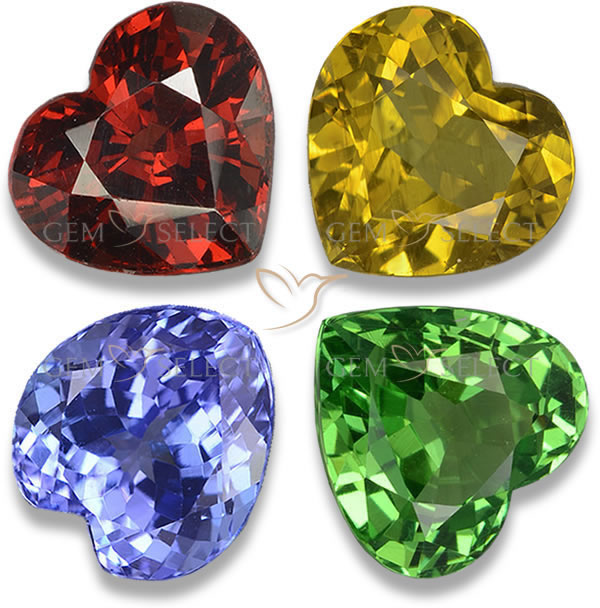 Buy Heart Shaped Gems from GemSelect
Don't worry GemSelect is making your shopping experience easy and fun this year by providing a Valentine's Day gemstone purchasing guide. Our guide will assist you in choosing a gift your lover will never forget. This year give a gift that is unique, customized, and affordable by following our simple guide to gemstone purchasing complete with tips and terms for turning your gem into wearable jewelry.
What should you consider when choosing a gemstone for jewelry?
The color of course you want something special
Clarity
Size: Large or Small - common gemstone sizes for jewelry
Buying gemstones in calibrated sizes for convenience
Gem type: Sapphire, Ruby, Tanzanite, Spinel, Aquamarine, Zircon, Garnet, Topaz, and Amethyst, We will include photos and details of each of the above gem types.
How to turn your gems into jewelry - Mounting
Consider the color of the gemstone.
One of the best parts about buying loose gems is you can choose any stone you desire to create a truly unique piece. The traditional color for a Valentine's Day gift will most likely be red. Red indeed is the color of passion, confidence, and love. But when it comes to present giving it is the thought that counts and buying what you want for your loved one is what's most important.
At GemSelect we have beautiful gems of all colors blue, purple, yellow, orange, green, pink, and red.
Think of the colors your partner would like and would find unique or the colors that you believe will compliment them. If you want to choose red, there are stunning shades from which to select. With so many different gemstone colors and intensities that we suggest shopping for stones with the consideration above, then looking for a gem or pair that speaks to you.
The thought is what counts but don't over think it because any quality gemstone is sure to dazzle your Valentine.
Clarity of gemstones how it varies and what to look for
Don't be frightened by the word clarity because in colored gems it is much less expensive than in the diamond world. Many colored gemstones have great clarity that is specific to their gem types like zircon, aquamarine, citrine, and amethyst; contradictory to the ease of finding clean gems in some types are the gem types where it is difficult to find eye clean pieces like certain types of Garnet Hessonite for one.
In gem types like Sapphire, Ruby, Tourmaline, and Tanzanite VS and above are a good indicator that you are getting a quality stone, but there are also some great gems that are a little lower like VS-SI especially in Ruby. Some rare and beautiful gems may have inclusions that do not detract from the value so make sure not to focus too much on this. Just because a gemstone isn't internally flawless doesn't mean it is a bad choice.
Check out our gemstone clarity chart below to familiarize yourself with the terms, and if you have any questions about gems you would like us to inspect let us know at help@gemselect.com
IF Clarity - Loupe clean - internally flawless; free of inclusions.
VVS Clarity - Almost loupe clean - very, very slight inclusions; inclusions barely seen under 10x magnification.
VS Clarity - Usually Eye clean - very slight inclusions; slight inclusions will be visible by the trained eye, or when viewed under 10x magnification.
SI Clarity - Slightly included - Inclusions are noticeable and can be seen with the naked eye.
I1 Clarity - Included - inclusions are obvious and can be seen with the naked eye.
Common gemstone sizes for jewelry designs
At GemSelect we believe any size gemstone is a great gift and we are sure you Valentine will appreciate anything you choose; however, you may need a little more assistance than reassurance. Here are some tips to simplifying the decision for you.
GemSelect suggests thinking of size in simple terms first. How big of a gemstone do you want to give this year? If you are looking for something large or small and don't know what size to buy reference our list below for sizes of common designs like rings, earrings, and necklaces. Later we will give you details on gem types to make sure you get a piece that not only fits your size requirements but your budget as well.
Rings - If you're looking for something big a gemstone in the 10mm - 13mm range ought to do it and if you're looking for something small you can easily mount a 3mm - 7mm stone into a ring and end up with a beautiful finished product.
Earrings - Common gemstone sizes for earrings are from 5 mm - 7mm on the smaller end and between 10 mm - 14 mm on the larger end. Either large or small earrings will look great once they are finished. If you're planning for earrings, remember to shop by pairs.
Pendants - Common gemstone sizes for pendants can range too so on the smaller end a 5mm - 7mm stone ought to do it and if you're thinking larger we suggest going anywhere from 10mm - 14mm range. Pendants are a great idea for gifts. Some of the upsides to making a pendant are the ability to utilize a large stone and your ability to buy some of the rarer pieces that are very uncommon to find in pairs.
Buying gemstones in calibrated sizes for convenience
TIP: If you want to get a finished piece of jewelry completed quickly buy a gemstone or pair that's in a calibrated size. Calibrated gems will be easier to mount because the calibrated millimeter sizes are used worldwide to standardize jewelry settings.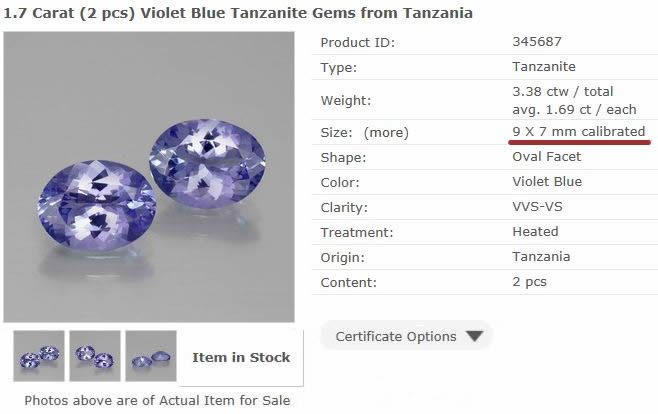 These earring mounts below come in a 9 x 7 mm standard size so making earrings out of the Tanzanite shown above is easy as one, two, three.

To tell if the stone or stones you are viewing are calibrated look to the detail page like the one shown above, where it says 'size' you will see the area that indicates 'calibrated' we have underlined it in red, so you will know precisely where to look. If the word calibrated appears next to the dimensions, your gem will be very easy to set into mounts like the ones pictured above.
What are some of the most popular Gemstones and their qualities?
The most spectacular gemstones are Sapphire, Ruby, Tanzanite, Spinel, Aquamarine, Zircon, Garnet, Topaz, and Amethyst. We will list some of the qualities of each gem type below in addition to a picture and link to our inventory.
Sapphire: Sapphire comes in all colors besides red which is reserved for ruby. It has exceptional brilliance, in other words, these gems sparkle and it's incredibly durable so it will last a lifetime. While blue is the most traditional color of Sapphire and very beautiful, we have gorgeous Sapphire in all colors of the rainbow. Sapphire is known to have some inclusions so as long as they are minimal, they do not take away from the value of the stone. Large sizes of Sapphire are an excellent choice for investments as they will increase in value especially the favorite colors.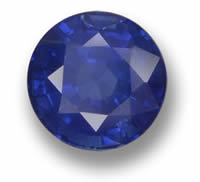 Shop Sapphire Gemstones at GemSelect
Ruby: Ruby 'the king of precious stones' is in the same family as Sapphire. The largest and most obvious difference is the color of ruby, its red. This stone is the most valuable colored gemstone on the market so if you're looking for a piece that will show your love, devotion, and wealth shop ruby. Ruby like Sapphire is expected to have inclusions. Inclusions are one of the ways to tell a ruby apart from either a fake gem or a gem that's a different gem type.
As long as the inclusions aren't large or detracting from the brilliance of the stone, they will not reduce the value of the gem. Ruby can be expensive if you are shopping for a high-quality gemstone, but we guarantee your Valentine for life will remember the gift of ruby. Large high-quality pieces will hold and in time are guaranteed to increase in value.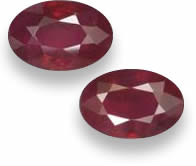 Shop Ruby Gemstones at GemSelect
Tanzanite: Tanzanite is such a beautiful gem that we have to mention it in our Valentine's Day purchasing guide. Available in colors ranging from blue to violet this stone is genuinely stunning and sure to impress your Valentine. The most intense purple and blue tanzanites are the most valuable. At GemSelect high quality smaller to mid-size pieces of Tanzanite do range in price, but they are quite affordable. A large piece of Tanzanite will be pricey but just like the precious stone detailed above it is a worthwhile investment.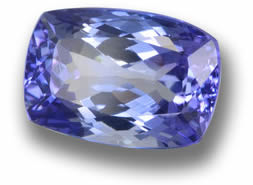 Shop Tanzanite Gemstones at GemSelect
Spinel: Spinel is an excellent gemstone and for many 'red spinel' is like a ruby without the ruby price. While this gem type is certainly suitable for a ruby substitute, it isn't available only in red. If you are in the market for a beautiful purple stone, shop our vast inventory of purple and pink spinel available in pastel and intense shades. GemSelect's selections are affordably priced, and if you are planning a ring or pendant, you can purchase a beautiful spinel to mount for a low amount of money. Spinel is also an excellent stone for investment as it maintains or increases in price over time.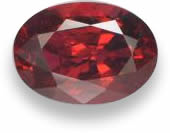 Shop Spinel Gemstones at GemSelect
Aquamarine: Aquamarine is a magnificent stone with remarkable brilliance. The colors of aquamarine resemble the colors of beautiful ocean waters with colors that undulate from blue to blue-green. These colors will compliment any skin tone, and the sparkle of our aquamarine pieces will not go unnoticed. Aquamarine generally has excellent clarity and is also very durable. Large pieces with great color are an excellent choice for collectors and investors. Smaller pieces are very affordable, and Aquamarines luster or sparkle is lovely.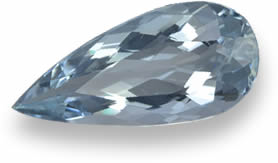 Shop Aquamarine Gemstones at GemSelect
Zircon: If you are shopping for affordable and beautiful pink, red, orange, yellow, white, or blue stone with an incredible luster look no further. Zircon has a brilliant light and fire and excellent hardness. Zircon is also available in a range of unique hues. We have some zircons here that are very affordable and are guaranteed show because of their excellent clarity, color, and fire. Zircon is considered to have a flash of brilliance that puts diamond to the test, and we agree a good zircon will make you think twice about ever purchasing a diamond again. GemSelect's Zircon has a vast variety of stones to choose from that are genuinely VVS in other words they are really, really, clean!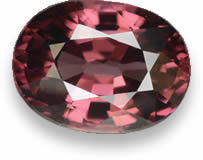 Shop Zircon Gemstones at GemSelect
Garnet: Many will agree that Garnet is an excellent gemstone to gift for Valentine's Day because it is affordable, immaculate, and the most popular colors resemble beautiful ruby or red spinel. Pairs are affordable and available in abundance, so if you plan earrings, this is a great gem type to search. Colors of this gem group are not just red either they vary considerably there are some genuinely spectacular pinks, purples, reds, and greens in this family. Different varieties of garnet have different properties like durability and clarity.
The three garnet types GemSelect Suggests are Tsavorite (green), Rhodolite (purplish-pink), and for affordability Pyrope (red).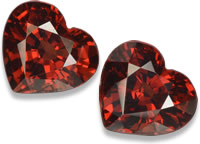 Shop Garnet Gemstones at GemSelect
Topaz: Topaz is one of the most popular colored gems today. It is very durable and has excellent brilliance. The most popular color of topaz is blue. The majority of Blue Topaz seen today is treated and is very affordable plus it comes in large shapes and numerous designs. Topaz is also widely available as pairs and lots of gems.
Imperial Topaz is natural untreated topaz and if you are looking for a gift that will amaze your lover shop from our natural untreated Imperial Topaz. All forms of Topaz have incredible clarity with many pieces being flawless.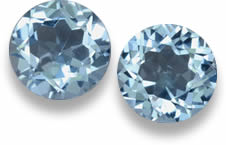 Shop Topaz Gemstones at GemSelect
Amethyst: Amethyst is a purple gemstone that is incredibly affordable and beautiful if you are considering a pendant and looking for a stone that is very affordable look no further. GemSelect's Amethyst is also great for earrings as it is available in numerous shapes as pairs which are expertly matched for color and size. With the affordability of this stone, you can make a stunning set of earrings and a pendant set that will impress your Valentine like no other.
You can expect excellent clarity from Amethyst as this gem is commonly available in VVS clarity.
Shop Amethyst Gemstones at GemSelect
How to turn your gems into jewelry - Mounting
So you have done it, you have spent the time and picked out an excellent gemstone or pair for the gift you will give this year. Now there is one last step making it into a wearable piece of jewelry. What is the trick how is this done? Well, it is much easier than you may think because any good jeweler will have settings or 'mounts' on hand for your newly purchased gem or gems, so long as you bought a calibrated size obtaining the mounting should be a breeze.
So here are some terms: semi-mounts and mounts and we will briefly describe the difference and how you can use them to create your jewelry.
For rings, earrings, and pendants semi mounts are great if you are looking to make a significant gift. The semi mount will already have diamonds set in a 'pave' and an opening where the stone or stones you purchased will go. Here are some examples of semi-mounts.
If you are looking for something a little less pricey, you can keep it simple and go with a traditional mount for a solitaire ring, a simple pendant, or a simple pair of earrings like studs. Your local jeweler will be able to show you several designs from which you can choose.
Both the mount and the semi mount are the same regarding how simple they are to set with a gemstone. The only difference is the semi mount is set with diamonds. By purchasing calibrated stones and choosing either of these options, you can sometimes have your piece completed in only one day. Remember that mounting will make your gems look much better so prepare yourself because we're sure the jewelry you create will look so spectacular that you and your Valentine will smile from ear to ear.
Thank you for reading!
If you have any questions, please feel free to contact us at help@gemselect.com