Gemstone Eternity Rings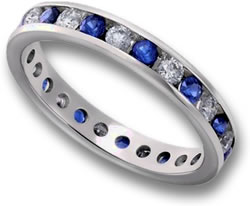 Channel-Set Blue Sapphire and Diamond Eternity Ring
Eternity rings are bands that have a continuous line of gemstones around them. They are also known as "infinity rings" and symbolize eternal love. The gemstones in eternity rings are usually the same size and shape, and can be one gemstone type in a single color, or several in different colors. One modern trend is to have several colors that gradually fade into each other, or one color of varying saturation. For example, gems could be light-pink, then medium-pink, and then hot pink. Sapphires are popular gemstones for eternity rings, some rings have blue sapphire mixed with white diamond. Others use pink or yellow sapphire. Ruby is another popular choice, but there are many colored gemstones that are suitable for eternity rings. Traditional eternity rings are set with round, brilliant-cut gems, but nowadays, emerald-cut, princess-cut and other shaped gems are available in eternity rings.
The benefit with designing eternity rings is that the small gemstones used in them are relatively inexpensive when compared with a large stone for a solitaire ring. Gems that are difficult to find in large sizes such as tsavorite garnet, are suitable for being used in eternity rings. Eternity ring stones can be purchased in sets (lots) which are ready-matched for size and color. If multicolored stones are preferred, multicolored lots are also available. It is important to properly measure the gemstones to ensure that they fit the setting well, otherwise there could be loss of stones later or frustration when finishing the ring. Channel-setting used to be the conventional way to construct eternity rings whereby the gems are held in a groove between two bars of metal, but now there are other options, such as bezels, prongs, which let in more light, pavé and micro-pavé eternity rings. There are also double- and triple-band eternity rings, or stackable eternity rings in mixed metals. Stackable rings tend to have narrow bands with smaller stones, where single eternity bands are wider with larger stones.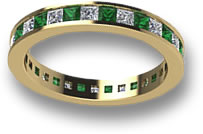 Emerald and White Sapphire Eternity Ring
Eternity rings are traditionally given as an anniversary gift, but can also be presented to a wife after the birth of a child or another important occasion. The famous diamond company, De Beers increased the popularity of eternity rings in the 1960s with straplines such as, "She married you for richer or poorer. Let her know how it's going". Thus, eternity rings from this period contained white diamonds. Nowadays, eternity rings are also used as wedding bands and there are both men's and ladies' eternity rings. It is a modern trend to match an eternity-style wedding band to an engagement ring. For example, if the engagement ring contains a princess-cut gem, then the wedding band will also feature princess cuts. Engagement rings may also have gemstones on the shank to match an eternity band. Some modern eternity bands have alternating different shaped gems rather than a single shape all the way around, and some are more detailed, with halo-set colored gems surrounded by white accent stones.
Eternity rings may be worn flush against an engagement ring, or worn on the right hand if separate to the wedding band. For those who find eternity rings uncomfortable, it is possible to buy eternity rings that only have gemstones across the front. These are known as "half eternity bands" and are generally less costly due to there being half the amount of gemstones set into them. Further variations are bands that have intermittent gems set into them, filigree bands, curved bands and crossover rings. Like wedding bands, eternity bands can be rounded on the inside. These are known as "comfort fit" rings because they are more comfortable to wear than rings with squared edges.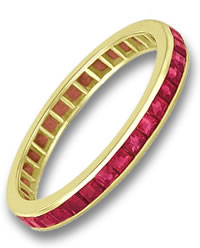 Princess-Cut Ruby and Yellow Gold Eternity Ring
Eternity rings may be made from gold, platinum or another precious metal. However, they should be constructed from a metal that is durable, since they will be worn every day. It is important to measure the finger or base the size on an existing well-fitting ring to ensure that an eternity ring will fit properly since a design with continuous gemstones can be difficult to adjust. A half eternity band is easier to adjust than a full one.
Although eternity rings are traditionally a spousal gift, there is no iron-clad law forbidding eternity rings from being designed for other purposes. After all, there is no reason for those who are unmarried to miss out on beautiful things. The infinity style can inspire a bejeweled treat for oneself whether you are married or not. And if it is well-designed and constructed, it will last for an eternity.