Multicolor Gems, Metals and Jewelry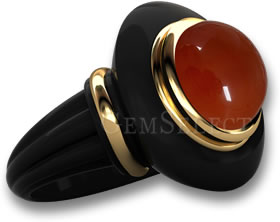 Black Metal Ring with Carnelian and Gold Detail
It is encouraging to see that recent award winning jewelry embraces variety - the spice of life. We have now reached an era where anything goes; silver and diamonds; gold and so-called "semi-precious stones", asymmetry, and even a mixture of three colored metals in one piece of jewelry. One singer once sang. "If everybody looked the same, we'd get tired of looking at each other." (Groove Armada) and this is true when it comes to jewelry.
There is always a place for timeless classics like white diamond solitaire rings, but colorful gemstones and jewelry brighten up a look and provide a little fun and contrast. With colored gemstones, there is a wealth of color to be appreciated and used in jewelry. Multicolored jewelry does not need to be cheap; indeed, a great deal of fine jewelry makes use of fancy colored gemstones and there are almost limitless color combination possibilities with colored gemstones. The use of color is an art in itself, and can be used to create contrast or harmony.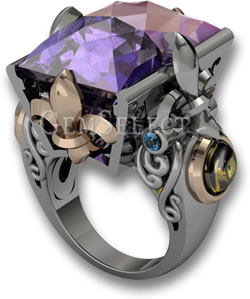 Silver Ametrine Ring with Topaz and Citrine Accent Stones and Bronze Detail
Some of us consider color harmony and symmetry to be pleasing to the eye. Others like to experiment with contrast and asymmetry. There is no right or wrong with colored gemstone jewelry design, but what merely what feels right for each individual and makes them happy. Color fashions always come and go, especially when it comes to clothing and accessories; but color itself will never go out of fashion. The fashion industry thrives on color trends which change with the seasons. However most gemstone jewelry is designed to outlast such short-term fads.
Colored gemstones used to be set mainly into either white or yellow precious metal, but nowadays, it is possible to use more interesting variations, such as black metal, fancy colored gold alloys and mixed metals as accents or as blended pieces. Mixed metals have become very popular in recent years with people wearing yellow gold, silver and rose gold all in one piece. Multicolor metals are easy for everyone to wear and can be worn with anything.
Some of the most beautiful historical jewels are multicolored pieces, such as Mughal pieces and ancient Egyptian jewelry. These provided inspiration for jewelry in the 1900s, including Cartier's "Tutti Frutti" jewelry. These are a colorful mix of Eastern and Western jewelry styles with carved rubies, blue sapphires and emeralds. Van Cleef & Arpels were inspired by the discovery of the tomb of King Tutankhamun and produced a multicolored "Egyptian Bracelet", featuring hieroglyphic gemstone designs.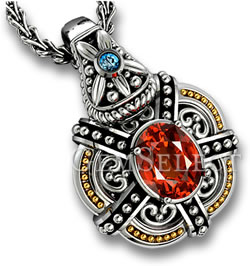 Silver Pendant with Spessartite Garnet, Topaz Accent and Gold Detail
Several contemporary jewelry award winners reflect today's refreshing attitude to design, with innovative use of color, gemstone cuts, settings and metals. These provide a welcome departure from staid traditions, mixing unexpected colors, textures and styles. The lines between so-called "fine jewelry" and "fashion jewelry" have never been so blurred. Color can have its own objective meaning or be seen as a subjective means of expression. One of the pioneers of color theory was Swiss artist, Johannes Itten, who said, "Color is life, for a world without color seems dead." Of color combination he said the following: "He who wishes to become a master of color must see, feel, and experience each individual color in its endless combinations with all other colors." This seems to persuade us to go forth and play with all the colors of the rainbow.