Express Yourself with Colored Gemstone Jewelry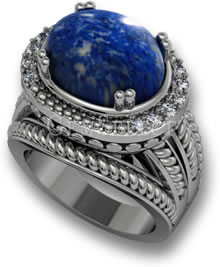 GemSelect Lapis Lazuli Ring Design
Jewelry trends come and go, but some things will never go out of fashion, such as white diamonds, blue sapphire, red ruby and green emerald. Over the years, a trend has been emerging for bolder styles and rather than allowing jewelry to define them, customers would like to express their individuality with jewelry. This means that people are shifting from allowing a brand to identify them to forging their own identity with custom-made jewelry and brands that best portray their personality, hopes and dreams.
Jewelry has been worn as a status symbol since ancient times, when gold, platinum, silver and gemstones were reserved for members of the elite and the most sumptuous jewels were worn by royalty. Later, celebrity culture gave rise to jewelry of the rich and famous being showcased on red carpets and other events. Reproductions of incredible gemstone jewelry were sought after by those wishing to show that they could also afford fabulous fashions. The connotations of certain brands allowed people to associate themselves with certain aspired-for qualities, whether it was beauty, wealth or something else.
In recent years, there seems to have been a transition from wearing jewelry of a particular brand to show status, to wearing jewelry to show more about the self. Thus, gemstone jewelry wearers would like to express themselves with jewelry, rather than letting certain brands speak for them. This means that how jewelry is worn has changed, as well as what jewelry is worn. Previously, one piece of jewelry would be bought and worn in the same way by all consumers, but now, like a unique cover of an original song, people like to make wearables their own. For example, stackable rings and necklaces are now popular and how pieces can be layered creates an overall individual style.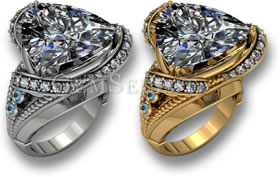 Custom-Made White Topaz Rings by GemSelect
Internet-based business has opened up the possibilities for products in all sectors, including fashion and jewelry. Nowadays, the world is your oyster, and we can conveniently gain access to a multitude of choices at the simple push of a button. It is said that modern consumerism leads to a throwaway attitude, but with a number of digital platforms such as eBay, it is possible to resell and avoid waste. Furthermore, discerning shoppers like to know exactly where their money is going, and prefer to fund small, ethical businesses than large, anonymous organizations. Although mass-produced gemstone jewelry is affordable, cost-cutting can mean lower quality and less attention to detail, such as staff well-being and customer service. A brand you can trust with a solid reputation and verified customer reviews will give you more peace of mind than a company that lacks information, transparency and customer ratings.
Jewelry that has a personal connection will be more meaningful than an anonymous product, and meaning is valued much more than material goods. Memories will always be treasured more than things that are purchased merely for short-term gratification. This can be easily seen in an infant's choice of toy. Many babies will choose a doll, a blanket or a bear that they will love for many years because there is just something special about it. In the same way some jewelry choices will stay with you forever, but others will be soon disregarded. Not many people can say that a loose white diamond somehow "spoke to them" and charmed them, but when it comes to colored gemstones, there is a lot more character to be seen. A certain color will invoke memories and feelings which draw us in. A wide choice of colored gemstones allows the individual to shine through the jewelry. A choice of products and options now makes it possible to have jewelry exactly as you wish, rather than settle for something generic. A piece that has been well-chosen and crafted for you will likely be treasured for many more years than a generic piece with no personality.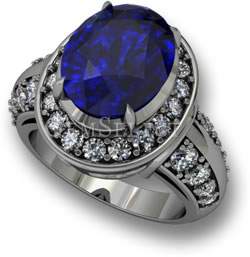 Unique Tanzanite Engagement Ring by GemSelect
When it comes to choosing gemstones and designs for engagement rings, couples are much more involved than before, making choices that have meaning. Nowadays, emulating Kate Middleton's engagement ring is not as important as a style that is more personal. For example, some wedding rings have cleverly concealed gemstones inside the band, so that colored gemstones are worn close to the skin. Birthstones may be incorporated into an engagement ring design, such as the unique ring chosen by Justin Timberlake for his bride, Jessica Biel, whose ring has two aquamarine side stones representing her birthstone. Colored gemstones have their own meanings, such as sincerity for sapphire, passion and prosperity for ruby, and emerald for well-being. This can help guide customers in choosing a bespoke ring.
For jewelry that feels truly you, it is worth looking outside the usual jewelry box and into the world of color. To know whether custom-made gemstone jewelry is for you, you can ask yourself the following question: Do you want to wear the same jewelry as everyone else or would you prefer to dance to your own colorful tune? Theodore Roosevelt famously said, "Comparison is the thief of joy." This is especially true when it comes to the "keeping up with the Kardashians attitude" and comparing what we have to what celebrities have. When we think about how much more others have, we will only be dissatisfied with our own lives. Therefore, the key is to embrace our individuality and celebrate it by being non other than ourselves.