Click for Details
1 pc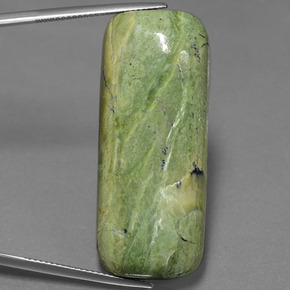 Cushion Green Serpentine
39.1ct
41.2 x 16.8 mm
Item in Stock
Click for Details
1 pc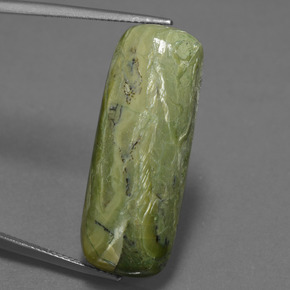 Cushion Green Serpentine
19.6ct
32 x 12.3 mm
Item in Stock
Serpentine
Serpentine
is the name used for several different aggregate structures which are usually green, yellowish green, or brownish green in color. The finer serpentine is cut as cabochons for gemstones, or carved into decorative objects. Though serpentine is sometimes confused with jade, serpentine is usually spotted or veined.
The serpentine group includes as many as 20 different members, including verdite, which is often referred to 'African jade'. All the serpentines are a basic magnesium silicate, with many containing iron as well. Other elements may also be present in small quantities, including chromium, nickel and cobalt. Serpentine varieties are found in many places in the world, including Afghanistan, Burma, China, New Zealand, the USA, Canada, UK, Greece, Italy and Norway.
Certified Customer Reviews
Overall Rating -> 10

Talking with grandson about birthstones. He expressed interest in his birthstone.I found your website online. It offered an inexpensive way to teach him about gemstones.
Posted By NikkiM in February, 2020
Overall Rating -> 10

I was very surprised at the very diverse selection of sizes and shapes of stones!
Posted By Lloyd in February, 2020
Overall Rating -> 10

This purchase was very easy to complete. I have been buying items every once in a while from you for a few years now, and always love the simplicity of teaching and purchasing items. I will, of course, purchase from you again.
Posted By John in February, 2020
Overall Rating -> 10

This site is great.
Posted By Con in February, 2020
Overall Rating -> 10

GemSelect has a vast selection of gemstones in various size, shape and price. I like it because the gems are precut and ready for the novice jewler. The website is very easy to navigate and purchasing was a breeze.
Posted By Mr. C in February, 2020
Overall Rating -> 8

It was super easy to find what i wanted and i loved how i can sort through the huge selection easily
Posted By Max in February, 2020
Gemstone Information
Popular Gemstones