Buy Blue Green Tourmaline Gems
(1)
Click for Details
1 pc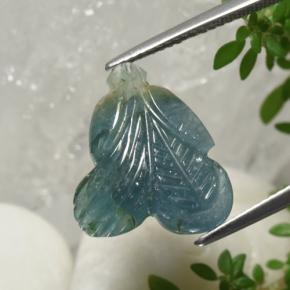 Flower Cut Blue Tourmaline
7ct
16.1 x 14.6 mm
Item in Stock
Blue Green Tourmaline
Green tourmaline is often referred to as verdite or when chromium-bearing, as chrome tourmaline. Blue tourmaline refers to two rare varieties of tourmaline: Paraiba tourmaline and indicolite tourmaline. Pure blue tourmaline is incredibly rare as most blue tourmaline gems have a green secondary hue. Tourmaline gems that don't quite qualify as either indicolite or Paraiba are most often traded simply by their color description, ranging from blue-green to green blue, and from greenish blue to bluish green. Usually these tourmaline gems are very affordable, especially considering the hefty prices that true Paraiba tourmaline and Indicolite demand
Paraiba tourmaline is considered to be the most valuable variety of tourmaline and was named after the source of its original discovery in Paraiba, Brazil. Paraiba tourmaline gets its neon blue-green color from traces of copper. Technically, the term 'indicolite' is used to describe any other form of blue tourmaline. Indicolite can range from light to deep-blue. Any blue tourmaline is considered to be very rare and anything weighing more than 1 carat is extremely rare. Tourmaline is both hard (7 to 7.5 on the Mohs scale) and durable, making it ideal for gemstone jewelry. It can be found in various cuts, shapes and sizes. Tourmaline is also October's birthstone.

Tourmaline is a stone that occurs in many different colors; almost every color of the rainbow. Another unique characteristic of tourmaline is that it can be electrically charged by changes in temperature or pressure. Tourmaline generally has a high level of clarity, has very few inclusions and is quite durable, with a hardness of 7-7.5 on the Mohs scale, all of which make tourmaline a very attractive buy. Large sizes are affordable as well. From this page, you can filter the results further by using the left-hand menu. By using the top menu, you can search by origin, carat weight, size, price and other factors, to enable you to find the exact tourmaline gemstones that you are looking for. All items are in stock and ready to ship.
Certified Customer Reviews
Overall Rating -> 10

Excellent Choices at a reasonable price
Posted By Striker308 in December, 2019
Overall Rating -> 10

I was looking at another site for an hour. got tired of that site, found Gem Select and found what I wanted in 3 minutes
Posted By Frank in December, 2019
Overall Rating -> 8

Such a large selection to choose from. Looking forward to receiving the gemstones ordered
Posted By Sam in December, 2019
Overall Rating -> 10

excellent
Posted By Renon in December, 2019
Overall Rating -> 10

I am so pleased with the gems I purchased. I will recommend you to all my friends
Posted By Brandi in December, 2019
Overall Rating -> 10

If you are looking for lose stones at a fair price, buy from GemSelect. They send it to you in just a week.
Posted By Tim in December, 2019
Gemstone Information
Popular Gemstones