Shop By
You Selected (2): Ruby Untreated-Unheated - Ruby, Star Ruby
Clear All

VIDEO
ID: 446790

1

pcs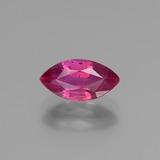 1.32 ct Ruby
9.2 x 4.8 mm
$
1056.00
Item in Stock

VIDEO
ID: 446508

1

pcs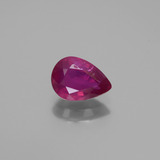 1.08 ct Ruby
7 x 5 mm
$
864.00
Item in Stock
Ruby Untreated-Unheated
Ruby has been prized for centuries for its rich red hue and vitreous (glass-like) luster. Ruby is a red variety of corundum that gets its color from chromium. The word "corundum" comes from the Tamil 'kurundam', meaning 'ruby sapphire', while the term 'ruby' is derived from 'ruber', the Latin word for 'red'. In ancient Sanskrit, ruby is called 'ratnaraj', which translates as 'king of precious stones'. The traditional sources for fine rubies are typically Burma and Thailand, but today many affordable rubies are coming from various regions of Africa, including Tanzania, Sir Lanka (Ceylon), Mozambique and Madagascar. Because of ruby's excellent hardness, rich color and silky luster, fine quality ruby is classed as one of the so-called "precious four" gemstones, along with
diamond
,
emerald
and
sapphire
. Ruby is the official
birthstone
for the month of July, and it is the gem used to honor the 15th and 40th year anniversaries.
Almost all ruby today is enhanced by routine
heat treatment
, which improves not only the color, but also its clarity. Many rubies on the market today may have been
fracture-filled
, which offers an affordable ruby choice for those who would not normally be able to afford an unheated ruby. Rubies can range in color from pinkish-red to orangey-red, and from violet-purplish-red to brownish-red. Most ruby experts would agree that a stone with medium to medium-dark color tone is considered a very good color for ruby gemstones. Untreated and unheated natural ruby is very rare, since almost all material is heavily fractured and included prior to processing. Gem testing can indicate whether a ruby has been heated usually though the presence of silky rutile inclusions, which is an indicator used to test for
unheated sapphire
. Despite all of the various gem treatments that ruby is often subjected to, unheated ruby can be found though it is not always easy to source. Reputable gemstone sellers and dealers should always declare any treatment or enhancement, especially for gem types such as ruby and sapphire, where treatment can impact value tremendously.