Shop By
You Selected (115): Ametrine from Bolivia - Ametrine
Clear All

VIDEO
ID: 459364

1

pcs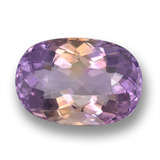 19.00 ct Ametrine
19.7 x 13.6 mm
$
209.00
Item in Stock
Ametrine from Bolivia
Amethyst and citrine are both forms of transparent quartz and are often found in the same location. Natural golden citrine is considered to be rarer than purple amethyst, and so it usually is more valuable. However, a very rare combination of both colors of quartz found in the same crystal is even rarer than golden citrine. Virtually all the world's supply of ametrine comes from a single mine in Southeastern Bolivia, known as the Anahi mine.
Ametrine from Bolivia
is considered by most to be the finest quality ametrine available today.