Buy Red Tourmaline Gems
You Selected (2): Red Tourmaline Gems - Tourmaline, Cat's Eye Tourmaline, Rubellite Tourmaline
Clear All
Click for Details
1 pc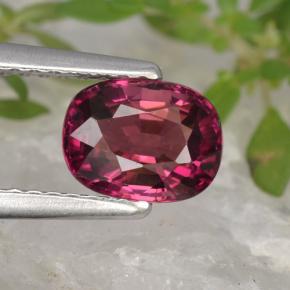 Cushion Red Tourmaline
1.1ct
7.1 x 5.4 mm
Item in Stock
Click for Details
1 pc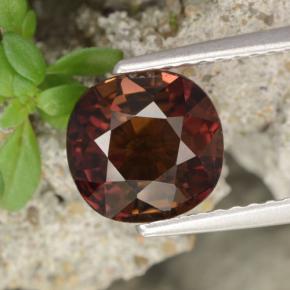 Cushion Red Tourmaline
2.7ct
7.7 x 7.4 mm
Item in Stock
Red Tourmaline Gems
Tourmaline
derives from the Sinhalese term "turamali", which translates as "stone of mixed colors". The very name refers to the unique spectrum of colors displayed by this gemstone, which is second to none in the realm of
precious stones
. One of the most versatile of gemstones, tourmaline is available in every color, from colorless to black. It can show every tone from pastel to dark, and can exhibit various colors in the same stone.
The many different colors of tourmaline mean that this stone can easily be mistaken for just about any other gemstone. Many stones in the Russian Crown Jewels from the 17th century once thought to be
rubies
are actually tourmalines.
Tourmaline is of high clarity, has very few inclusions and is quite durable (rating of 7-7.5 on the
Mohs hardness scale
), all of which make tourmaline a very attractive buy. Large sizes are affordable as well.
Vivid pink to red
tourmaline
, often with a violet tinge, is known as
rubellite
. It is one of the most valuable tourmaline colors, particularly when its color resembles that of fine ruby.
Certified Customer Reviews
Overall Rating -> 10

My experience with gemselect was awesome so far. I had a few questions about their website and making orders and they replied quickly and were happy to help. I have not received the items I ordered yet as I just ordered them this morning. Although, I truly feel I am going to be a very happy customer once I do receive my items. Gemselect guarantees all their items and have a great return policy just incase. The have a vast selection of all kinds of stones and not to mention their prices are much better than some other websites. Thanks Gemselect I'll be doing business here from now on!
Posted By Jpapaleo in January, 2019
Overall Rating -> 10

I was very happy on the quality of the gemstones I recieved from GemSelect, I will deffinetly buy again.
Posted By Mckeg in January, 2019
Overall Rating -> 10

Great, easy to use, efficient!
Posted By Olive in January, 2019
Overall Rating -> 9

Great selection. Love the many learning features like articles and gem information. Prices competitive for natural stones. I do miss not having a selection of lab-made stones, CZ's, etc, which are useful when price and cost are factors.
Posted By Dirk in January, 2019
Overall Rating -> 10

Website easy to navigate.
Posted By RaeRae in January, 2019
Overall Rating -> 9

I WOULD RECOMMEND GEM SELECT.
Posted By BO in January, 2019
Gemstone Information
Popular Gemstones