Ruby-in-Zoisite
Vast ruby deposits were discovered in 1949 at Longido in Northeast Tanzania at the foot of Mt. Kilimanjaro. The discovery was made by Tom Blevins, an English prospector. He thought he had made the find of the century and that he and his partner would become immensely wealthy. It was not to be.
Though the ruby at Longido was found in astonishing quantity - literally millions of carats - much of it was coarse, opaque and encased in a green matrix that turned out to be the mineral zoisite.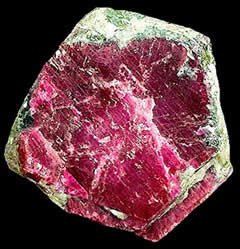 Ruby-Zoisite Rough
It took some years before a market could be found for this material. In fact, Blevins had given up trying to market it and had stored tons of it in his garage. He and his partner had turned their attention to meerschaum mining and pipe-carving instead.
While it was was not fine ruby, this material eventually found its uses in carvings, ornamental objects and cabochons. The combination of green zoisite with its black streaks of hornblende and rich red and pink ruby is unique and attractive. It is one of the most colorful ornamental stones in the world and the abundance of the material makes it very affordable, even in large sizes.
The mineralogical name of ruby-zoisite is anyolite, which is said to be derived from the Masai word for green ("anyoli"). But it is most commonly called ruby-zoisite or ruby-in-zoisite. You may also hear it referred to as Tanganyika artstone.
The mineral zoisite was named after the Slovenian mineralogist Sigmund Zois (1747-1819), who first recognized it as an unknown mineral when it was first discovered in the Austrian Alps in 1805. The other members of the zoisite family are thulite; an opaque, massive manganese-rich variety of pink zoisite and tanzanite, the now famous blue to violet gem that comes from the hills of Northern Tanzania.
Ruby-zoisite rocks are difficult to fashion because of marked differences in hardness of their chief constituents. Zoisite and hornblende have a hardness of about 6.5 on the Mohs scale whereas ruby has a hardness of 9. Usually cutters try to emphasize the ruby portions of the material or achieve interesting contrasts.
Ruby-zoisite carvings are very popular, and the material is particularly well-suited for figures like turtles. Large cabochons make attractive pendants and some nicely polished faceted pieces are also very attractive.
The Longido mining district in Tanzania continues to be the sole source for the world's supply of ruby-zoisite.