Shop By
You Selected (1): Green Turquoise - Turquoise
Clear All
Click for Details
1 pc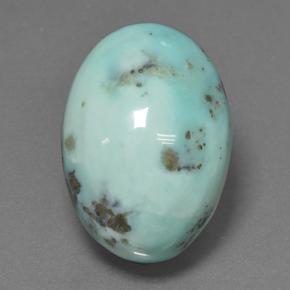 28.35 ct Turquoise
23.5 x 16.7 mm
Item in Stock
Green Turquoise
Turquoise is an opaque copper-bearing basic aluminium phosphate. Since millennia, turquoise has been prized as a gemstone for its unique color, of which, was named after the gemstone and not the other way around. The brilliant sky-blue color of fine turquoise has never lost its fascination by gemstone and gemstone jewelry lovers, while rare green turquoise is popular among collectors and those seeking rare and exciting jewelry. It has easily become one of the most classic stones to be set with silver, along with lapis lazuli, its blue sister-stone. Turquoise is cut en cabochon and can be used for all kinds of jewelry, including rings, necklaces, brooches, bracelets and earrings. Turquoise is December's official birthstone and it is believed to promote good fortune, happiness and a longevity.
Certified Customer Reviews
Overall Rating -> 8

Finding the right gemstones was easy on the web page. Payment was quite simple as well. Design of the site was nice and simple; however, the "Create Your Gemstone Lots" image appears fuzzy and lowers aesthetics in my opinion.
Posted By Anon34 in December, 2018
Overall Rating -> 10

I have always had good luck with GemSelect. The stones are always as pictured. I would recommend GemSelect.
Posted By MiMi in December, 2018
Overall Rating -> 10

The site had so many different stones and they were very affordably priced
Posted By Manimal in December, 2018
Overall Rating -> 9

Good stones and easy to use website
Posted By Wilsondesigns in December, 2018
Overall Rating -> 9

All is good
Posted By T in December, 2018
Overall Rating -> 10

nice collection of jewels at a fair price
Posted By Bob in December, 2018
Gemstone Information
Popular Gemstones