About Chrysocolla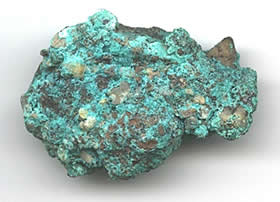 Chrysocolla Rough Stone
Chrysocolla is one of the lesser known gemstones, but it is a fascinating mineral. It is sometimes confused with turquoise due to its color and greasy to vitreous luster. Chrysocolla is one of a small group of copper-bearing gems that includes malachite, azurite, Larimar, Oregon sunstone and Paraiba tourmaline, as well as turquoise.
By composition, chrysocolla is a hydrous copper silicate, often with traces of copper, iron and manganese oxide. It is a fairly soft stone at 2 to 4 on the Mohs scale, which makes it somewhat softer than turquoise. It is almost always opaque, and often occurs in shades of blue and green that make it appear similar to turquoise.
The name chrysocolla comes from the Greek words for gold (chyrsos) and glue (kolla). It is a name that the Greeks applied to minerals used for soldering gold, but the term came to be used to refer to various green copper-bearing minerals.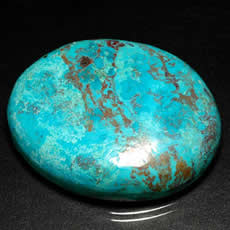 Chrysocolla with Malachite
One of the interesting features of chrysocolla is that it is often found mixed with other secondary copper minerals such as malachite, azurite and turquoise, or with quartz. These mixtures provide interesting patterns and textures, and also make the final product harder and more durable than pure chrysocolla.
According to traditional beliefs, chrysocolla alleviates fear, guilt and nervous tension. It is thought to crystallize feelings of spiritual love, acceptance and tolerance toward others. It is also believed to help its wearer forgive others for their wrongdoings and be more loving and understanding, thus fostering goodwill. It also promotes the feminine qualities that we all possess. Chrysocolla is known to be favored by musicians and singers all over the world.
Chrysocolla deposits are found in Chile, Israel, Mexico, Peru, Russia, the USA (Nevada) and Africa (Democratic Republic of the Congo).