Buy Tourmaline Cabochons Gems
You Selected (2): Tourmaline Cabochons - Tourmaline, Cat's Eye Tourmaline, Paraiba Tourmaline, Chrome Tourmaline, Rubellite Tourmaline
Clear All
Click for Details
5 pcs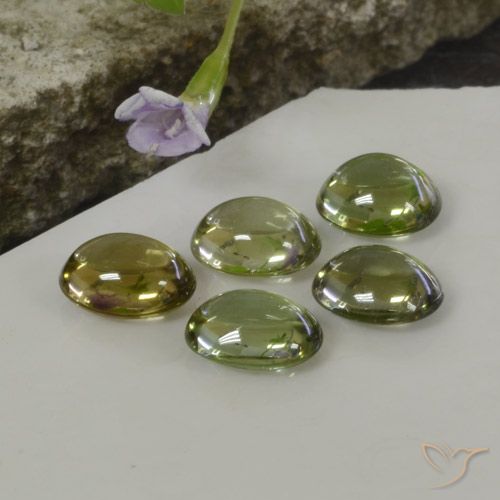 Oval Multicolor Tourmaline
1.05 ct (total 5.25ctw)
7 x 6 mm
Item in Stock
Click for Details
4 pcs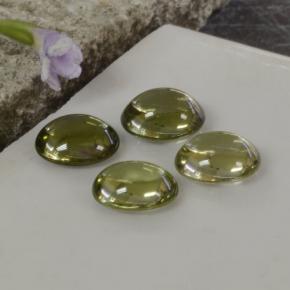 Oval Green Tourmaline
1.11 ct (total 4.44ctw)
7.3 x 6.2 mm
Item in Stock
Tourmaline Cabochons
Tourmaline is one of the most versatile gemstone groups available today. The name 'tourmaline' is thought to be derived from 'turamali', a Sinhalese word which translates as a 'stone with various colors'. Most fine quality tourmaline is faceted to bring out its desirable qualities, particularly in the shape of elongated bars. It is rare to find tourmaline cut en cabochon because of its elongated crystal habit. Although many sellers do offer tourmaline cabochons, rarely will they be high quality gems. Most cabs are cut from inferior material, though there are exceptions to this, especially when it comes to tourmaline which exhibits
cat's eye
chatoyancy
. Cat's eye tourmaline is always cut en cabochon in order to bring out the desirable cat's eye effect.
Multicolor and bicolor tourmaline will often be cut into cabs or slices to showcase its characteristic and attractive color zoning, such as with red, green and white color-zoned watermelon tourmaline. Technically,
cabochons
are not actually 'cut', but rather shaped and then polished. Before the times of faceting, all gemstones were worked into
cabochons
or into
gem carvings
. Cabochons lack facets, though some mixed-cuts can feature a flat bottom with a faceted domed top, such as the '
rose-cut
'. Tourmaline cabochons can be formed into any shape, but oval cabs are most common.
Tourmaline
combines affordability with good hardness (7 to 7.5 on the
Mohs scale
) and excellent durability (it has no
cleavage
). Tourmaline gems form in an astonishing array of colors, including bicolor and multicolor crystals. The best quality tourmaline should have strong color saturation, excellent clarity and an attractive vitreous luster.
Certified Customer Reviews
Overall Rating -> 9

Great selection. Love the many learning features like articles and gem information. Prices competitive for natural stones. I do miss not having a selection of lab-made stones, CZ's, etc, which are useful when price and cost are factors.
Posted By Dirk in January, 2019
Overall Rating -> 10

Website easy to navigate.
Posted By RaeRae in January, 2019
Overall Rating -> 9

I WOULD RECOMMEND GEM SELECT.
Posted By BO in January, 2019
Overall Rating -> 10

As Always never disappointed in any gemstone I purchase from this site. I have never had a problem. Thank-You Gemselect for offering such a comprehensive variety . I will continue to order from this site.
Posted By Brian in January, 2019
Overall Rating -> 10

Easy to find what i'm looking for on website, very clear, like photos
Posted By Lifter in January, 2019
Overall Rating -> 10

Better than what I expected. Beautifully cut gem!
Posted By in January, 2019
Gemstone Information
Popular Gemstones