February 2008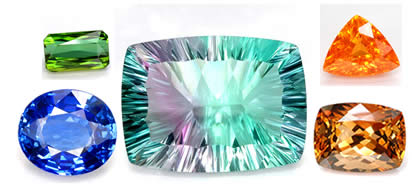 In our newsletter this month:

Buy It While You Can
New and Interesting Gemstones
New Content at GemSelect
Gemstones Worth Knowing
Customer Questions

Buy It While You Can

The colored gemstone business is quite different from the diamond business. Diamonds are promoted as rare and precious, but in fact they are widely available in standardized cuts and shapes. The fact that diamonds are expensive has more to do with De Beers' control of the supply chain than it does with rarity of diamonds. About 60 million carats of gem quality diamonds are mined each year. Unless you're looking for something very exceptional, you can always find diamonds in every shape, size and quality.

The situation with colored gems could not be more different. Colored stones, unlike diamonds, are mostly mined by independent, small-scale miners, working in remote locations in far away places such as Sri Lanka, Madagascar, Tanzania, Burma, Afghanistan, Colombia and Bolivia. Mining is carried out with pick and shovel, and only rarely with heavy equipment. Colored gems reach the market in a variety of ways, many of them involving relatively small deals between independent businessmen.

The reality of the colored gems business is very apparent when you go out in search of a specific gem. If you look for a sapphire in a specific color, size, shape and clarity, you have to be lucky to find exactly the stone you're looking for. The supply of material is so variable that not every kind of stone will be available in every color and size at any given time. It's one of the frustrations of the colored gems trade. At the same time, there is a lot of excitement when interesting stones come on the market.

From our years in the gems business, we've learned that you have to buy it while you can. When good stones come on the market -- and especially good stones at good prices -- you have to seize the opportunity. A few months later and it may no longer be possible to buy them. We've learned the lesson the hard way.

Here are a few cases in point. Recently we were able to buy some unusual rose zircon from Tanzania. This was completely untreated material, very clean, and some of it in exceptional sizes -- up to 5 or 6 carats. We bought as much as we could and we hope we'll be able to buy it again. But we won't be surprised if next month the supply has dried up.
It happened with chrome tourmaline last year. We were able to find a nice parcel of this rare tourmaline colored by chromium. Not surprisingly, we sold it very quickly. We tried to buy more but it was no longer available. Then we didn't see it again for many months. Last week we got lucky again and found a small number of pieces at a very good price. We wish we could have bought more.

Another example is demantoid garnet. This rare green garnet with the diamond-like luster is one of the most difficult to find of all of colored gems. Sometimes we go a whole year without any in stock. Last week we found a small lot and bought it immediately. Who knows when we'll see it again.
Some gems, such as the quartz family (amethyst, citrine, etc.) are always in good supply. But some others, while usually available, are not always available in the sizes or quality that we want to buy. For example, we've had many requests for peridot in larger sizes. Everything we had found in the market for months was under 2 carats. Then last month we found some Burmese peridot in sizes up to 11 carats, with outstanding color saturation. It is quite rare to find peridot that large and we'll be surprised (but delighted) if we see it again any time soon.
Like most gemstone buyers, we have a shopping list when we go into the market to buy gems. But if we only bought what was on our list, some months we'd buy hardly anything at all. In the colored gemstone market you have to be an opportunist.