February 2008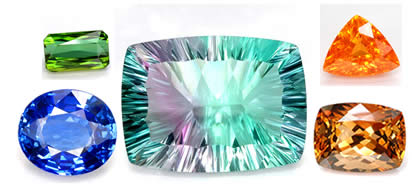 In our newsletter this month:

Buy It While You Can
New Content at GemSelect
Gemstones Worth Knowing
Customer Questions

Buy It While You Can

The colored gemstone business is quite different from the diamond business. Diamonds are promoted as rare and precious, but in fact they are widely available in standardized cuts and shapes. The fact that diamonds are expensive has more to do with De Beers' control of the supply chain than rarity. About 60 million carats of gem quality diamonds are mined each year. Unless you're looking for something very exceptional, you can always find diamonds in every shape, size and quality.

The situation with colored gems could not be more different. Colored stones, unlike diamonds, are mostly mined by independent, small-scale miners, working in remote locations in far away places such as Sri Lanka, Madagascar, Tanzania, Burma, Afghanistan, Colombia and Bolivia. Mining is carried out with pick and shovel, and only rarely with heavy equipment. Colored gems reach the market in a variety of ways, many of them involving relatively small deals between independent businessmen.

The reality of the colored gems business is very apparent when you go out in search of a specific gem. If you look for a sapphire in a specific color, size, shape and clarity, you have to be lucky to find exactly the stone you're looking for. The supply of material is so variable that not every kind of stone will be available in every color and size at any given time. It's one of the frustrations of the colored gemstone trade. At the same time, there is a lot of excitement when interesting stones appear on the market.

From our years in the gem business, we've learned that you have to buy it while you can. When good stones come on the market - and especially good stones at good prices - you have to seize the opportunity. A few months could mean that something is no longer available to buy. We've learned the lesson the hard way.

Here are a few cases in point. Recently we were able to buy some unusual rose zircon from Tanzania. This was completely untreated material, very clean, and some of it in exceptional sizes - up to 5 or 6 carats. We bought as much as we could and we hope we'll be able to buy it again. But we won't be surprised if next month the supply has dried up.
This happened with chrome tourmaline last year. We were able to find a nice parcel of this rare tourmaline colored by chromium. Not surprisingly, we sold it very quickly. We tried to buy more but it was no longer available. Then we didn't see it again for many months. Last week we got lucky again and found a small number of pieces at a very good price. We wish we could have bought more.

Another example is demantoid garnet. This rare green garnet with the diamond-like luster is one of the most difficult to find of all of colored gems. Sometimes we go a whole year without any in stock. Last week we found a small lot and bought it immediately. Who knows when we'll see it again.
Some gems, such as the quartz family (amethyst, citrine, etc) are always in good supply. But some others, while usually available, are not always available in the sizes or quality that we want to buy. For example, we've had many requests for peridot in large sizes. Everything we had found in the market for months was under 2 carats. Then last month we found some Burmese peridot in sizes weighing up to 11 carats, with outstanding color saturation. It is quite rare to find peridot that large and we'll be surprised (but delighted) if we see it again any time soon.
Like most gemstone buyers, we have a shopping list when we go into the market to buy gems. But if we only bought what was on our list, some months we'd buy hardly anything at all. In the colored gemstone market you have to be an opportunist.
We add hundreds of new gems to our inventory every day. Also, if you've looked at our sitemap recently, you may have noticed that we've been adding a lot of new website content.
Some of the new content is reference material that we hope you'll find useful. New pages include a refractive index chart for all the different gemstones, and another chart listing gems by specific gravity (density).
In our other gem selections you'll find a number of new pages that let you view gems by color or shape. So if you want an easy way to see all our red gemstones or all our trillion-cut gems you'll find convenient links to these and many more.
Finally, in our gemstone articles section you'll find a number of interesting new articles on gemstones written by the GemSelect staff, on topics as diverse as the history of birthstones and the mystery of andesine-labradorite.
Each month we focus on one of the lesser known gemstones. This month's featured stone is sphene.

Sphene is composed of calcium titanium silicate and is also known by its mineralogical name, titanite. The name sphene comes from the fact that its crystals are typically sphenoid (from the Greek sphenos meaning wedge). The name titanite comes, not surprisingly, from its titanium content.
Sphene occurs as translucent to transparent , reddish brown, gray, yellow, green, or red monoclinic crystals. Sphene has an unusually high refractive index (1.843 to 2.110), even higher than that of zircon, ruby and sapphire (but lower than diamond which has a refractive index of 2.417 to 2.419). Sphene's dispersion (fire) is truly exceptional, exceeding even that of diamond.
For more information see our sphene information page and our recent article on sphene.
Every month we answer questions of general interest from our customers. Please feel free to send your questions to help@gemselect.com, with "newsletter question" in the subject line.
| | |
| --- | --- |
| Q: | I need a 7 x 5 mm gem for a standard setting. How much can a gem vary from 7 x 5 mm and still fit? Thanks very much for your answer. JN, New Zealand. |
| A: | The general rule for calibrated gemstones is a .1 mm variance for gems under 1 carat, and a .2 mm variance for gems over 1 carat. The exception is round stones, which have a larger variance since it is easier to adjust a setting for a round stone. When you search for gems using our calibrated size chart we'll automatically show you all the gems that qualify, including the permitted variance. |
| Q: | When I put some items in my shopping cart they are always there when I come back the next day. But today when I came back the two gems I'd saved were gone. What happened? DS, USA. |
| A: | Items will be saved in your cart for 3 days. There are 2 reasons why items might disappear before the 3 days are up: (1) Another customer buys the item; or (2) You clear your browser cache and delete cookies from your system. We use browser cookies to recognize you when you return to our site. However, if you create an account with us and login before you put items in your cart, you don't need to worry about browser cookies, since the items are tied to your account ID rather than the session ID stored in your browser cookies. |
A final note - if you send us email, please be assured that we answer all our email very promptly, 6 days a week. But we sometimes have problems with spam filters on the receiving end, so please adjust the settings on your email account so you can receive mail from help@gemselect.com.

Happy gem hunting,

Your friends at GemSelect
First Published: February-01-2008
Last Updated: October-21-2014
© 2005-2017 GemSelect.com all rights reserved.
Reproduction (text or graphics) without the express written consent of GemSelect.com (SETT Company Ltd.) is strictly prohibited.