GemSelect February 2015 Newsletter - Chinese New Year, The Year of the Sheep
Pyrope Garnet Goat Carving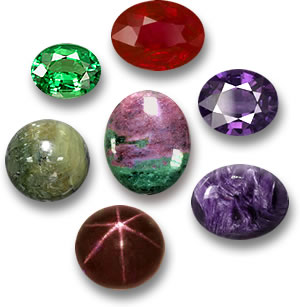 The Gemstone Colors for the Year of the Sheep
Chinese New Year 2015 officially begins on February 19th and is the year of the wooden goat, ram or sheep. In Chinese astrology there are four elements; earth, metal, fire and wood. The sheep is an earth animal, but the year 2015 is associated with the element of wood. Therefore, 2015 is a wooden sheep year. Since wood is associated with the color green, it is also known as a green sheep year. Years that end in the number 5 are yin wood. Yin refers to the passive female part of nature (the other part being the active male yang). Yin is thought to be connected with water, earth, the moon, femininity, coldness, darkness and night. The wooden sheep year has different predictions depending on the Chinese zodiacal sign, and is thought to be luckier for some than others. Indeed, those born under the sign of the sheep, or other earth or wood signs are predicted to have a fantastic year. In general, it is thought that 2015 will be a calm year overall, with small positive change with regard to politics, finance, harmony, prosperity and wellbeing. There may be some turbulent times, but logic and peace is expected to prevail.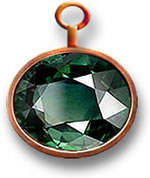 Green Sapphire Bronze Pendant
Sheep are white (except for the odd black one), so are associated with white jade (also known as suet jade or mutton fat jade). However, the lucky colors for the 2015 sheep year are not white, but green, red and purple. Since the sheep is the eighth Chinese zodiac sign, the number eight is thought to be auspicious for 2015, as are the numbers three, nine and four. The lucky metals are considered to be gold and copper. This may explain why some of the trends for 2015 jewelry include yellow gold, pink gold, bronze and copper.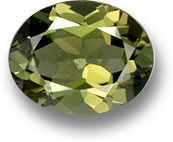 Oval Kornerupine Gemstone
The choice of green gems is varied, with shades from yellowish-green to deep forest green and everything in between. Moreover, there are green cat's eye gems, such as actinolite, aquamarine, chrysoberyl cat's eye and quartz. Also, green star sapphire gems are occasionally seen. Opaque green gemstones include agate, amazonite, chrysoprase, gaspeite, jade, malachite, maw-sit-sit, seraphinite, serpentine, turquoise and variscite. These occur in shades from the delicate and feathery silver-green of seraphinite to the bright pea-green of gaspeite and blue-green of chrysoprase.
Not only are the shades interesting, but some of these gems also possess unique patterns. For example, serpentine is named after its "serpent-like" patterns and seraphinite is named after its feathery chatoyancy. Among the transparent green gemstones are chrome diopside, demantoid garnet, emerald, hiddenite, kornerupine, peridot, sapphire, spinel, tourmaline and tsavorite garnet. These offer an amazing variety of hues, hardness levels and interesting properties. Some stones are pleochroic, meaning that they can display different colors or shades depending on the angle from which they are viewed. These include kornerupine and sapphire.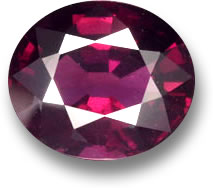 Raspberry Red Rhodolite Garnet
Red is a lucky goat color. Although red is not for everyone, there are such a variety of natural red gemstones that whether you are cool or warm toned, you are sure to find a red to suit you. Rhodolite garnet (right) and spinel tend to have a cool purplish-red hue, whereas gems such as pyrope garnet, spessartite garnet, carnelian and fire opal are typically warm brown-red or orange-red. If you are partial to all red gems, then ruby may be a good choice for you. Ruby is available in both warm and cool reds, from pinkish-red to deep "pigeon's blood". For those who like something opaque and interesting, multicolored jasper is another good choice, especially for matching pairs of gems. These jasper gems offer interesting and unique variations of color with some earthy red tones that can be striking or soft.
Oval Amethyst Gemstone
Purple or violet is another positive color assigned to the goat. One of the best known purple gemstones is amethyst, which is available in shades from pale lilac to deep purple. Also available are amethyst geode gems, which offer an interesting landscape of crystals. There are a number of other purple gemstones that are not as well-known, such as charoite, lepidolite, jadeite and sugilite, which are usually cabochon-cut, opaque to translucent gems. Jadeite tends to be gray to lavender pastel hues, whereas charoite and sugilite are typically much more bold colors. Other transparent purple gems include purple sapphire, spinel, violet-blue tanzanite and violet-blue iolite. If you are not partial to purple, then try a violet-blue gem.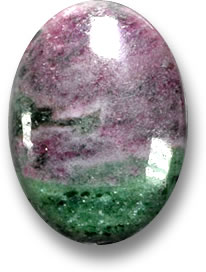 Ruby-In-Zoisite-Gem
An interesting way to use these auspicious 2015 colors is as bi-colored or multicolored gems. With such gemstones, it is possible to wear two or even three of these colors in the same jewel. These gems include a variety of optical properties, such as patterned stones, colorful inclusions, pleochroic gems, iridescent gems, ones with play of color and color change gems. One example of these is bloodstone, which is deep green with red spots. Some purple sugilite has red inclusions. Other gems that combine more than one material, such as ruby-in-fuchsite and ruby-in-zoisite can exhibit green, red and purple all in a single gemstone. Andalusite is a strongly pleochroic gemstone that can exhibit red or green hues depending on the angle from which it is viewed. An intriguing organic gemstone called ammolite shows a colorful iridescence, which can include green and purple and even a full spectrum of colors. A type of opal known as boulder opal has a marked play of color that can also exhibit all colors of the rainbow.
Another way to wear more than one auspicious color in one gem is through a color change gemstone. However, color change gems will only show one color at one time. The magic occurs when the light source is changed. Usually, color change gems will be one color under daylight and another under incandescent light. For example, color change diaspore (also called "Zultanite" and "Csarite") is light-green in daylight and pinkish under incandescent light. Some color change garnets are purple in daylight and red in incandescent light, or change from green to orange. Color change sapphire can change from purple to red, or from green to red.
Featured Gems - Peridot, Ammolite and Purple Spinel
Back to Top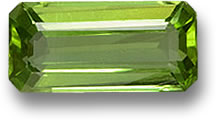 Octagonal Peridot Gem
Peridot is an interesting gem for several reasons. First, it is idiochromatic, which means that its color comes from its chemical composition rather than from trace impurities. Secondly, the mineral that peridot is composed of, olivine, has been found in meteorites, on Mars and the moon. Also, peridot forms deep in the mantle of the Earth, like diamond, and appears on the surface after tectonic activity such as volcanic eruptions or earthquakes. Peridot was called "evening emerald" by the ancient Romans, because its color remains bright even under dim lighting. Peridot is perfect for use in green gemstone jewelry.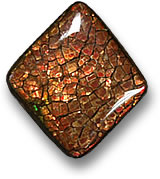 Reddish-Brown Ammolite Cabochon
Ammolite is an organic gemstone that is made of the fossilized remains of ammonite shells. Ammolite is extremely rare and is expected to be depleted in the next decade or two. Most of the world's ammolite comes from Alberta, Canada, where North American natives have been using ammolite for centuries and gave it the name "Buffalo Stone" since pieces of ammolite were often thought to be buffalo-shaped. Ammonite is extremely fragile, so it is often assembled in layers that allow it to be durable enough for jewelry use. Ammolite's iridescent play-of-color makes it an extremely attractive gemstone. It most often displays green and red hues, but some specimens can show all of the spectral colors. The gemstone on the left has an interesting reddish-brown earthy play of color and a pleasing shape, making it perfect for a necklace pendant.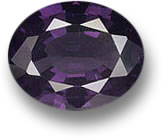 Oval Purple Spinel Gem
Spinel is a great jewelry gemstone that tends to be somewhat overlooked. However, some famous fine gemstones, such as the Black Prince's Ruby and the Timur Ruby are actually spinel. Spinel is available in a wide variety of colors, has a good level of hardness (8 on the Mohs scale) and is affordable. It is suitable for any type of jewelry because it is available in a choice of sizes, shapes and cutting styles. Additionally, spinel is not usually treated or enhanced in any way. Crystal healers consider spinel to have calming energy and violet spinel is thought to promote spiritual development. We admire the deep purple hue of the oval spinel gem on the right.
A gold rush of sorts occurred in January when a storm in Russia caused the appearance of golden amber on the coast. The Baltic amber was torn from the ocean floor and washed ashore near Pionersky in Kalingrad. Locals and tourists flocked to the beach and collected pieces of amber. Some of the lucky collectors wore wetsuits and braved the cold water to collect large pieces of amber in nets. Most of the world's supply of amber comes from the Baltic coast of Kaliningrad in Northwestern Russia.
According to Sam Walsh, CEO of Rio Tinto, the British-Australian multinational metals and mining corporation based in London plans to invest $2.5 million in two mining projects in India. Rio Tinto intends to invest in iron ore in Odisha and diamonds in Madhya Pradesh. Both projects are pending environmental clearance.
Apparently, it's never too late for true love. An 80-year-old Chinese man was recently seen buying a diamond ring for his wife. Staff at the jewelry shop in Xinjiang told the press that the man had said he wanted to make his wife happy after a lifetime of hardship.
Every month we answer questions of general interest from our customers. Please feel free to send your questions or suggestions to our support team at help@gemselect.com!
Question
Greetings GemSelect! I am wondering if you could send me a catalogue of your gemstones?
Answer
Since our product inventory is constantly changing, it would not be possible for us to print an up-to-date catalogue. Our online content instantly updates when a product is added or becomes unavailable due to a purchase. If we printed an inventory and then sent it to you, by the time you received it, over a hundred items would have changed! Therefore, our online catalogue is the only way to keep up with new arrivals and sold gems.
Question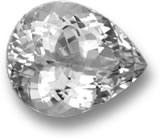 Pear-Shaped White Topaz Gem
Hi, I noticed that some of the white topaz gems look a little cloudy or milky. Are they frosted or something? Are they white or transparent?
Answer
Some gemstones that are actually
colorless
, including white
topaz
, appear white when reflecting light, so in the gem industry, colorless transparent gems are referred to as "
white gems
", such as "white diamond". However, these gemstones are actually transparent and clear like glass. When photographing these gemstones, we endeavor to capture images that represent the actual gems as closely as possible. But sometimes, the lighting, the cut, the angle or the color create an optical illusion.
We always welcome your questions, comments and feedback! For those who are interested in attending some gem and jewelry events, please see the details below.
Event Name
Antwerp Diamond Trade Fair
Venue
Radisson Blu Astrid Hotel, Koningin Astridplein 7, Antwerp, Belgium
Dates
February 1 - 3, 2015
Event Name
NAJA 43rd Annual ACE Iy Winter Conference
Venue
Tucson Convention Center, Tucson, AZ, USA
Dates
February 1 - 2, 2015
Event Name
Spring Fair International
Venue
National Exhibition Centre, Birmingham, UK
Dates
February 1 - 5, 2015
Event Name
International Fashion Jewelry & Accessory Show
Venue
Embassy Suites International, Orlando, Florida, USA
Dates
February 1 - 5, 2015
Event Name
To Bead True Blue
Venue
Double Tree Reid Park, Tucson, Arizona, USA
Dates
February 1 - 9, 2015
Venue
JW Marriot Starr Pass Resort, Tucson, Arizona, USA
Dates
February 2 - 7, 2015
Venue
Lenexpo Fairgrounds, St Petersburg, Russia
Dates
February 4 - 8, 2015
Venue
Frankfurt am Main, Frankfurt, Germany
Dates
February 13 - 17, 2015
Event Name
55th Bangkok Gems & Jewelry Fair
Venue
Impact Exhibition & Convention Center, Muang Thong Thani, Bangkok, Thailand
Dates
February 24 - 28, 2015
Event Name
60 Feninjer - Brazilian Gems & Jewellery Show
Venue
Hotel Transamerica, Sao Paolo, Brazil
Dates
February 25 - 28, 2015
Venue
Palace of Arts, Lviv, Ukraine
Dates
February 26 - March 1, 2015
Keep up with our new arrivals before they hit the newsletter by joining our thousands of fans and followers on our social networking pages. We love interacting with our customers - you can visit us on Tumblr, LinkedIn, Twitter, Facebook or Pinterest!
To ensure you can receive our emails, please be sure to add help@gemselect.com to your list of safe contacts, or you add us into your email address book! Please feel free to contact us with any questions, comments and queries! We respond to each and every email we receive.
Happy Gem Hunting!
Your friends at GemSelect