GemSelect Newsletter - December 2011
Here are our top 10 best selling gemstones for 2011:
These top 10 gemstones are consistently our most popular selling stones. For example, if we look at the current best sellers, and then take a snap-shot for November 2011, the top 5 remains the same.
GemSelect have more than 130 gemstone types to choose from, so we offer a huge choice and these figures represent an accurate picture of what is being purchased. We sell to jewelers and private customers so it seems these gemstones are the ones most in demand.
So, why these specific gemstones?
Many people who are not connected with the world of fabulous colored gemstones, will not have even heard of tourmaline.
Tourmaline comes in a large range of different colors; green, blue, yellow, pink, watermelon, bi-color, red, purple and even black. It is available in a greater variety and shades of color than any other gemstone. It is also found as "color change" tourmaline, whereby the color changes from green in daylight, to red in incandescent light.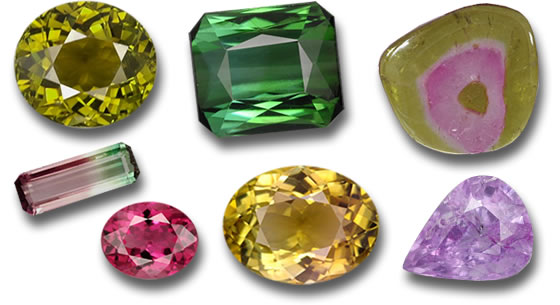 Tourmaline Gemstones
The bi-color tourmaline, in particular that variety called "watermelon" due to its distinctive pink/red and green bands, is highly desired.
The clarity of the stones ranges from IF, meaning "internally flawless" through to transparent or opaque.
It is also reasonably hard, with a score of 7 to 7.5 on Mohs scale and is therefore suitable for all kinds of jewelry.
Value for money is also good for tourmaline, particularly in larger sizes since the carat price for tourmaline doesn't increase hugely for the bigger stones. So you can get a lot of material for your money.
Our second biggest seller this year is sapphire, but sapphires have always been a favorite gemstone for buyers. Most people have heard of sapphire gemstones and we often read about the rich and famous wearing them.
You maybe surprised to hear that sapphires are available in a great variety of colors; blues, orange, yellow, pink, white, green, purple, black and bi-color.
The rarest color is called padparadscha which is a pink-orange color. These sell very quickly.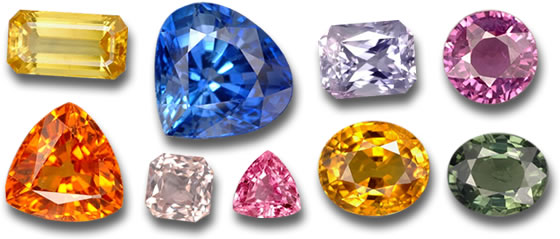 Sapphires from GemSelect
Blue sapphires are the biggest sellers and there is a large range of blues on offer from the lightest to the darkest shades of blue. Cornflower blue sapphires are particularly attractive.
The clarity of sapphire ranges from IF to opaque. Opaque sapphires are usually cut as cabochons. They are second in hardness to diamonds, being rated at 9 on the Mohs scale. Therefore, they are ideal for rings or jewelry that is intended to be worn every single day!
Interestingly, for those new to the world of gemstones, ruby and sapphire are the same material, the mineral corundum. Red corundum is known as ruby, while all other colors are referred to as sapphire.
We also sell star sapphires that contain unusual tiny needle-like inclusions that intersect each other at varying angles to produce a star effect on the gemstone (known as asterism). Star sapphire stones are often used in men's rings.
Number 3 on the list is topaz. The majority of the topaz we sell is blue, albeit in a vast range of blues.
Blue topaz is the top selling jewelry gemstone in the USA. This is due to its excellent brilliance, luster and clarity and the fact that it is very reasonably priced and available in big sizes.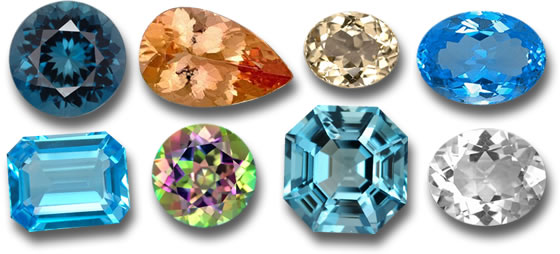 Topaz Gemstones
Our best sellers are London blue and Swiss blue topaz. However, blue topaz occurs very rarely in nature, and then only in a very pale blue. The shades of blue topaz you'll find on the market are the result of widely-used enhancement techniques, usually involving irradiation and heating. These techniques produce a deep-blue with a slight inky tone, known as London blue, a saturated medium-blue known as Swiss blue and a bright light-blue known as sky blue.
Topaz also comes in white, yellow, orange, pink-red and light-green.
The most valuable topaz color is an orange to pink color known as imperial topaz.
There is a wide choice of topaz varieties to choose from. Also, two new types of topaz have even been introduced to the market in the last couple of years! Azotic topaz and mystic topaz are clear topaz with a thin layer on the stone that creates all kinds of colors and effects. So, if you like very colorful stones, you should check out mystic and Azotic topaz. You will find a rainbow of colors in a in a kaleidoscopic pattern.
Finally, we also offer rutilated topaz which is clear quartz with rutile inclusions.
Topaz is a hard stone at 8 on the Mohs scale, so it can be used in all jewelry without too much cause for concern.
Our fourth biggest seller of 2011 is amethyst. The color of the stones ranges from violet to all shades of purple. These colors are extremely popular as they are associated with royalty and also the church. Siberian deep purple attracts the highest prices.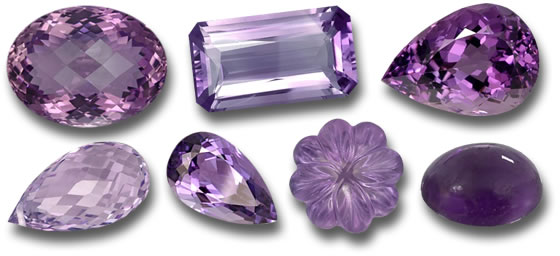 Amethyst Gems from GemSelect
The clarity of amethyst gemstones is excellent, with beautiful large-sized stones too.
Amethyst has a hardness of 7 on the Mohs scale so it is relatively durable for use in most jewelry.
The final gemstone in our top 5 best selling gems of 2011 is spinel. Fine spinel compares very well with sapphire for its brilliance and luster, and often buyers purchase a spinel gem rather than sapphire or ruby. Fine red spinel is actually rarer than ruby, and spinel is never treated in any way.
Interestingly, until the beginning of the 19th century, spinel was thought to be ruby. Many were fooled and the British Crown Jewel collection even includes a spinel called "The Black Prince's Ruby", which since the 14th century was always believed to be a ruby.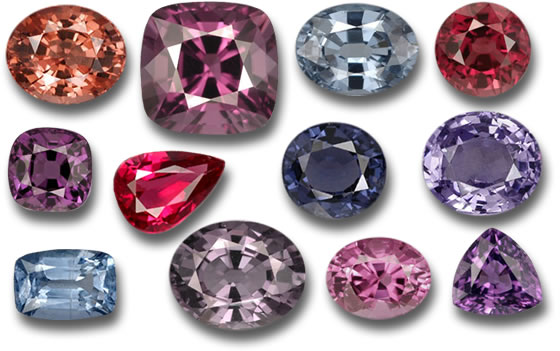 Spinel Gems from GemSelect
We sell spinel in a vast array of colors, red, pinky-red, black, blue, violet, pinky-violet, rose-orange, purplish-pink and many more. If you are having trouble finding a particular shade or color it maybe worth having a look at this gem. It can also be found in a range of beautiful pastel shades. These outstanding shades of pink, purple, orange, blue and every combination in between, make spinel one of the most desirable stones in the world.
These gems range in clarity from IF to opaque and are hard gemstones, having a rating of 8 on the Mohs scale, so you can use this gemstone in jewelry that is worn every day.
What makes natural spinel particularly special is that it is never heated or treated in any way. In fact there is no known treatment that can improve the color or clarity of natural spinel. By contrast, nearly all the sapphire and ruby in today's market has been enhanced by heat treatment. Thus, it is surprising that untreated spinel still sells for less than 50% of the price of heated sapphire or ruby.
So if you're looking for a good gemstone to invest in, spinel could be the one.
Keep up with our new arrivals before they hit the newsletter by joining our thousands of fans and followers on our social networking pages. We love interacting with our customers - you can visit us on Tumblr, LinkedIn, Twitter, Facebook or Pinterest!
To ensure you can receive our emails, please be sure to add help@gemselect.com to your list of safe contacts, or you add us into your email address book! Please feel free to contact us with any questions, comments and queries! We respond to each and every email we receive.
Happy Gem Hunting!
Your friends at GemSelect