GemSelect Newsletter - August 2008
In our newsletter this month: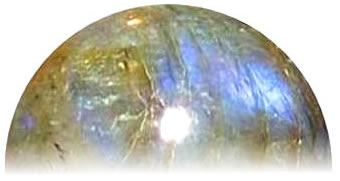 Labradorite Sphere
Back in 1875, when the young George Frederick Kunz first approached Tiffany & Co. with the idea of selling semi-precious stones, the only colored gems Tiffany offered were ruby, sapphire and emerald. Kunz convinced Tiffany to sell tourmaline as well, and that was the start of a slow but steady expansion of the colored gemstone trade. It's now possible to find two dozen different colored gemstone varieties in some jewelry stores, and specialized gem dealers will have many more.
When we started our online business 5 years ago we stocked about 40 different kinds of gemstones. At the last count we had nearly 90 varieties in stock. Recently we've been adding an even broader range of gems, with an additional 10 new gem types added in the last month alone.
What's behind the growing interest in rare and exotic gems? It is not just gemstone collectors who are looking for the rare and unusual. Jewelry designers are discovering new colors and textures to incorporate into their designs, and consumers are eager for information about the lesser-known stones. Miners now understand there is a market for these stones, and material that was once ignored is now carefully collected and graded.
Some of the new gem types are not exactly new. Some, like prehnite, apatite and sphene, have been known for years, but haven't been used much in jewelry because they were too soft. However, jewelry designers have now realized that these stones are actually more durable than perennial favorites like opal, and when properly set in earrings or pendants they will last for many years.
Other gems in the lesser-known category are actually very durable and are suitable even for rings. Many of them - such as chrysoprase, dendritic agate, rutilated quartz and fire agate - are members of the quartz family and have very good hardness and no cleavage.
Many of the lesser-known gems are relatively inexpensive. That makes them economically attractive for jewelry designers. But like so many gemstones, supplies are variable and uncertain. For example, natural carnelian and hessonite garnet are frequently requested by our customers but we don't usually find them. Yet, in the last month we've been fortunate to find quite a number of interesting and rare stones. We now have the largest and most varied inventory we've ever had.
We add hundreds of new gems to our inventory every day and we also add new content to our site each week, in the form of articles and reference material.
Recently we've added new articles on topics including gemstone testers, chrysoprase, rhodochrosite and morganite. If you're interested in learning more about the history of the gemstone business, we've been adding short biographies of some of the most interesting figures. See our new pieces on Laurence Graff and the Moussaeiff family. Click the link to see all our gemstone articles.
Each month we feature a rare and unusual gem from our recent acquisitions. This month we would like to show you a large demantoid garnet from Namibia:

Natural Demantoid garnet
Demantoid garnet is the rarest and most valuable of the garnets. In fact demantoid is regarded as one of the rarest of all colored gems. The name "demantoid" means "diamond-like", in reference to demantoid's impressive brilliance and luster. Demantoid garnets are difficult to find in any size, but clean specimens of good color weighing over 1 carat are extremely rare. This 1.94 carat demantoid is one of several large pieces we purchased recently.
Every month we answer questions of general interest from our customers. Please feel free to send your questions or suggestions to our support team at help@gemselect.com!
Question
I am looking for a gemstone called asparagus stone? Do you know what it is and where I can find it? GC, New Zealand.
Answer
Asparagus stone is a name once used (and apparently still used) to refer to the yellow-green color of the gemstone apatite. The color does indeed look like green asparagus spears. You can read more about this interesting gemstone in our recent article on
apatite gemstones
.
Question
I hear that a lot of the amethyst and citrine in the market is actually synthetic. How can I tell if I'm buying natural stones? Your advice is much appreciated. PT, USA.
Answer
Yes, there's a lot of synthetic quartz around. We have to take special care to ensure that all the quartz we sell is natural. Gemologists can usually identify the presence of seed crystals in synthetic quartz. The best way for consumers to identify synthetic quartz is by size, color and clarity. You will often see synthetic
amethyst
or
citrine
in extraordinarily large sizes with perfect clarity. Natural amethyst or citrine will typically exhibit color zoning that you won't find in the synthetic material. The synthetic ametrine is often found in colors that you won't see in nature; either the color is extraordinarily vivid, or you will find hues such as blue and green which do not occur naturally. Please see our article on
hydrothermal quartz
for some photos and more information.
Keep up with our new arrivals before they hit the newsletter by joining our thousands of fans and followers on our social networking pages. We love interacting with our customers - you can visit us on Tumblr, LinkedIn, Twitter, Facebook or Pinterest!
To ensure you can receive our emails, please be sure to add help@gemselect.com to your list of safe contacts, or you add us into your email address book! Please feel free to contact us with any questions, comments and queries! We respond to each and every email we receive.
Happy Gem Hunting!
Your friends at GemSelect