Father Christmas or Santa Claus?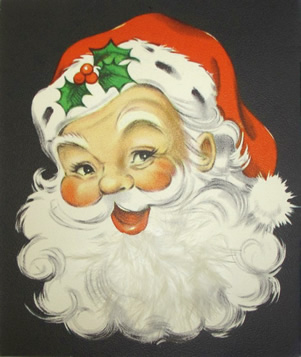 Traditional Father Christmas
Father Christmas, or Santa Claus if you live in the USA, is known today as a jovial, plump old man with a long white beard, who wears a red suit with white cuffs. He has elves who help him make and send presents to children at Christmas. He rides a sleigh through the sky pulled by reindeers.
But it hasn't always been that way!
To begin with, the red suit is relatively new. Earlier references to Father Christmas in England, during the times of the Tudors in the 1500s (Henry VIII's time) had him wearing a bright green coat.
Pictures from England in the 1600s show Father Christmas as an old, well-nourished, white-bearded man. He was always noted as happy and cheerful but there was no reference to children or the giving of gifts.
He was "old" because Christianity was old; he was joyful because it was joyful to be a Christian. This seems to have arisen in response to Puritanic criticism of the observation of Christmas as a time for feasting and joy. Puritans were not exactly known for being the life and soul of the party at this time in England. Indeed, during Oliver Cromwell's command, Christmas was actually banned, as was sport, dancing and the theatre. Hence jovial "Old Father Christmas" was created, in part as a Medieval PR attempt to re-brand Christmas.
Today, Father Christmas is also known as Santa Claus, though the two names carry slightly different stories. Father Christmas stems from medieval times and has religious roots, whereas the story of Santa Claus is relatively modern and introduces the concept of gift giving.
As late as 1843 in England, Father Christmas, as described in Charles Dickens "A Christmas Carol", is still wearing a fur-lined "green robe" and has a red beard. Twenty years later, in the USA, this was to change.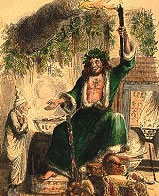 Father Christmas as pictured in England in the 1840s.
Today's image of what Father Christmas or Santa Claus represents is largely the work of an American called Clement C Moore.
In 1822 he wrote a poem for his children called "A Visit from St Nicholas" (this became known as "T'was the Night Before Christmas"). In the poem he mentions things that are now accepted as part of Christmas, for example, stockings hung up next to the chimney, St Nicholas arriving on a sleigh drawn by six reindeer and a sack full of toys.
St Nick is described as being jovial, having red cheeks, a beard and a big belly. So the physical characteristics are actually reminiscent of Old Father Christmas. The poem became well known when it was used by Thomas Nast, a German born American cartoonist.
Nast illustrated for Harpers Weekly and during the American Civil War he produced many illustrations, including the first images of Santa Claus as he is known today. Nast used the earlier description in the poem by Clement Moore for his drawings.
The origins of the name Santa Claus are derived from a fourth century bishop called Nicholas, known for his kindness, generosity and for giving gifts. He often gave to those in need.
Nicholas liked to give his gifts secretly and if ever he was found out, he always asked that the source of the gift remain a secret. When anyone subsequently received a secret gift, it was thought to be from Nicholas. After his death on the 6th December (the exact year is unknown) Nicholas was made a saint.
St. Nicholas in Dutch is pronounced "Sinterklaas".
Say it out loud and you'll get the connection!
When Dutch immigrants arrived in the USA so did the name "Sinterklaas".
All of Nast's illustrations were very popular and so was his portrayal of Santa Claus.

These illustrations of Santa by Nast were published in 1869.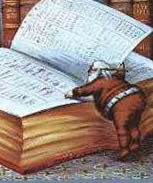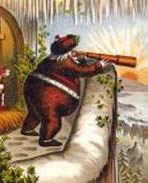 He produced illustrations of Santa every Christmas for Harpers. In 1866 for example, he illustrated Santa Claus making toys for children. Other illustrations pictured socks being hung next to chimneys. They became iconic images and were firmly established in American culture.
Father Christmas is said to be from the North Pole and inquisitive children are often told that his homeland is either Greenland or Lapland in Northern Finland.
Greenland is located north-west of Canada and its most northern tip is only 740 km from the North Pole, so it is very possibly where Father Christmas lives.
Lapland, represents 30% of Finland's total area, and of course it is well known for its reindeer herds. Some believe that this is where Santa's reindeer live. A little known fact is that if Rudolph, Santa's leading reindeer, has antlers in Christmas depictions, then she has to be a female, since male reindeer lose their antlers in winter. It must have been difficult for little Miss Rudolph at school.


A young Rudolph pictured before the bullying started.
These cold climes have gemstones to offer those who want gems from the land of Father Christmas. Indeed, you can dig for your own amethyst in the mines in Lapland, and diamonds can also be found here though they are not in abundance.
Rubies were found on the south-west shores on the Kitaa coast and have been known to the native Inuits for years. In 1966, rubies of good quality were discovered in an area now called "Ruby Island" and in 2004 the Greenland ruby was identified as an important coloured gemstone. Exploration is still at a relatively early stage and it is unlikely that you will find any Greenland ruby for sale, just yet. But it is not just rubies that can be found in Greenland. Sapphires, diamonds, peridot, quartz, spinel, topaz, tourmaline, lapis lazuli and amazonite are also mined there.
Meanwhile we do have excellent rubies from other areas of the world and as soon as the home of Santa Claus has its rubies for sale, we will let you know.