Happy Holidays from GemSelect

The holiday season is finally upon us and whether you're celebrating Christmas, Hanukkah or any of the other wonderful festivals, GemSelect wishes you all the best. In this month's exciting edition, we present you with an interesting collection of gemstone fun facts, as well as holiday gift ideas.

Gemstones Make Great Gifts!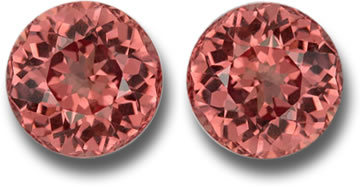 This time of year, shoppers all around the world are struggling to find that perfect gift. Why not give someone the gift of a lifetime? One gift idea is to give a matched pair of fine gems. Matched pairs can be difficult to come by and they are perfect for many reasons. Sure they make for ideal earrings, but one of the best reasons to buy matched pairs is to split between two people - you know... one for you and one for your loved one.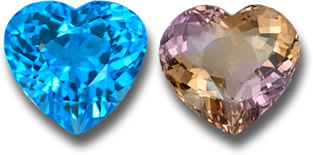 Another great gift idea is a wonderful heart-shaped gemstone. Heart-shaped gemstones can be found in many different gem types, including sapphire, citrine, amethyst and coral. Whether it's on her finger or around her neck, heart-shaped gems can always be appreciated.


Our free-form fancy-shaped gems also make excellent gifts. Available in the most unique and interesting of shapes, we've seen some of the finest pendants and other exotic designs fashioned from these shapes. We have everything from agate to zircon, both big and small.

For those who need bigger gemstones, we even have huge gems available too - some so big, they'll knock your socks off!

Fun Facts - Did You Know...?
Amethyst: The Greek word "a methustos" translates into "not intoxicated". It was believed that amethyst would inhibit one's ability to get drunk. In fact, the ancient Greeks would sometimes fashion wine glasses from amethyst to protect them from intoxication.

Apatite: Apatite is one of the few minerals produced and used by the human body. It is the defining mineral for the hardness level of 5 on the Mohs scale and makes up a large part of our tooth enamel and bone mineral.

Coral: Coral is sometimes referred to as "the bones of the sea". Coral is composed of the skeletal remains of sea creatures (coral polyps).

Tourmaline: Tourmaline can be electrically charged when it is heated or when pressure is applied to its surface. It has also been discovered that tourmaline actually carries a constant electrical charge of .06mA.

Tanzanite: Tanzanite was only discovered in 1967. When it was first discovered, Saks of Fifth Avenue, New York, declined to sell the new gems in their department stores because they didn't think they would sell well. They were then introduced to Tiffany & Co., who branded the gems as tanzanite and put them on the market. In 2002, tanzanite became so popular that the AGTA declared tanzanite as one of December's birthstones.

Ammolite: Ammolite is an organic gemstone. It is composed of the fossilized shell remains of ammonites. Ammonites are an extinct group of invertebrate animals closely related to octopus, squid and cuttlefish.

Amber: Amber is a type of organic gemstone that is composed of fossilized pine tree resin. Amber gems can sometimes have prehistoric insects and critters entrapped in them. In the movie "Jurassic Park", scientists extracted blood that was preserved inside the bellies of mosquitoes trapped in fossilized amber and they used it to clone dinosaurs.

Fluorite: Fluorite is known for occurring in a wide range of colors. It was dubbed "the most colorful mineral in the world". The term "fluorescence" was derived from fluorite because it was one of the first fluorescent minerals researched. Fluorite contains fluorine, which is used in the industrial trade and the dental industry.

Iolite: Iolite was the first pair of "sunglasses". When cut properly, iolite can be viewed with 3 different results. Looking through the side, iolite will appear purple or violet; through the other side, it can appear clear like glass or water; lastly, when viewed from the top, iolite will have a yellow to honey polarized effect. It was first used by the Vikings as a polarizing filter to aid with navigation. Once ships had sailed beyond the view of coasts, Vikings would plot sailing directions based on the degree of the sun. Since they couldn't look directly into the sun, they used iolite as if they were sunglasses.

Tiger's Eye: Tiger's eye is categorized as a pseudomorph. This means that its life began as one mineral, but it then ended up as another. Tiger's eye began its existence as the mineral crocidolite, which is a form of asbestos, and later was replaced by invading quartz. The transformation can create two completely different gemstones, either hawk's eye (the blue variety) or tiger's eye (golden brown variety).

Bloodstone: Although bloodstone is not a jasper at all, legend states that when Jesus Christ (Christianity) was crucified, his blood dripped and stained the green jasper placed below his feet, and created bloodstone.

Calcite: Scientists continue to experiment with calcite and its ability to refract light to create an actual cloak of invisibility. Tests show (using a microscopic-sized subject) that this is possible. Using calcite, they have been able to make an object undetectable from any dimension by bending light around it.

Kyanite: Kyanite has variable hardness depending on how or where it has been cut. When it is cut perpendicular to the long axis of its crystal, it can have a hardness of 6 to 7 on the Mohs scale, but if it is cut parallel to the axis, than its hardness will only be 4 to 4.5.

Obsidian: Obsidian is naturally occurring volcanic glass that is formed from rapidly cooled lava. Often times, surgical blades are fashioned from obsidian. This is because the cutting edge of obsidian is many times sharper than that of high-quality surgical steel.

Zircon: Zircon is the oldest mineral on earth. In fact, zircon is older than the moon! Samples found in Australia have been estimated to be 4.4 billion years old.
Holiday Shopping - Shipping Tips

During the holiday season, courier services and post offices around the world are busier than ever. Although we will take special measures to ensure you receive orders promptly and reliably, there are still a few things you can do to for reassurance that your gems will be delivered in time.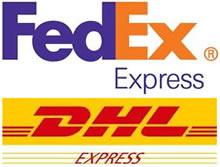 We strongly recommend using express shipping (DHL and FedEx) for all your holiday gifts. It's fast - typically 3 to 4 days to nearly anywhere in the world - and best of all, it is traceable online so you'll know exactly when it will be delivered.
Even with express shipping, you should always allow yourself ample time for a contingency plan. You may need to do an exchange for size, or perhaps your jeweler is backed up for custom work. Whatever the case, be sure to plan ahead and order well in advance. We've all witnessed last minute shoppers struggling to find something decent on the shelves, only to be forced into settling with a purchase that nobody else wanted.

Remark: If you require gemstone certification, please do bear in mind that we will need an additional 5-10 working days (approximate) to get your gem certified by AIGS.

NB: Please keep in mind that loose gemstones may be imported duty-free to the USA, but shipments to other countries may be subject to tax or duty. Due to local customs regulations, some countries may not be able to utilize FedEx or DHL Express options - please see our shipping info page for additional details.

Rare and Unusual Gems

This month, GemSelect is pleased to showcase one of our more rare and unusual gemstones.

Natural zircon is famed for its brilliance and fire and is often confused with cubic zirconia (a result of unfortunate name similarities), a cheap synthetic stone used to imitate natural diamond. In reality, the two couldn't possibly be any more different - it's like confusing Michael Jackson with Michael Jordan or Mickey Mouse with Mickey Mantle.

This blue zircon is from Cambodia and is a whopping 16.8 carats with excellent clarity. This is truly a rare, one-of-a-kind gemstone from GemSelect. It also happens to be this month's birthstone.

Industry News
Breaking New iPad Application: Gems & Gemology
The Gemological Institute of America (GIA) has now released an iPad app version of its famed quarterly print publication of Gems & Gemology (G&G). You can download the FREE application through iTunes (along with other useful GIA applications and podcasts).
Harry Winston Buys Out BHP Billiton
Ekati Diamond Mine has been sold to Harry Winston Diamond Corp. BHP Billiton has accepted a $500 million offer for its Canadian mine. Harry Winston is also in the process of purchasing BHP's facilities in Yellowknife, Antwerp and Northwest Territories - This means that BHP Billiton is parting ties with the diamond industry and effectively entering retirement.
Sterling Jewelers Buys Out Ultra
Sterling Jewelers, owned by Signet Jewelers, has bought the Ultra Store's chain for $57 million. Ultra Store ran approximately 140 retail shops. Prior to the acquisition of Ultra Diamonds, Signet Jewelers was already America's largest specialty jeweler. Sterling Jewelers is responsible for 31 Kay Jeweler outlet stores and they have a total of over 1,300 jewelry stores covering 50 states. The big just got bigger. The Ultra Diamond Store will become branded Kay Jewelers by Sterling.
Customer Questions

Every month we answer questions of general interest from our customers. Please feel free to send your questions to help@GemSelect.com.

| | |
| --- | --- |
| Q: | How can your prices be so low? I saw some ruby on your website over 3 carats for under $100, how is this possible? I've never seen them so cheap anywhere else. |
| A: | When it comes to gemstones, there are many variables that can affect the value or price. For example, whether or not a gem has been treated or enhanced can make a world of difference. In many cases, gems are treated to make them more accessible or in many cases, to make them more affordable (as in this case). Everybody has a budget, and whether it's large or small, GemSelect wants to make sure we have what you're looking for. |
We hope you found this article interesting. If you have any comments or suggestions, just drop us a line. We really do read and reply to every single email we receive.
Please make sure you can receive email from help@gemselect.com.
Happy holidays!
Your friends at GemSelect