The Jewels of Sita Devi of Baroda; Indian Wallis Simpson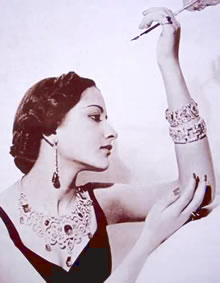 Maharani Devi Sita Wearing Fabulous Jewels
Sita Devi of Baroda was the daughter of the Maharaja of Pithapuram. She was born in Madras in 1917 and would later become known as one of the most glamorous women in the world; her lifestyle was more lavish than many modern day Bollywood and Hollywood stars.
Sita Devi married the Zamindar of Vuyyuru, and then later fell in love with the eighth richest man in the world, Maharaja Pratap Singh Rao Gaekwad of Baroda. They met in 1943 at the Madras horse races. He was also already married, but was captivated by Sita Devi. In order to be granted a divorce, she converted from Hinduism to Islam, and when the divorce was granted, she reconverted to Hinduism. Pratap Singh then took Sita Devi as his second wife, defying the anti-bigamy laws that had been previously enacted by his grandfather. When summoned by the Viceroy of India, he explained that the Maharaja himself was exempt from the law that his subjects adhered to.
The couple wed in 1943 and began their lavish lifestyle, which included a trip to the US, during which they were said to have spent over $10 million. In 1946, they settled in Monaco with their son, Sayaji (nicknamed "Princie"), and a vast fortune from the Baroda State Treasury.
One of the treasures in the possession of the Maharaja and Maharani of Baroda was the Pearl Carpet of Baroda. A previous Maharaja was an avid collector of priceless gemstones and commissioned the Pearl Carpet in around 1860. It is said to have taken five years to produce. The carpet is said to have been designed to cover the tomb of the Prophet Mohammed (PBUH) in Medina. In 2009, the carpet was auctioned by Sotheby's in Qatar for $5.5 million. Apparently this astonishing work of art contains over a million Basra seed pearls, along with colored glass beads, diamonds, sapphires, emeralds and rubies set in gold. Most people would be lucky to own just a few of the precious gemstones used in the Pearl Carpet of Baroda.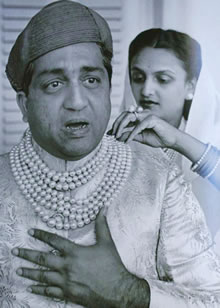 The Maharaja of Baroda Wearing The Seven-Strand Pearl Necklace
The seven-strand Baroda Pearl Necklace was another of the beautiful jewels that formed one of the most important pieces of the collection of the Maharaja of Baroda. A two-strand necklace known as the Baroda Pearls, with a cushion-cut white diamond clasp was sold for over $7 million at Christie's New York in 2007. The necklace contains 68 of the largest pearls from the original seven-strand necklace.
The Maharaja was deposed by the Indian Government in 1951, who had taken over the Treasury of Baroda after the British rule of India. He was replaced by his eldest son from his first marriage. However, the couple continued to be known as the Maharaja and Maharani of Baroda. Sita Devi and her second husband were divorced in 1956, shortly after which he moved to London and lived a much quieter life. Ms Devi continued to enjoy a life of luxury and use the title of Maharani. She and her beloved son, Princie, attended high-society events together.
Maharani Sita Devi of Baroda was sometimes referred to as the "Wallis Simpson" as India. In fact, in 1957, Sita Devi is said to have made a famous remark about a necklace worn by Wallis Simpson, former Duchess of Windsor. The Harry Winston necklace featured emerald cabochons and rose-cut diamonds that Ms Devi had previously owned in the form of a pair of anklets. It is reported that upon hearing compliments regarding the Duchess of Windsor's necklace, Ms Devi commented that the gems had looked nice on her feet. This comment prompted Wallis Simpson to return the necklace to her jeweler.
A famous emerald necklace belonging to Sita Devi was the Lotus Necklace (also known as the Hindu Necklace). It was made for the Maharani by Van Cleef and Arpels in 1950. The gemstones in the necklace had previously belonged to the Baroda Crown Jewels. These jewels included thirteen Colombian emerald drops, which are suspended from a platinum, pavé diamond and emerald lotus leaf design with a central lotus flower. The Lotus Necklace and an accompanying pair of emerald and diamond earrings were auctioned by Christies for $1.6 million in 2002.
The Princie Diamond
The Princie Diamond, said to be from the jewel collection of the Nizams of Hyderabad was named after her son by Van Cleef and Arpels, who bought the 34.65-carat cushion-cut pink diamond in 1960 when Princie was 14 years old. The jewelry designers threw a party to celebrate their acquisition and invited the Maharani and her son as guests of honor. In 2013, the Princie Diamond achieved almost $40 million at Christie's New York.
An even larger diamond of 128.48 carats was owned by the Gaekwars of Baroda. The light pinkish-brown, cushion-cut diamond is known as the Star of the South and was discovered by a slave in a Brazilian mine and then sold for just $3000. Sita Devi was photographed in 1948 wearing the diamond in a three-row necklace which also featured the 78.5-carat English Dresden Diamond. The Star of the South was acquired by Cartier in 2002.
It seems that Sita Devi's lifestyle may have taken its toll on her finances; she sold some of her jewels in 1974. Though she and Princie had been awarded citizenship of Monaco, they moved to France. Princie had become accustomed to a life of excess and struggled with depression. Sadly, he committed suicide by slashing his own wrists in 1985. He was forty years old. His distraught mother was said to have died of a broken heart, four years later in Paris, the location of her favorite jewelers, Van Cleef and Arpels.
Erstausgabe: July-14-2015
Zuletzt geändert: June-07-2018
© 2005-2021 GemSelect.com alle Rechte vorbehalten.
Nachdruck (Text oder Grafik) ohne die ausdrückliche, schriftliche Zustimmung von GemSelect.com (SETT Company Ltd) ist streng verboten.