GemSelect Newsletter - Colossal Chrysoberyl Cat's Eyes
What Makes a Cat's Eye Stone?
Cat's eye gemstones display a fascinating optical phenomenon known as chatoyancy. In simple terms, this means that the stones display a streak of light that looks like the eye of a cat in bright light. The word, "chatoyant" comes from the French word for cat's eye-like, "chatoyer". The cat's eye effect occurs as a result of parallel inclusions which cause light to be reflected as a perpendicular band. It is important that gemstone cutters correctly orient the rough material when cutting cat's eye cabochons. When nicely cut, like a ray of sunshine on fine silk, the cat's eye of a gemstone will appear in the middle of the gemstone and glide from side to side with the movement of the light source. The most valuable cat's eye gemstones have a clear and sharp cat's eye and sometimes a "milk and honey" appearance where one side is a creamy color and the other is honey-colored.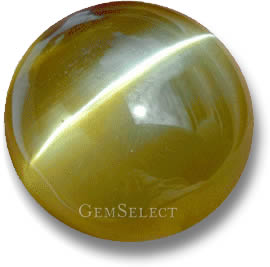 Golden Chrysoberyl Cat's Eye with a Sharp Eye
The quintessential cat's eye gemstone is chrysoberyl cat's eye, a golden yellow to green gemstone which exhibits sharp and distinct cat's eyes under most lighting conditions. Unfortunately, these stones are quite rare and often small. What is believed to be the world's largest cut chrysoberyl cat's eye gemstone is an exception, weighing 465 carats. When the rough stone was discovered in a Sri Lankan rice paddy in the late 1800s, it weighed an incredible 700 carats. It was found on the land of Iddamalogoda Kumarihamy, a beautiful aristocrat who gave the rough stone to her son-in-law. He, in turn passed it on to his son who had it cut into a cabochon in 1930. The supersized cabochon was named, the "Eye of the Lion" and set into a pendant. In 1978, the curator of the Smithsonian National Museum of Natural History Mineralogy Division described it as "the largest cut stone of its kind in existence" and today, it is thought to be owned by a Bangkok-based gemstone dealer. Forget "Eye of the Tiger", the "Eye of the Lion" rocks!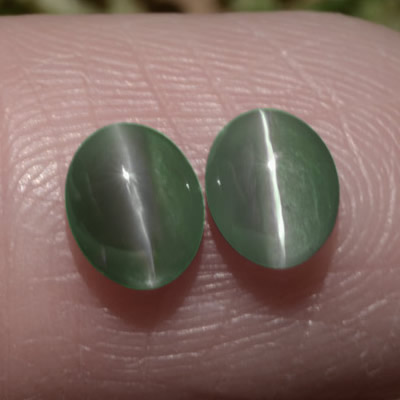 Matching Chrysoberyl Cat's Eye Pair
Other outstanding cat's eye chrysoberyl stones, referred to as "cymophane" were catalogued in the collection of Henry Philip Hope, the British banker and gemstone collector who owned the Hope Diamond, the Hope Spinel and many other incredible and historically important gemstones. A jeweler and gemstone collector by the name of Bram Hertz catalogued the Hope collection, and his 1839 documentation detailed one of Hope's cat's eyes as "chrysolite" measuring 2 inches in length (50 mm) and "presumed to be the largest and finest known". While "chrysolite" is widely believed to refer to peridot, it was also used as an umbrella term to allude to other stones. Hertz uses the term to describe both peridot and cymophane, but uses specific names for other possible gem types, such as tourmaline, and topaz, but not chrysoberyl, which is absent from the catalogue. Furthermore, the definition of "cymophane" is opalescent chrysoberyl. The absence of "chrysoberyl" in Hertz's catalogue and what Hertz went on to say strongly suggests that the stone is chrysoberyl cat's eye: ". .. and formed part of the crown jewels taken from the King of Candy in the year 1815".
Candy (more often spelled "Kandy") was a kingdom of Sri Lanka and an important source for chrysoberyl cat's eye, as seen above. This is just one of the many incredible cat's eye stones in the Hope Collection, at least one of which is now displayed at the British Museum of Natural History in London. Another of the King of Kandy's chrysoberyl cat's eye gemstones weighing 313.50 carats was given to Queen Victoria in 1886. This is known as the Kandy Cat's Eye.
According to Hertz's assumption, the chrysoberyl in the Hope Collection was taken from a Sri Lankan king before the Eye of the Lion was discovered. Many of the jewels of the King of Kandy were sold in a London auction on June 13, 1820. According to the Ceylon Gazetteer, a 2-inch long cat's eye stone was among the stones auctioned. Perhaps Mr Henry Philip Hope was in attendance on that day and the colossal cat's eye stone caught his eye.
September's birthstone is sapphire, which is defined as corundum that occurs in every color except for red; corundum that is red is classified as ruby. The properties of sapphire which make it one of the most popular gemstones of all time are its hardness (9 on the Mohs scale and second-hardest material after diamond), brilliance, stunning color and durability. Though blue is the most popular sapphire color, there are many other colors to choose from, including yellow, purple, green and pink.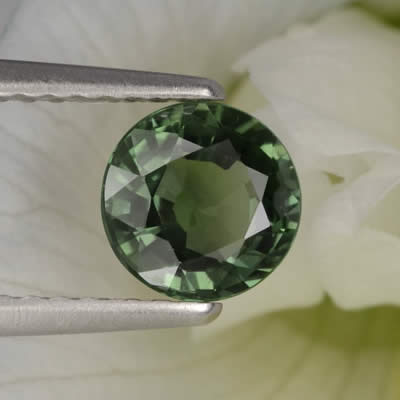 1-Carat, Round, Green Sapphire from Madagascar
We recently acquired some rare sphene; a titanium-containing gemstone material with an extremely high luster and remarkable fire. Sphene gemstones may be yellow, brown, green or reddish; the most sought-after colors are intense green "chrome sphene" and yellowish-green sphene. There are several locations where sphene is found, including Brazil, Myanmar and Madagascar, but most of our sphene stones are sourced from Sri Lanka.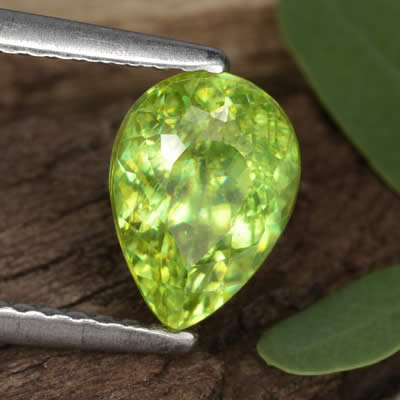 Pear-Shaped Yellowish-Green Sphene Gemstone
We usually specialize in colored gemstones, but we recently added to our inventory some round, diamond-cut, white to champagne diamond single stones, matched pairs and lots in sizes up to 3 mm. These white diamonds are perfect for side stones or accent stones and never go out of fashion. Indeed, diamond is prized by all for its superlative hardness, adamantine luster, incredible brilliance and exceptional fire.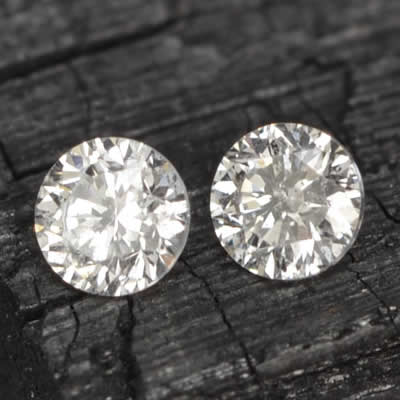 Round, Diamond-Cut White Diamond Pair
UK-based colored gemstone producer, Gemfields is now owned by the South African firm, Pallinghurst Resources and has a new CEO, Sean Gilbertson. Several of Gemfields' managers, including Ian Harebottle and Janet Boyce have resigned. According to Pallinghurst, Gemfields debt had reached "record levels" following a slow in emerald production.
A majority share of global gemstone jewelry brand, Neil Lane has been acquired by Authentic Brands Group (ABG), a company specializing in brand development, marketing and entertainment. The deal is expected to bring new Neil Lane products to other lifestyle markets. The Neil Lane jewelry brand has become known for wedding jewelry and engagement rings, particularly after the shows, "The Bachelor" and "The Bachelorette".
The gemstone jewelry industry bids a sad farewell to Fred Leighton, estate jewelry supplier dubbed "jeweler to the stars" who died on July 26 at the age of 85. His jewels have seen more red carpets than we care to count, donned by the likes of Sophia Loren, Nicole Kidman, Charlize Theron and Lupita Nyong'o. Born Murray Mondschein in the Bronx in 1932, Leighton first served in the army, sold flowers in Los Angeles and then began trading Mexican arts at a shop whose previous owner was named "Fred Leighton" in New York. After he began to sell vintage jewelry, he changed his name to Fred Leighton to match the shop. Though he sold the business in 2006 after it was accused of tax fraud, he continued to trade vintage jewelry by himself.
Every month we answer questions of general interest from our customers. Please feel free to send your questions or suggestions to our support team at help@gemselect.com!
Question
Hi, have you ever seen such a thing as green zircon? I know that you have blue zircon, white zircon and some other colors, but I've never seen green.
Answer
Yes, we have had such a thing as
green zircon
in the past. Green zircon is a rare "metamict" zircon, which forms with the presence of uranium and thorium over a long period of time. Metamict
zircon
is a green or brown color and is popular with collectors due to its rarity. To learn about other gemstones that occur in green, including chrome diopside, chrome tourmaline, demantoid garnet, peridot and tsavorite garnet, please see our
green gemstones article
.
Question
Dear GemSelect, I would like to get a pink colored gemstone eternity ring made for my wife, but I'm not sure how to buy the right stones. Can you offer me any advice?
Answer
Yes, of course, we would be happy to help with your eternity ring stones. The best way to buy stones for an eternity ring is to choose from ready-matched
gemstone lots
Depending on the size of your ring, the pink gemstones should be sized about 1.5 mm or more and the best choice in this small size would be
pink sapphire
. The number of stones needed will range between around 12 to 45 stones, depending on the size of the ring and whether you would like a half- or full-eternity ring. Half-eternity rings can be more comfortable to wear and more affordable than full-eternity bands. However, a full-eternity band will have the most color and pizzazz. Another choice is the shape of your pink gemstones. Most eternity bands use either round or
square gemstones
. If you would like to learn more about eternity rings, please read our article
here
.
We always welcome your questions, comments and feedback! For those who are interested in attending some gem and jewelry events, please see the details below.
Event Name
Tucson Gem Shows
Venue
Various Venues in Tucson, Arizona, USA
Dates
September 7 - 10, 2017
Event Name
Precious, Stockholm Nordic Watch & Jewellery Fair
Venue
Stockholmassan, Massvagen 1, 125 80 Alvsjo, Stockholm, Sweden
Dates
September 8 - 10, 2017
Event Name
Chepstow racecourse Rock, Gem 'N' Beads Sepetember Show
Venue
Chepstow Racecourse, St. Lawrence Rd, Chepstow, Monmouthshire, NP16 6BE, UK
Dates
September 9 - 10, 2017
Event Name
Delhi jewellery & Gem Fair
Venue
Pragmati Maidan, Mathura Maidan, Railway Colony, New Delhi, India
Dates
September 9 - 11, 2017
Event Name
Mineral & Fossil Fair, Oisterwijk
Venue
The Leather Factory, Almijstraat 14, Oisterwijk, Noord-Brabant 5061, PA, Netherlands
Event Name
Shenzhen International Jewellery Fair (SIJF 2017)
Venue
Shenzhen Convention & Exhibition Center, Fuhua 3rd Rd, Futian Central District, Shenzhen, China
Dates
September 14 - 18, 2017
Event Name
Denver Mineral Show
Venue
Denver Mart Expo Hall, 451 E 58th Ave, Denver, CO 80216, USA
Dates
September 15 - 17, 2017
Event Name
Wonders of the Earth Show
Venue
Don Montgomery Community Centre, Scarborough, Ontario, Canada
Dates
September 23 - 24, 2017
Venue
Pavilion 75, 69, VDNH Fairgrounds, 119, Mir Prospect, Moscow, Russia
Dates
September 27 - October 1, 2017
Keep up with our new arrivals before they hit the newsletter by joining our thousands of fans and followers on our social networking pages. We love interacting with our customers - you can visit us on Tumblr, LinkedIn, Twitter, Facebook or Pinterest!
To ensure you can receive our emails, please be sure to add help@gemselect.com to your list of safe contacts, or you add us into your email address book! Please feel free to contact us with any questions, comments and queries! We respond to each and every email we receive.
Happy Gem Hunting!
Your friends at GemSelect
First Published: August-21-2017
Last Updated: September-25-2017
© 2005-2021 GemSelect.com all rights reserved.
Reproduction (text or graphics) without the express written consent of GemSelect.com (SETT Company Ltd.) is strictly prohibited.