GemSelect Newsletter - September 2008
In our newsletter this month:
We've had a number of questions from our customers about new legislation in the USA banning the import of Burmese gemstones. In this month's newsletter we consider the implications of the new law, since many people are confused about exactly what it means.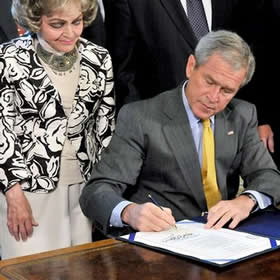 Bush Signs Burma Gem Ban
The new legislation, known as the Tom Lantos Block Burmese JADE (Junta's Anti-Democratic Efforts) Act of 2008, was signed into law by President Bush on July 29th, 2008, and will take effect 60 days from the signing. It extends previous legislation from 2003, which already banned the import of all gemstones from Burma. But a loophole in the existing law allowed the import of Burmese gems that were cut and polished in other countries such as Thailand.
The new law closes this loophole, but not for every kind of Burmese gemstone. The new law only addresses ruby and jadeite. It doesn't affect any of the other varieties of gemstones from Burma, such as spinel, zircon, peridot, maw-sit-sit and kyanite. These can still be imported as long as they are processed outside Burma.
The reason why the embargo covers only ruby and jadeite, we assume, is that these are the primary sources of gemstone revenue for the Burmese junta; trade in the other types of Burmese gemstones is so small as to be inconsequential. The enforcement effort is also simplified by restricting the ban to only ruby and jadeite.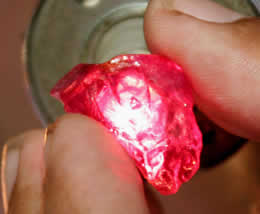 Burmese Ruby Rough
You may have read some news stories stating that the new law allows the import of Burmese ruby and jadeite for personal use. We have studied the language of the legislation and find no exception made for personal use. The only exception is for Burmese gems that were previously in the USA and were subsequently exported and reimported, or left the country with an individual for personal use and were then reimported.
In our June 2008 newsletter we expressed the view that the ban on Burmese gemstones will have little impact on the junta's revenue, since Burma's largest customer, China, is a big buyer of valuable jadeite and ruby at government auctions in Burma. We do fear that the small independent Burmese miners and gem traders will suffer, since they depend on trade with Thailand. If Thailand can no longer export Burmese ruby and jadeite, it will impact the independent Burmese businessmen, not the government.
We add hundreds of new gems to our inventory every day and we also add new content to our site each week, in the form of articles and reference material.
Recently we've added new articles on topics including gemstone labs, maw-sit-sit, alexandrite and kyanite. If you're interested in learning more about the gem and jewelry business, we've been adding short biographies of some of the most interesting figures. See our new piece on the infamous Jacob the Jeweler. Click the link to see all our gemstone articles.
Each month we feature a rare and unusual gem from our inventory. This month we feature a fine Burmese ruby.

Natural Burmese Ruby
Burmese rubies of good quality have always been rare, but new sanctions against Burma will soon make them almost impossible to find in many places. Burmese rubies are indeed special - they have a unique fluorescent quality that is visible even under low light. Few gems have the intensity of color of a Burmese ruby. Our photos of this 1.12 ct stone nicely capture the fluorescence and the slightly violet undertone that is so distinctive of Burmese ruby.
Every month we answer questions of general interest from our customers. Please feel free to send your questions or suggestions to our support team at help@gemselect.com!
Question
I have selected a gem I want to buy from your website, watermelon tourmaline #187979. Is it possible to buy two of them? AV, USA.
Answer
All of our gems are unique natural products of the earth, so we have only one of each item displayed on our website. We do put together many
matched pairs
and
lots
in smaller sizes. But it's very difficult to do in the case of large
watermelon tourmaline
, where the color zoning is rarely the same in two different stones. This is why you will rarely find matching pairs in watermelon tourmaline.
Question
I would like to buy some gems from your website. Unfortunately, whenever I click on the "add to cart button", the cart is still empty. Could you please help me with this problem? Thank you in anticipation. J., USA.
Answer
You need to have JavaScript enabled to add items to our shopping cart. To enable JavaScript in Internet Explorer 7, select "Internet options" from the "tools" menu. Then click on the "security" tab. Click the "custom level" button and then scroll down to the scripting section and make sure that "active scripting" is enabled.
Keep up with our new arrivals before they hit the newsletter by joining our thousands of fans and followers on our social networking pages. We love interacting with our customers - you can visit us on Tumblr, LinkedIn, Twitter, Facebook or Pinterest!
To ensure you can receive our emails, please be sure to add help@gemselect.com to your list of safe contacts, or you add us into your email address book! Please feel free to contact us with any questions, comments and queries! We respond to each and every email we receive.
Happy Gem Hunting!
Your friends at GemSelect