Gemstone Laboratories
In the gemstone trade, the gemological laboratory plays an increasingly important role. Every reputable dealer wants to be sure he is correctly describing his goods, and many buyers want the assurance of an identification report from a respected gemological lab. The gem labs help keep the entire gem industry honest, since both buyers and sellers know that gemstones are subject to testing at any time.
Here in Chanthaburi in Thailand, a local university gemological laboratory operates right in the gem market. With gemologists trained at the well-known Asian Institute of Gemological Sciences (AIGS) in Bangkok, they can test gems in a few hours so that deals can be closed quickly.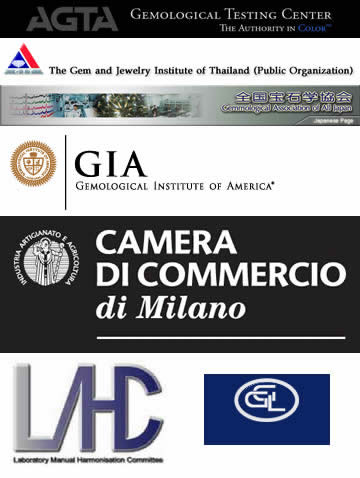 Member Labs of LMHC
These days many well-equipped labs will do basic gem identification testing quickly and inexpensively. But testing for gem treatments can take longer and involve higher costs.
One issue in the gem testing business is how to maintain consistency across laboratories in how gemstones are described. If one lab describes a stone as "cuprian elbaite tourmaline" and another lab describes the same stone as "Paraiba tourmaline", then the certificate stating "Paraiba tourmaline" may well give the owner of that stone an advantage in the marketplace.
To that end, some of the most respected gemological labs in the world have established a body known as the Laboratory Manual Harmonisation Committee (LMHC), whose aim is to standardize the wording of reports as well as certain analytical methods and interpretation of results. The seven labs represented on the committee include AGTA-GTL (New York), CISGEM (Milano), GAAJ (Tokyo), GIA (Carlsbad), GIT (Bangkok), Gübelin (Lucerne) and SSEF (Basel).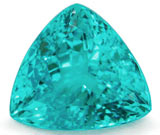 Paraiba Tourmaline
In January 2007, LMHC made a recommendation to resolve trade controversy concerning Paraiba tourmaline. This remarkable neon blue-green tourmaline was first found in the state of Paraiba in Brazil in 1989, and became known as Paraiba tourmaline. Then in 2001, similar material was found in Nigeria. Following this, in 2005, material was discovered in Mozambique. Should dealers be allowed to use the name Paraiba to refer to the African tourmaline?
The LHMC proposed that the neon blue-green tourmaline, colored by traces of copper and manganese be called Paraiba tourmaline, regardless of its geographic origin. At first, this ruling was well-received in the trade as being eminently reasonable. But then in April 2008, a $120 million lawsuit was launched in California against the AGTA (American Gem Trade Association) and the GIA (Gemological Institute of America), by David Sherman, one of the main dealers in Brazilian tourmaline. He has been supported in the press by the editor of Colored Stone magazine. The case was later dismissed, but it's a reminder that the gemological labs don't always have the last word when it comes to gem identification.