GemSelect Newsletter - November 2010
In our newsletter this month:
This month you'll notice some extensive remodeling of our website. This is not something we do very often, since we want our website to be as familiar and dependable as an old friend. But we're always trying to improve, and we listen carefully to the questions and suggestions we receive from our visitors. So from time to time we get out the tools and do a few renovations.
Some of the recent changes are designed to make it easier for first-time visitors to find information on our website. Also, many of the new features are intended to help our regular customers quickly find the gems they need in our vast inventory.
Here is a short list of new features that we think you'll find useful:
* Our gem type pages now display more gems per page, making for less screens as you browse our inventory. Also, the thumbnail photos are now larger, making it easier to see the details of a gem without clicking through to the detail page for the item.
* Our gem detail pages now show all similar or matching items, so you don't have to search around if you need more than 1 piece in a particular color and size. We've also added links to show you gems that are "larger in this shape and color", "smaller in this shape and color", "same shape and size in different colors" or "all gems of this type".

Related Items on the Detail Page
* If you have items in your shopping cart, we now show you the complete list of cart items on every page, in a box near the top right-hand side of the page. This makes it easy to view any item in your cart, and edit your shopping cart simply by clicking on the links in the cart. This can be a real time saver that avoids the need to click back and forth from the cart page.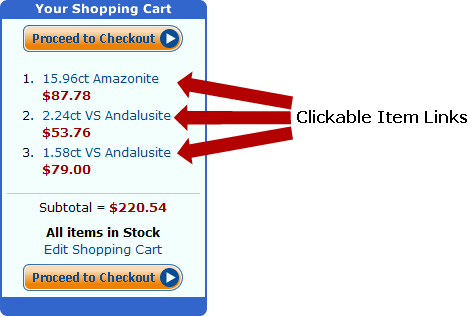 New Shopping Cart Features
* The left column of our home page, gem pages and most of our information pages now include links to all the gem varieties we stock.
* We've adopted larger fonts and titles to make our pages easier to read, as in this newsletter.
* We have one of the largest collections of gemstone information you'll find anywhere on the Internet. But it has not always been easy to find all this information on our site. We've now created a gemstone information center page that provides a directory to over than 450 pages of original articles on gemstones.

Gemstone Information Center
Your comments on the recent changes are welcome and appreciated. You can send us your comments from our contact detail page.
Each month we focus on a rare and unusual gem from our inventory. This month we feature a fine large emerald from Colombia:

Large Emerald from Colombia
High quality emeralds in very large sizes are uncommon, and we rarely find one as fine as this 14.03-carat specimen from Colombia. It is a bright, slightly bluish green, with very good color consistency. It's particularly well cut, with almost square proportions (14.53 x 14.25 mm) and a generous depth (11 mm) to maximize color.
Every month we answer questions of general interest from our customers. Please feel free to send your questions or suggestions to our support team at help@gemselect.com!
Question
I love the colour of your chrome diopside and the price is very good as well. Is this gem a good substitute for emerald? Thanks, AW, Australia.
Answer
Chrome diopside
has become a popular choice of deep green gemstone. It is more affordable than emerald and tsavorite garnet, and the color is often stunning. But chrome diopside has two limitations that you should be aware of. First, it is a fairly soft stone at 5-6 on the Mohs scale, so it is not suitable for rings. Secondly, it is at its best in smaller sizes, since it is such a saturated green that it tends to be too dark in gems weighing over 2 carats. But it makes wonderful earrings, especially when set in yellow gold.
Question
What is the difference between rutile quartz and rutile topaz? I know one is quartz and one is topaz but are they otherwise the same? Which would you recommend? RS, USA.
Answer
Despite the names,
rutile quartz
and
rutile topaz
are actually very different. Though both are clear, transparent gems with golden to red inclusions, only rutile quartz actually has inclusions of rutile (titanium dioxide). The inclusions in so-called rutile topaz look like rutile crytals, but they are actually limonite (iron oxide) staining in thin channels in the topaz. This is why the inclusions in so-called rutilated topaz tend to be less dense than in rutilated quartz. Despite these differences, we think both gems can be recommended for all kinds of jewelry.
Keep up with our new arrivals before they hit the newsletter by joining our thousands of fans and followers on our social networking pages. We love interacting with our customers - you can visit us on Tumblr, LinkedIn, Twitter, Facebook or Pinterest!
To ensure you can receive our emails, please be sure to add help@gemselect.com to your list of safe contacts, or you add us into your email address book! Please feel free to contact us with any questions, comments and queries! We respond to each and every email we receive.
Happy Gem Hunting!
Your friends at GemSelect