GemSelect Newsletter May 2016: Mother's Day Gems for Femmes
Color, Culture, Lore and Symbolism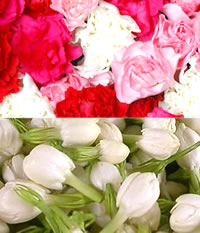 Carnations and White Jasmine
Mother's Day gifts vary according to culture and traditions. For example, the traditional flowers given in the US on Mother's Day are red and pink carnations for living mothers, and white carnations to pay respect to mothers who have passed. Here in Thailand, blue is an important color on Mother's Day and fragrant white jasmine is the flower of choice. The colors of flowers are given special significance and so are gemstones. In various cultures, colors symbolize certain things and according to color psychology, certain colors can affect behavior. For example, red is believed to stimulate the appetite. Color psychology can be applied to many things, such as clothing, advertisements and interior decoration. Chromotherapy takes this even further by suggesting that certain colors can correct imbalances in the body.
If you are considering gifting jewelry this Mother's Day, here are a few color themes to choose from with some examples of corresponding colored gems and their typical meanings. Along with basic color symbolism, gemstones carry their own lore. Some of these traditional beliefs are related to color symbolism, and others are particular to the gem type.
Rejuvenation & Joy with Green & Yellow Gems
Back to Top

Emerald, Aventurine, Quartz & Golden Beryl
For moms who love nature and are in need of recovery and renewal, green is great. Green is the color of nature, growth and restoration. Peridot is a green stone that is thought to strengthen its wearer, promote understanding and bring about a positive state of mind. For those who wish to get in touch with their subconscious, prehnite is recommended. Jade is a green gem which is said to promote prosperity and good luck, as is aventurine. Emerald has a great deal of lore attached to it, which includes the ability to sleep well, see well and be happy. Emerald is also the birthstone for this month. For those who wish to cleanse and renew their soul, chrome diopside is the green gem of choice. Other happy gems are amazonite and apatite, which is also attributed with the ability to cure stutters and fight viruses.
If you would like to cheer your mom up a little, yellow may help her to see the sunny side and introduce a little joie de vivre. It is not surprising that yellow is the color of jollity, since it is uplifts like the golden rays of the sun or a bunch of daffodils. Yellow gems include citrine and its lore states that citrine promotes optimism. Additionally, citrine is said to bring luck in business and help boost self-esteem. Yellow sapphire is similarly believed to bring wealth and prosperity. Another yellow gem is golden beryl, which is also known as "the stone of the sun". The ancient Greeks believed that it harnessed the warmth and energy of the sun.
Energy & Serenity with Red, Orange & Blue Stones
Back to Top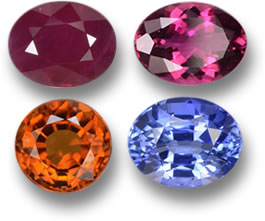 Ruby, Rubellite, Spessartite Garnet and Sapphire
Tired moms can benefit from the vital energy of red and orange. These are the colors of heat and power. Those who wear red are seen as confident and this is carried over to the lore surrounding ruby. People who wear ruby are thought to gain confidence and leadership skills. In addition, ruby is a gem of friendship and love. Likewise, deep-pink tourmaline, red tourmaline and garnet are stones of self confidence. In addition, garnet is worn for luck in business. Garnet gems can be found in both red and orange, as are tourmaline stones.
For those in need of calm and tranquility, blue and turquoise are best. Blue is the color of the sky and sea, which calms the soul when gazed upon. For those who need a little boost and calmness, sapphire and lapis lazuli are recommended. Aquamarine is said to encourage mental clarity and dispel fear. Turquoise is believed to provide protection and encourage strength. Blue topaz is thought to provide balance. In general, blue gems are also believed to improve communication.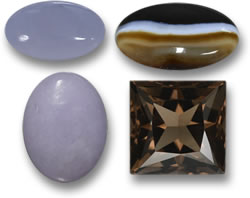 Chalcedony, Jasper, Jadeite & Smoky Quartz
Moms who wish to exude femininity and elegance can consider lavender. This pale purple color is gentle and sophisticated. Chalcedony is a ladylike stone which has long been esteemed by some Native American Indians for promoting unity and goodwill. In addition, it is thought to help those who are depressed and irritable. Jadeite also occurs in lavender colors and is believed to bring prosperity, calmness and luck.
Lastly, comfort and reliability can be sought in brown. Neutral, earthy tones bring us back to nature and help us to feel grounded. Agate is a gem that occurs in brown colors and has long been considered a protective stone. A relative of agate; tiger's eye is a stone of calm and its cousin, jasper, is thought to help relax the wearer. Other healing gems of this color include chocolate opal and boulder opal. Since opal has several colors, it was said to be the "queen of gems" because it was believed to carry the properties of all other gems. Moonstone also has mocha colors and is believed to help fulfill the wishes of the wearer. Smoky quartz is another brown gem thought to encourage serenity and positivity.
Nothing oozes luxury like gems and jewelry. What's more, gemstone jewelry can be worn for many years to come and will remind Mom of her special day and wonderful children. One lovely idea is to gift a charm bracelet which can be added to each year. Each trinket will have sentimental value and will contribute to a unique story over the years.
Larimar and Blue Agate Cabochons
One of the Pantone colors of 2016 is a pale blue called "serenity". We have recently acquired some gemstones that occur in this color. One example is Larimar; the white to light-blue opaque to translucent variety of pectolite that is found in the Dominican Republic. Larimar can vary from white to medium greenish-blue and may also have marbled patterns. It is named after the combination of the name "Larissa" (the daughter of Miguel Mendez; the man responsible for the gem's rediscovery), along with "mar"; the Spanish for sea. Another recently acquired pale blue gem is banded blue agate, which is sometimes traded as "blue lace agate". Agate occurs in many different colors and like chalcedony, blue agate can appear lavender. The pale bands of blue agate have a dreamy appearance, almost like a beautiful misty sky. Faceted stones in a serene blue hue include aquamarine; the pale blue beryl gemstone.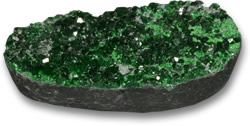 Uvarovite Garnet Druzy Gem
Druzy gems are minute clusters or encrustations of crystals. For some time, we have stocked agate geodes, rainbow pyrite and azurite druzy, but more recently we have also come across the rarer uvarovite druzy, which we do not see as often. Uvarovite garnet is a brilliant emerald green color and its crystals are typically so small that they very rarely yield non-druzy gems. Uvarovite is named after Russian statesman, scholar and Godchild of Catherine the Great, Count Sergei Semenovitch Uvarov. The main source for uvarovite druzy is the Ural Mountains of Russia. One thing to know about uvarovite druzy gems is that the crystals are somewhat fragile, so should be worn with care to avoid damage. If used as pendants or earrings, uvarovite druzy gems will be less likely to be exposed to hard knocks.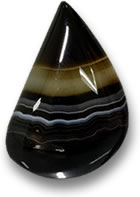 Fancy Jasper Cabochon
Jasper is a gemstone that occurs in an astounding variety of colors and patterns, including bands, stripes, flames and spots. In fact, jasper gets its name from the Greek for "spotted stone". Jasper is widely considered to be a type of chalcedony, but is sometimes put into a class of its own because it has a distinct grainy structure. Our recently acquired Indonesian jasper stones in white, brown and black bands show a wonderful luster and are ideal for neutral toned jewelry. As mentioned above, earthy colors provide comfort, reliability and security. Fancy jasper cabochons are perfect for unique necklace pendants in natural, tribal designs. The beauty of these neutral colors is that they look great with any skin tone and can be used for casual wear for both men's and ladies' jewelry. Jasper is extremely tough and durable, so it can be worn daily.
A 15.99-carat Burmese ruby and diamond ring by Verdura sold for $14,165,000 at Christie's New York on April 20, setting a new US record for the most expensive colored gemstone to be sold at auction. Despite the new record, the pricey red gem known as the "Jubilee Ruby" did not exceed the pre-sale estimate of $12 to $15 million.
The 10.10-carat blue De Beers "Millennium Jewel 4" achieved $32 million at Sotheby's Hong Kong last month, making it the most expensive gemstone to be auctioned in Asia. The internally flawless blue diamond is the largest oval, fancy vivid blue diamond to be offered at auction. It came from the Cullinan Mine in South Africa and was exhibited along with the rest of the Millennium Jewels at the Millennium Dome in London in the year 2000. A gang of thieves attempted to steal the Jewels, but due to a tip-off, the robbery was prevented and the gang was arrested.
A dessert with a difference was offered by the Windsor Court Hotel in honor of Queen Elizabeth II's 90th birthday on April 21. The special $90,000 sweet is part of a "Fit For a Queen Package" and is made from a gold-encased dark chocolate cake, with champagne raspberry and passion fruit sauce. The cherry on top is replaced by a white gold ring set with a 3.95-carat oval ruby and a double diamond halo.
Every month we answer questions of general interest from our customers. Please feel free to send your questions or suggestions to our support team at help@gemselect.com!
Question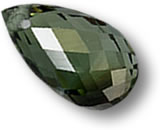 Green Tourmaline Briolette
Dear GemSelect, I have a choker that I want to add a pendant to, can you tell me what is the best gem shape to use for this?
Answer
For a pendant, pear shapes or briolettes are ideal. If you are looking for a gem that is drilled, then a
briolette
would be suitable. A briolette is a gemstone in a teardrop shape with triangular facets all the way around (see the image of the tourmaline briolette on the right). If you prefer an undrilled gem, a pear shape would be best.
Pear-shaped gems
may be faceted or cut en cabochon. Please feel free to ask if you need a particular size or color that you can't find on the website.
Question
Hi, I'm looking for a faceted, round, golden gemstone to use as a center stone for cocktail ring, what gem do you think is the best option for this?
Answer
One of the most affordable and versatile golden yellow to orange stones is citrine. This is a variety of quartz that is found in large sizes and is believed by many to emit positive energy. Another great golden yellow to orange gem is zircon. It has a high level of brilliance, giving it wonderful sparkle. Other options in smaller sizes are golden beryl; the yellow cousin of emerald, and yellow sapphire for those with larger budgets.
Yellow sapphire
is another stone that is thought by many to attract good fortune.
We always welcome your questions, comments and feedback! For those who are interested in attending some gem and jewelry events, please see the details below.
Event Name
International Fashion Jewelry & Accessory Show
Venue
Affinia Hotel, 371 7th Ave, 31st St, New York, NY, USA
Event Name
International Jewellery & Watch Show
Venue
Abu Dhabi National Exhibition Centre, Khaleej Al Arabi St, Al Safarat, Abu Dhabi, UAE
Event Name
OroArezzo International Gold, Silver & Jewellery Trade
Venue
Centro Affari e Convegni, Via Lazzaro Spallanzani, 23, 52100 Arezzo, Italy
Event Name
International Jewellery Kobe
Venue
International Exhibition Hall, 6-11-1 Minatojima Nakamachi Chuo-ku, Kobe, Japan
Event Name
Jeweller Expo Ukraine
Venue
KyivExpoPlaza Exhibition Center, 2B, Saliutna Str, Kyiv, Ukraine
Event Name
International Jewelry and Merchandise Show
Venue
New Orleans Morial Convention Center, 900 Convention Center Blvd, New Orleans, LA, USA
Event Name
May International Jewelry & Watch Vietnam
Venue
Saigon Exhibition & Convention Center, 799 Nguyen Van Linh, Tan Phu, Ho Chi Minh, Vietnam
Event Name
New Russian Style 2015
Location
Russian Federation
Venue
All-Russian Exhibition Centre, Pr-t. Mira, 119, Moscow, Russia
Event Name
International Watch & Jewelry Guild Show
Venue
Tropicana Las Vegas, 3801 S Las Vegas Blvd, Las Vegas, USA
Venue
Four Seasons, Mandalay and Delano, 3940 S Las Vegas Blvd, Las Vegas, NV 89119, USA
Dates
May 31 - June 6, 2016
Keep up with our new arrivals before they hit the newsletter by joining our thousands of fans and followers on our social networking pages. We love interacting with our customers - you can visit us on Tumblr, LinkedIn, Twitter, Facebook or Pinterest!
To ensure you can receive our emails, please be sure to add help@gemselect.com to your list of safe contacts, or you add us into your email address book! Please feel free to contact us with any questions, comments and queries! We respond to each and every email we receive.
Happy Gem Hunting!
Your friends at GemSelect