Larimar Gemstone Information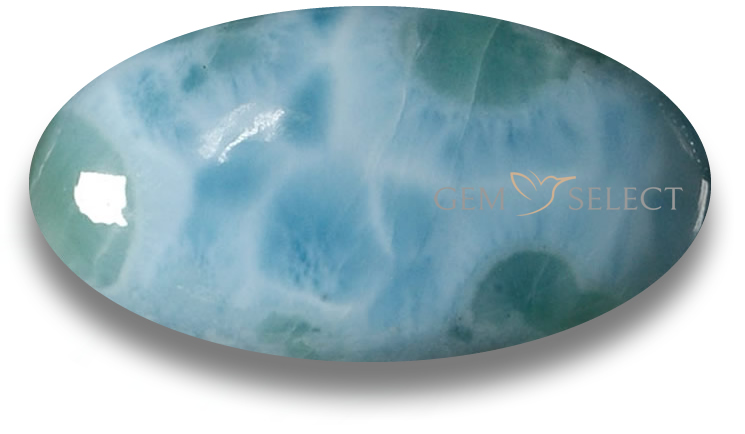 Buy Natural Larimar from GemSelect
About Larimar - History and Introduction
Larimar is a trademarked name for a rare blue, gem-quality variety of the mineral pectolite. Pectolite is normally gray in color and is actually not that rare, occurring in many locations around the world. But blue Larimar is found only in one location in the entire world - the Dominican Republic. Gemologically, blue Larimar is a hydrated sodium calcium silicate with manganese. Its distinct blue color is owed to calcium being replaced by copper impurities. The composition of Larimar is often mixed with other materials such as calcite and hematite. Its color can vary from white to light-blue, and from medium sky to volcanic blue.
The history of Larimar is based on many legends and stories. Although Larimar is commercially a relatively new gemstone, Dominican ancestors have long-prized the Caribbean gem. Stories of its first discovery claim that it was found by Father Miguel Domingo Fuertes Loren in 1916 in the Dominican Republic, but then later forgotten about - up until its more recent 'rediscovery' in 1974 by Miguel Méndez, a local Dominican, and Norman Rilling, a visiting US Peace Corps volunteer. Together, they named the stone after Méndez's daughter 'Larissa' by combining the first letters of her name 'Lari' with 'mar', the Spanish word for 'sea'. Today, blue Larimar is very popular throughout the Caribbean, but it is extremely rare to find it anywhere else.
| | |
| --- | --- |
| | |
Larimar is an acid silicate hydrate of sodium and calcium. It is colored by copper, which distinguishes it from other forms of pectolite. Minor traces of iron and potassium may also be present. Most Larimar forms with clusters of needle-like inclusions, often resulting in a slight simple chatoyancy, similar to charoite or pietersite. It has a hardness of 4.5 to 5 on the Mohs scale, approximately the same as apatite, sphene and turquoise. When polished, it exhibits an attractive silky luster. Due to its distinct pattern and colors, there are really no other gemstones commonly mistaken for rare blue Larimar.
The only known source of blue Larimar is the Filipinas Mine in Los Checheses, located in the Dominican Republic. Larimar deposits surface as hot gasses push crystallized minerals up through the volcanic chimneys or tubes. In most cases, miners must dig deep into the volcanic tubes in search of deposits, but in some cases, it may also be found as sediment on the shores of the Caribbean, washed up as alluvial deposits carried down by the Bahoruco River.
Buying Larimar and Determining Larimar Value
Back to Top
Larimar Color

Larimar's color can range from very light blue to greenish blue, and from medium sky blue to 'volcanic blue', similar to turquoise. It rarely forms in solid colors; most stones exhibit white circular marbling patterns. The blue color is owed to traces of copper. Some stones may also exhibit spots of green, red or brown as a result of oxidation and the presence of iron. Stones with less white and deeper blue colors are considered to be the most valuable. Quality grading is done according to color; white is the lowest quality, while volcanic blue is the highest quality. Its color is photosensitive and it fades under exposure to strong sunlight and heat.

Larimar Clarity and Luster

Larimar is typically opaque, although some finer materials may appear slightly translucent. Stones often exhibit clusters of needle-like inclusions that can give it a slight simple chatoyancy (cat's eye) effect. When cut and polished, Larimar has an attractive silky to subvitreous luster.

Larimar Cut and Shape

Larimar is typically cut en cabochon. It may also be tumbled or cut into beads. Fancy shapes are rare and demand higher premiums, especially in calibrated sizes. Rounds and oval shapes are most common.

Larimar Treatment

Larimar is not known to be treated or enhanced in any way. Some inexpensive lighter colored stones may be dyed to imitate Larimar.
| | |
| --- | --- |
| Chemical Formula: | NaCa2Si3O8(OH) |
| Crystal Structure: | Triclinic pinacoidal |
| Color: | White, blue, green-blue, multicolored |
| Hardness: | Typically 4.5 to 5 (up to 6 for some finely fibrous material) |
| Refractive Index: | 1.59 to 1.65 |
| Density: | 2.70 - 2.90 |
| Cleavage: | Perfect |
| Transparency: | Translucent to opaque |
| Double Refraction or Birefringence: | 0.038 |
| Luster: | Silky |
| Fluorescence: | Weak: Green |
Please refer to our Gemstone Glossary for details of gemology-related terms.

Turquoise
Larimar is sometimes referred to as 'Stefilia's stone' or the 'Caribbean Stone'. It has such a distinct color and pattern that very few gemstones could be confused with it. Turquoise or dyed howlite could present possibility for confusion. Other than common pectolite, there are no other closely related gemstones available on the market today. Some of the more common gem and mineral associations include prehnite, hematite, calcite and serpentine. Calcite and hematite are often found as inclusions within deposits of Larimar stone.
Larimar Metaphysical and Crystal Healing Properties
Back to Top
Larimar is also known as 'the Atlantis stone', based on old legends which claim that the Dominican Republic was once part of the lost city of Atlantis. This association makes Larimar very important in the world of metaphysical gems. It is believed that the energy of Larimar can help to enhance spirituality and communication. It is a stone which is able to soothe emotions, cool tempers and alleviate stress, bringing a feeling of calmness to its wearer. Larimar works with all chakras, but its vibration is thought to be best for the heart, crown and throat chakras. It is associated with the element of water, much like its color, though it was formed with volcanic roots. Physically, blue Larimar is thought to be able to help with throat and cardiac disorders, and it is also good for blood pressure and alleviation of joint and arterial pain.
Disclaimer: Metaphysical and Alternative Crystal Healing Powers and Properties are not to be taken as confirmed advice. Traditional, Ceremonial and Mythological Gemstone Lore is collected from various resources and is not the sole opinion of SETT Co., Ltd. This information is not to replace the advice of your doctor. Should you have any medical conditions, please see a licensed medical practitioner. GemSelect does not guarantee any claims or statements of healing or astrological birthstone powers and cannot be held liable under any circumstances.
Larimar is an extremely rare gemstone. It is also quite soft, so its use in jewelry is limited. It is very popular for jewelry in the Dominican Republic where it is mined, and elsewhere in the Caribbean. Most Larimar is set into silver, although some extremely high quality materials may be set with yellow or white gold. Most Larimar designs take into account its fragility, and utilize well-protected settings and mountings; i.e., inlay, bezel and channel set.
Pendants, bangles and bracelets are very popular, followed by earrings and various beaded designs. Larimar is not ideal for rings, but if worn occasionally and with care, a Larimar ring can make a stunning accessory.
Note: Buy colored gemstones by size and not by carat weight. Colored stones vary in size-to-weight ratio. Some stones are larger and others are smaller than diamond by weight in comparison.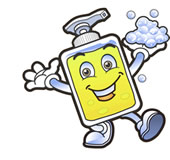 Larimar is rather soft and fragile compared to most jewelry gemstones. It also has a brittle tenacity and perfect cleavage which requires extra care when cleaning and storing. Be sure to avoid harsh chemicals and cleaners as Larimar can be corroded by mineral acid. Avoid strong heat and sunlight in order to prevent color loss. You can wipe down your stones using a soft cloth. When cleaning, use only warm water and a mild soap or detergent if needed. Be sure to rinse well to remove any excess soapy residue.
Always remove any Larimar jewelry before engaging in any vigorous physical activities, such as sports, exercise or household chores. When storing Larimar gemstones, store them seperately and away from other gems and jewelry to prevent scratches and fractures. It is best to wrap your gems using a soft cloth and place them in a fabric-lined jewelry box.
First Published: February-12-2014
Last Updated: January-17-2019
© 2005-2019 GemSelect.com all rights reserved.
Reproduction (text or graphics) without the express written consent of GemSelect.com (SETT Company Ltd.) is strictly prohibited.