Top 10 Gemstones for Jewelry Making Beginners - and Why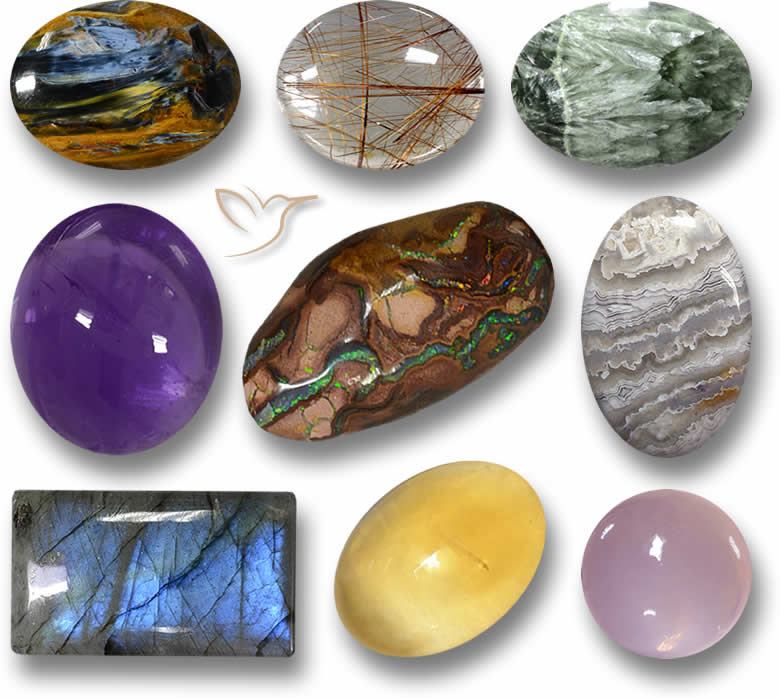 So, you have completed your jewelry making course, checked out a few tutorials on YouTube and finished a number of beaded necklaces and bracelets. Then you successfully made some wire-wrapped pendants and even tried your hand a bezels and soldering. You are feeling good and confident. Now it is time to create a unique piece of jewelry using real gemstones instead of glass or plastic but what one will you choose for your first work of art?
Quick Tips for choosing the right gemstones
What is behind the Tips?
Why do we recommend large gemstones?
In short: It takes experience to work with small gemstones. Your fingers are not as dexterous as they will be one day and fiddly little stones are still a real pain so you want a reasonably large stone to work with.
Why choose cabochons or rose-cut gemstones with low height?
One big advantage is that they all have a flat bottom and therefore can easily be glued or worked on since they don't turn away while setting them, they always lay perfectly on the bottom. Also, a low height ensures that the jewelry piece aligns neatly while being worn. For example: you don't want a pendant to flip around on your chest all the time.
Why is the Mohs hardness important?
On occasions you may drop the stone you have been working with or scrape it with the tools while working on it. Beginners may apply more pressure to the stone when wrapping with wire or bending a bezel or you may slip when using the bezel rocker, burnishing tool or mallet. Therefore we need a stone that is durable, scratch resistant and will not chip easily.
See our detailed article on the Mohs hardness scale here
Choose gemstone colors which contrast well with the jewelry material
If you have a setting design or a particular material you are planning to use for your jewelry make sure the gemstone will contrast nicely with the alloy. For example: A Hematite gemstone should not be used in a silver pendant since both are silver in color. Similarly the pattern of the gemstone should not clash with any embellishments or designs on the setting. For example: A busy or ornate setting will look better with an even and single colored gemstone. A gemstone with strong patterns and multiple colors will work best in a simple designed piece of jewelry.
Choose gemstones that will not be damaged by heat
Most natural gemstones are created by heat and pressure underground so should not be affected by the soldering iron but some synthetic or fabricated gemstone can be damaged. Also, coated gems and gems with a protective layer may be damaged due to heat.
Why should my gemstones not be dyed or coated?
When making jewelry there are always cleaning fluids involved, sandpapering, glue, solvents and other fluids everywhere. Coated or dyed gemstones are simply not up to the task and could be ruined.
Do not buy doublets or triplets for your jewelry making
Doublets and triplets are gemstone pieces that involve backing material, layers, glue and clear caps. As soon as you start applying heat, or solvents or any sort of force you can easily damage the gemstone.
Bonus Tip. Choose a reasonably priced gemstone.
Even the most experienced jewelry maker can make a mistake when working with gemstones so when starting out we would recommend choosing one you can afford to break!
List of recommended Gemstones for Jewelry Making Beginners
| | | | | | | | |
| --- | --- | --- | --- | --- | --- | --- | --- |
| Gemstone | Color | Pattern | Hardness | Availability | Price | Unique | Total |
| Rutile Quartz | 7 | 9 | 7 | 8 | 8 | 8 | 47 |
| Jasper | 7 | 7 | 7 | 8 | 9 | 7 | 45 |
| Pietersite | 8 | 8 | 6.5 | 7 | 6 | 8 | 43.5 |
| Rose Quartz | 7 | 6 | 7 | 9 | 7 | 7 | 43 |
| Boulder Opal | 8 | 8 | 6.5 | 6 | 6 | 8 | 42.5 |
| Seraphinite | 7 | 8 | 6.5 | 6 | 8 | 7 | 42.5 |
| Chalcedony | 8 | 5 | 7 | 8 | 7 | 6 | 41 |
| Labradorite | 6 | 8 | 6.5 | 5 | 7 | 8 | 40.5 |
| Citrine | 8 | 5 | 7 | 8 | 6 | 6 | 40 |
| Amethyst | 8 | 5 | 7 | 8 | 6 | 6 | 40 |
Select Cabochons for Jewelry Making Beginners here