GemSelect May 2014 Newsletter - Mother's Day
| | |
| --- | --- |
| | Salmon Pink Carved Coral Gemstone |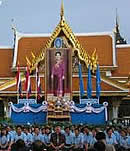 Mother's Day in Thailand
Mother's Day is celebrated all over the world by a great diversity of cultures. To most, Mother's Day is simply seen as a day for honouring our mothers.
The origin of Mother's Day is said to be in the ancients' celebration of the mother Goddess. Nowadays, Mother's Day is celebrated in different ways, and during different months, depending on the region. In Thailand, Mother's Day is in August, on the Queen's birthday and Father's Day is celebrated during the King's birthday in December. These days are national holidays that are celebrated in this way because the King and Queen are seen as the mother and father of the nation.
In some countries, such as Spain and Panama, Mother's Day is also a religious holiday, spent in tribute to the Virgin Mary as well as mothers.
In Nicaragua, former President, Anastasio Somoza Garcia chose the birthday of his mother-in-law to be the official Mother's Day. Somoza was widely considered to be a ruthless dictator, and US President Franklin D Roosevelt nicknamed him "our son of a bitch". However, he must have had a gentler side; unless he was simply attempting to curry favour.
In the UK, "Mothering Sunday" is celebrated in March. This was originally a religious celebration when people returned to their "mother church" on the fourth Sunday of lent. Later, this was a holiday for domestic servants to gather together at their "mother church". During the walk, children would gather wild flowers to present to their mothers and this led to the traditional secular celebration that we now know as Mother's Day.
Most countries (approximately eighty nations), including the USA, celebrate Mother's Day on the second Sunday of May. The founder of the US Mother's Day was Anna Jarvis, who began the Mother's Day International Association in 1912. She indicated the use of a singular possessive, so that each family would focus on paying respect to their own mother in particular, rather than a plural that would refer to every mother in the world. In 1914, Mother's day became a nationally recognized holiday, but its founder was embittered by the commercialization of the holiday in the 1920s and campaigned fervently against what she considered to be the "laziness" of buying gifts and cards for mothers rather than taking the time to handwrite letters of appreciation to their mothers. In fact, Anna Jarvis was arrested for disturbing the peace during one such campaign.
Anna Jarvis celebrated Mother's Day by leading tributes and giving away carnations, which were her mother's favourite flowers. Red and pink carnations were worn for those honouring living mothers and white carnations were worn by those paying respect to mothers who had passed away. This is where the tradition of giving carnations for Mother's Day started. Nowadays, flowers are often given on Mother's Day. Thanks to a collaboration between Rococo Chocolates and iMakr, this year will see a new trend for giving 3D chocolate "selfies" on Mother's Day. If this seems in bad taste to you, then read on for some gemstone and jewellery gift ideas.
Mothers usually pass jewellery down to daughters, but on Mother's Day, children can take the opportunity to do just the opposite and give their mother a beautiful piece of jewellery to show their appreciation. When designing a special piece of jewellery for someone, it is possible to personally select materials to suit the person whom the jewellery is intended for. For example, some ladies prefer silver to gold, and custom-made jewellery allows the designer to choose the perfect precious metals, settings and gemstones to suit the person receiving the gift. In this way, greater meaning is brought to the jewellery item than could ever be achieved with ready made, shop-bought products. A Mother's Day Times Union opinion poll in 2013 revealed that 43% of mothers wished for something sentimental and homemade whilst 27% wished for jewellery for Mother's Day. Creating jewellery for Mother's Day fulfills both wishes in one.
Gemstone Jewellery
A necklace or ring with gems containing a mother's birthstone, children's birthstones or the family's birthstones make a meaningful gift for a mother. Alternatively, an engraved piece of jewellery can carry a special personal message. For new mothers, Harper's Bazaar suggest rings engraved with the names and birthdates of children or a David Yurman cushion-cut coloured gemstone necklace.
For those with a creative streak, a wire wrapped necklace or bracelet with a mother's initials is another option. For younger children, beads are a great idea for creating a handmade Mother's Day gift. Beaded jewellery is simple enough to make for young children to provide their mother with a lovely keepsake that she can always wear. The effort of creating something for Mother's Day may even satisfy those from the traditional Anna Jarvis school of thought. For those who consider beaded jewellery low-class, even red-carpet esteemed fashion designer, Oscar de la Renta has a range of colourful beaded jewellery on sale at Saks Fifth Avenue. Gucci have also contributed to the beading trend by producing a tiger's eye beaded bracelet.
At number one on the list of Luxe gifts for Mother's Day is a brightly coloured Tacori gemstone bracelet, which features lemon quartz, cognac quartz, prasiolite, smoky quartz and amethyst. This could be made at a fraction of the price with selected loose gemstones. Number four on the same list is a pair of sky blue topaz sterling silver stud earrings, which can be easily recreated by choosing a matching pair of gemstones. Number six is a colourful gemstone necklace chain.
Harrods' Mother's Day jewellery gift ideas for 2014 include items such as chain necklaces, bracelets and stud earrings. Noteworthy products are a pair of Swarovski rhodium-plated, pearl drop earrings with pave-style glittering crystals above. A similar pair of earrings could be fashioned from a half-drilled matching pair of white pearls and a lot of small, clear gemstones such as white sapphire, diamond or topaz. There is also a Carat simulated diamond brilliant round tennis bracelet in 9 karat white gold and a Swarovski clear bezel-set crystal tennis bracelet. These could be recreated using a lot of natural gemstones such as white sapphire, zircon or topaz. Also by Carat are pear-cut simulated diamond studs in 9 karat yellow gold. A matching pair of white rainbow moonstone or white sapphires would make a similar pair of gemstone earrings. Alternatively, colourless stones could be substituted for coloured gems, such as a pair of pink sapphires, which can then be surrounded by smaller colourless stones for added effect.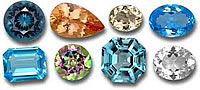 Loose Topaz Gemstones
Tiffany & Co have a range of Mother's Day jewellery, including blue gemstones such as blue diamond stud earrings, tanzanite stud earrings, an aquamarine pendant necklace and blue topaz cabochon earrings by French designer, Paloma Piccaso. One of Picasso's motifs is 18 karat gold with cabochon-cut coloured gemstones, such as amethyst and citrine. Her most colourful creation is a colourful beaded gemstone bracelet with a sterling silver clasp. This type of jewellery can be recreated by children, from spherical gemstone beads of varying colours, such as tiger's eye, lapis lazuli, jasper, onyx, turquoise and pearls.
Tiffany & Co silver jewellery by Italian designer, Elsa Peretti includes pink pearl drop earrings and a silver chain necklace studded with drilled pink pearls. This look can be recreated with drilled pearl gemstones in pairs or lots. Moreover, a pearl colour that will best suit an individual mother's skin tone can be chosen, and the sterling silver could be replaced by gold for those who prefer.
Some mothers are not jewellery fans, and may appreciate something a little different. Alternative homemade gemstone gifts include ornaments and accessories such as a photo frame (with a photo of children or grandchildren) decorated with birthstones.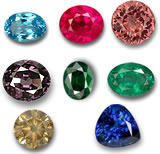 Transparent Gemstones
Eye-catching sun catchers can also be made from gemstone beads and hung near a window to catch the sunlight. For sun catchers, transparent or translucent gemstones would be the best option, since the light travels best through these. Another possibility is to make your own beaded gemstone eyeglass chain, purse charm, key chain, phone jewellery, bookmarks, fan pulls, zipper pulls, Christmas tree decorations or hair ornaments. These are great gift ideas suitable for both young and older mothers that can be hand-crafted with personal touches and love.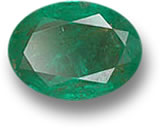 Emerald
This is a 1.13 carat oval faceted Columbian emerald gemstone. Emerald is the most precious stone of the beryl group and gets its beautiful vivid green colour from traces of chromium. An ideal colour is a medium toned slightly bluish green, with strong to vivid saturation. The most famous source for fine emeralds is Columbia, but emeralds are also mined in other places, such as Brazil, South Africa, Zimbabwe and Russia. Emeralds are most often cut in the emerald cut, which was designed especially for this gemstone. Emerald is the birthstone for May and official anniversary gemstone for the 20th and 35th year of marriage.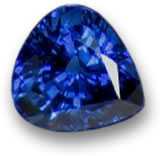 Ceylon Sapphire
This is a 1.53 carat natural Ceylon sapphire that has been certified by the Asian Institute of Gemological Sciences (AIGS). It is a pear facet shape with a beautiful deep blue colour and excellent clarity. Ceylon sapphires come from Sri Lanka, which has been one of the world's leading suppliers of fine blue sapphires for centuries. Sapphire is a gem quality variety of the mineral corundum, which is the second hardest substance on earth, after diamond. Gem-quality corundum is extremely rare and it is even more rare to find sapphire in such an intense shade of blue. This gemstone has an accompanying video so that its colour can be better seen. However, even the video cannot compare with seeing this shining Ceylon sapphire in real life.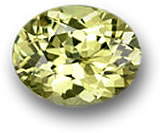 Mali Garnet
This is an oval faceted Mali garnet gemstone. Mali garnet is a hybrid variety of garnet, which is a mixture between grossular garnet and andradite garnet; the rarest garnet varieties. It is usually only around 5% andradite, so it is primarily composed of grossular garnet. Mali garnet, as the name suggests, comes from the West African country of Mali. It was discovered there in 1994. Mali garnet has very good hardness, excellent transparency, an attractive lustre and remarkable fire and dispersion. This means that it is a wonderful jewellery gemstone when faceted and exhibits a stunning sparkle. Additionally, Mali garnet is not treated or enhanced in any way.
Sotheby's New York achieved an astounding $6.1 million for a 15.23 carat fancy intense orangy-pink diamond in their New York sale at the end of April. The coloured diamond is a cushion-cut stone of VS2 clarity, which is set in a platinum ring. It was the focus of Sotheby's auction on April 29th. Also on sale was a 28.18 carat emerald-cut Kashmir sapphire that set a new record when it achieved $5.1 million.
International Jewellery London (IJL) will be offering a new award to jewellery industry entrepreneurs; Jewellery Entrepreneur of the Year Award. Entrepreneurial entrants will be allowed to present their ideas in the style of "Dragon's Den", to a panel of industry experts in the "Lion's Lair" at IJL 2014. The exciting event will be chaired by John Ayton MBE, co-founder of Links of London and the deadline for entrants is 30th May 2014.
The world's most expensive jadeite necklace set a new record when it sold for $27.44 million at Sotheby's in Hong Kong. The necklace was once owned by Woolworth heiress, Barbara Hutton and is made of spherical imperial jadeite beads, with a ruby and diamond clasp. The necklace was part of Sotheby's Hong Kong Magnificent Jewels and Jadeite Auction on 6th April 2014. The same auction also achieved world record sales of a $9.9 million ruby and diamond necklace known as "the Red Emperor", and a 29.62 carat ruby and diamond ring that reached over $7.3 million.
Rolex announced the appointment of a new CEO on April 15th. Jean-Frederic Dufour will be replacing Gian Riccardo Marini. The date of the appointment has not yet been announced. This will be the third change of CEO for Rolex since 2008.
| | | | |
| --- | --- | --- | --- |
| Event Name | Location | Venue | Dates |
| International Fashion, Jewelry & Accessories Show (IFJAG) | New York | Affinia Manhattan, New York, USA | May 4 - 7, 2014 |
| International Jewellery + Watch, 2014 | Vietnam | Tan Binh Exhibition & Convention Centre, Ho Chi Minh City, Vietnam | May 8 - 11, 2014 |
| Vicenzaoro Spring 2014, International Gold and Jewellery Show | Italy | Fiera di Vicenza, 36100 Vicenza, Via dell'Oreficeria, Italy | May 10 - 13, 2014 |
| International Jewellery, Kobe (IJK) 2014 Exhibition | Japan | Kobe Convention Centre, Kobe, Japan | May 14 - 16, 2014 |
| China Changsha Mineral and Gem Show 2014 | China | Hunan International Convention & Exhibition Centre, Changsha, China | May 15 - 19, 2014 |
| Jewelry Salon Krasnodar 2014 | Russia | Krasnodar Expo Center, Russia | May 15 - 18, 2014 |
| West Coast Gem and Mineral Show 2014 | USA | Holiday Inn, Orange County Airport, Santa Ana, California, USA | May 16 - 18, 2014 |
| Brno Minerals, Fossils, Jewels and Natural Products Exhibition 2014 | Czech Republic | Brno Exhibition Centre, Vystaviste, 1,647 00 Brno, Czech Republic | May 24 - 25, 2014 |
| Luxury At JCK 2014 | USA | Four Seasons Hotel, Las Vegas, USA | May 27 - June 2, 2014 |
| New Russian Style, 2014 | Russia | All Russia Exhibition Centre (WC), Moscow, Russia | May 28 - June 1, 2014 |
Every month we answer questions of general interest from our customers. Please feel free to send your questions or suggestions to our support team at Help@GemSelect.com!
| | |
| --- | --- |
| Q: | Hi, I've been looking at emeralds and am wondering why there aren't any emeralds of IF or VVS clarity available on your website? Also I would like an untreated emerald. |
| A: | Well, first of all eye-clean emeralds are extremely rare. Inclusions are a widely accepted characteristic of emeralds that help to identify them as natural gemstones. Most emeralds have internal inclusions, fractures and tiny surface breaking cracks, which are more tolerated in emeralds than in most other coloured gemstones. As a standard procedure, most emeralds are oiled directly at the mine with a colourless oil that has a similar refractive index to emerald. Emeralds with a clarity grading of VS are generally accepted as desirable. The official GIA emerald clarity grading system is a useful point of reference to help consumers to find an emerald with good clarity. The GIA use "F" to grade fissures, which are small cracks. If a stone is classified as F1 or F2 in clarity, it will have a few tiny fissures and F3 or F4 would indicate the presence of more fissures. "C" refers to cavities and a C1 or C2 stone would have less cavities than a C3 or C4 stone. |
| Q: | I have an emerald that I bought many years ago, and now it seems lighter on the surface, do you have any idea why this is? |
| A: | Yes, as explained above, due to their natural inclusions, most emeralds are oiled directly at the source. Since this oiling is stable but not permanent, an emerald's inclusions may appear more visible after some time. The lightening in colour that you have noticed is most likely a result of the emerald drying out and an indication that it needs to be "re-oiled". This can be done by a professional who will first give the emerald an acid bath to remove any impurities and then will heat the emerald in a hydraulic cylinder with cedar oil. After this, your emerald will be restored to its former glory. |
We hope you found our topics interesting. Please feel free to send us your questions, comments or feedback!
Happy gem hunting,
Your friends at GemSelect