GemSelect Newsletter - February 2011
In our newsletter this month:
The distinction between precious gems (sapphire, ruby, emerald and diamond) and semi-precious stones (everything else) is no longer used in the professional gemstone trade. Certain gems were once classified as "precious" based on their rarity, value, color and superior gemological characteristics. But these days a number of rare "semi-precious" stones such as alexandrite, demantoid garnet, tsavorite garnet and tanzanite can be just as valuable as ruby, sapphire and emerald.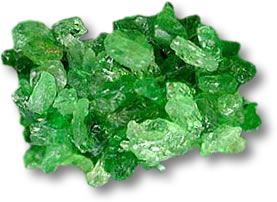 Tsavorite Garnet Rough Stone
Some of these gems are not only rare and expensive, but they also have superior gemological characteristics. Tsavorite, the chrome green garnet from East Africa, is a case in point. While not quite as hard as emerald, tsavorite is more durable and is suitable for daily wear rings. Where most emerald has to be treated with oil or resin to fill internal fractures, tsavorite garnet is always untreated. Tsavorite is also notable for its high refractive index, giving it considerably more brilliance than emerald.
Tsavorite is a variety of grossularite garnet that is colored by chromium or vanadium. It is a fairly recent discovery. The first samples were found in 1967 by Campbell Bridges, a Scottish geologist who was doing consulting work for Tiffany & Co. on the original tanzanite deposit in Tanzania. The first tsavorite deposits across the border in Kenya were discovered by Bridges in 1970. The name 'tsavorite' was proposed by Henry Platt, who was president of Tiffany & Co. at the time. The name is derived from Tsavo National Park at the border of Tanzania and Kenya, near Mount Kilamanjaro.
Large tsavorite gems are extremely rare; much rarer than large emeralds. Miners estimate that 85% of the mined material yields gems weighing under 1 carat, while only 10% yields stones over one carat and a mere 2.5% yields stones weighing over two carats. While it is one of our favorite gems, we rarely find clean specimens in the top chrome-green color at a reasonable price.
We're glad to report that we have just found an excellent lot of tsavorite from Tanzania, with more than 40 quality stones over 1 carat. All of these exhibit the intense chrome green that is the hallmark of fine tsavorite. You'll find a good selection of ovals and pears, with most stones between and 1 and 1.25 carats. Most pieces are eye clean, with a few loupe clean stones as well. This is the best lot of tsavorite garnet we've found in many months and prices are very reasonable given the quality and rarity of these gems.
Each month we feature a rare and unusual gem from our inventory. This month we would like to show you an exceptionally large blue star sapphire from Thailand:

Large Star Sapphire from Thailand
Very large star sapphires with distinct stars are becoming increasingly difficult to find. This 62.28 carat, deep blue star sapphire from Thailand displays a clear star in any type of lighting. Measuring 22.81 by 18.15 mm, this star sapphire is an impressive stone that would make an outstanding pendant.
Every month we answer questions of general interest from our customers. Please feel free to send your questions or suggestions to our support team at help@gemselect.com!
Question
I recently purchased some gemstones from you and they were smaller than I expected. Can you help me? RD, USA.
Answer
This is a lesson that all gemstone buyers have to learn - weight is not the same as size in colored gems! Different gemstone materials have different density or specific gravity, so some gems weighing 1 carat will appear larger than others. For example, a 1 carat sapphire is substantially smaller than a 1 carat diamond because sapphire is a denser material. We have a
weight comparison chart
that compares the weight of different gemstones in calibrated sizes. We always give the exact dimensions of our gemstones in millimeters on our website, so don't forget to check the size as well as the weight. Indeed as a general rule we recommend buying colored gems by size rather than weight.
Question
I have a question regarding your Paraiba tourmaline gems, which are not from Brazil but from Mozambique. Why do you call it Paraiba tourmaline? I believe there has been a huge fuss about that matter and it was concluded that it's NOT right to call it a Paraiba when it's not from the Paraiba region in Brazil ... am I mistaken? MM, Denmark.
Answer
In 2006, an industry organization called the LMHC (Laboratory Manual Harmonization Committee) agreed that "paraiba" should refer to a variety of tourmaline, and not indicate a geographic origin. The term
paraiba tourmaline
may now refer to gems found in Brazil, Nigeria and Mozambique and wherever new deposits of copper-bearing tourmaline with a neon blue or greenish color may be found in the future. LMHC members include leading gemological labs around the world, including GIA and Gubelin.
This ruling is consistent with past usage in the gemstone world. For example,
spessartite garnet
is named after a region in Bavaria (the Spessart Forest), but all garnets with a certain set of gemological properties are now called spessartite, even if not from Germany. The same is true for other gems named after the place where they were first found, such as
labradorite
, hiddenite,
danburite
,
tsavorite garnet
and
goshenite
.
Keep up with our new arrivals before they hit the newsletter by joining our thousands of fans and followers on our social networking pages. We love interacting with our customers - you can visit us on Tumblr, LinkedIn, Twitter, Facebook or Pinterest!
To ensure you can receive our emails, please be sure to add help@gemselect.com to your list of safe contacts, or you add us into your email address book! Please feel free to contact us with any questions, comments and queries! We respond to each and every email we receive.
Happy Gem Hunting!
Your friends at GemSelect