GemSelect Newsletter - December 2010
In our newsletter this month:
Each year at this time we share our advice on the best buys in colored gemstones, based on the interesting gems we've collected over the past year. This year we were very active buyers - in fact we doubled the size of our inventory to more than 30,000 gemstones. Our selection has never been better, and we've acquired quite a number of special gems in the process.

Unheated Sapphire Gem
This year has been notable especially for the supply of unheated sapphire coming from Tanzania. We have been buying as many clean specimens as we can find and we've built up an inventory of nearly 800 pieces. This is one of the best selections of unheated sapphire you'll find anywhere, and includes many stones over 1.5 carats. We are offering most of the larger stones with test reports from the AIGS gemological lab certifying them as unheated. These rare unheated sapphires make very special gifts.
We've also been lucky to find some fine specimens of several other rare gems this year, including demantoid garnet, alexandrite, color-change garnet and ammolite.
Also new this year are a number of gems in the hard-to-find Asscher cut. The Asscher cut is square with dramatically cut corners, forming an octagonal outline. It is cut with a deep pavilion, resulting in a unique geometrical windmill-like pattern when viewed from the table. We have created these Asscher cuts in our own workshop and have produced a number of pieces in topaz, amethyst, tourmaline and smoky quartz.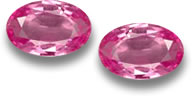 Matching Pair of Gems
Another best buy is a matched pair of gems. Well-matched pairs are actually quite difficult to find, but we buy our gems in volume and our staff spend a lot of time going through parcels of gems to put together matched pairs. We've made it one of our specialities and we currently have nearly 3,000 matched pairs in stock, with 75 different gem types represented.
If you are buying for a gem collector, we have an impressive collection of rare and unusual varieties, many of them at very affordable prices. The list is long, but includes wonderful cabochons like larimar, charoite, sugilite, chrysocolla and hemimorphite. Some of the rare gems are ones that we've acquired for the first time this year, such as smithsonite, idocrase, pietersite and variscite.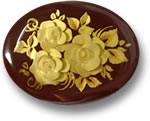 Carved Amber
Finally, we have a fascinating collection of more than 850 gemstone carvings that make unique gifts. They range from impressively large carvings in ruby-zoisite - some over 1,000 carats - to engraved cameos in amber.
At this time of year we take special care to make sure our customers receive their orders promptly and reliably. We've shipped gemstones to more than 100 countries and we've become experts at international shipping. So here's some advice to take the worry out of ordering an important gift online.
We strongly recommend FedEx for all holiday gifts. It's fast - around 3 to 4 days to nearly anywhere in the world - and you can track your shipment online so you'll know exactly when it will be delivered. Just make sure your give us your correct street address (no post office boxes, please) and provide a telephone number in case of any problems with delivery.
Please note that loose gemstones may be imported duty-free to the USA, but FedEx shipments to other countries may be subject to tax or duty. If you're unsure about the situation in your country, please email us and we'll advise you about the quickest and cheapest shipment method.
FedEx ships nearly everywhere in the world, but there are a few countries where we must use registered mail instead of FedEx, due to local customs regulations. Please see our shipping info page for the details.
Finally, please note that if you order a gemstone certificate we will need about 4 working days to get your gem tested at the lab. But we'll always tell you exactly when your order will ship.
Each month we feature a rare and unusual gem from our inventory. This month we feature a stunning large tanzanite from Tanzania:

Large Pear-Shaped Tanzanite
The best colors in tanzanite are typically found only in the larger stones. This 11.73-carat pear is a vivid bluish-violet with excellent brilliance and luster. We've graded this gem VVS-VS, indicating that it is better than eye clean. The pear shape is ideal for a pendant, and the stone is cut in a calibrated size of 18 x 13 mm.
Every month we answer questions of general interest from our customers. Please feel free to send your questions or suggestions to our support team at help@gemselect.com!
Question
Can you pack my purchases in gem boxes? They make much nicer gifts that way. Please let me know the cost, thanks. JA, UK.
Answer
Yes, we have small plastic gem boxes in stock and would be glad to pack your gems in boxes for you. Just send us an email with your request at the time you place your order, and we'll take care of it. There is no charge for this service.
Question
When I make an order on your website, how long does it take before you ship it to me? How will I know when it is shipped? BP, Denmark.
Answer
All of our gems are in stock and we ship orders as soon as they are received, 6 days a week. You will receive an order confirmation email following receipt of your order, and a shipping confirmation email with the tracking number for your shipment as soon as your order ships.
Keep up with our new arrivals before they hit the newsletter by joining our thousands of fans and followers on our social networking pages. We love interacting with our customers - you can visit us on Tumblr, LinkedIn, Twitter, Facebook or Pinterest!
To ensure you can receive our emails, please be sure to add help@gemselect.com to your list of safe contacts, or you add us into your email address book! Please feel free to contact us with any questions, comments and queries! We respond to each and every email we receive.
Happy Gem Hunting!
Your friends at GemSelect