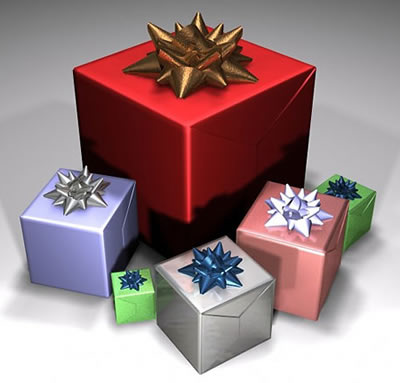 December 2009
In our newsletter this month:
• Gift Ideas for the Holiday Season
• Shipping Advice for December
• Rare and Unusual Gems
• Customer Questions
Gift Ideas for the Holiday Season
At this time of the year we receive many requests for gift suggestions. So we've collected some of our best ideas for this month's newsletter, based on the interesting gems we've collected in 2009.
Among the finer gems, sapphire continues to offer the best value. This has been an excellent year for sapphire, with new material from Tanzania and a steady flow of fine stones from Sri Lanka and Madagascar. Blue sapphire is always a classic, and we've acquired some top grade blue sapphires that are perfect for a very special gift. Also noteworthy is our large collection of unheated sapphires from Tanzania. These rare, untreated sapphires are surprisingly affordable in small sizes.
Another nice gift idea is a matched pair of gems. Well-matched pairs are actually quite difficult to find, but we buy our gems in volume and our staff spend a lot of time going through parcels of gems to put together matched pairs. We've made it one of our specialities and we currently have more than 2,000 matched pairs in stock, with 65 different gem types represented. Click the link to see all our matched pairs.
If you're looking for an inexpensive gift, but would like something out of the ordinary or in a large size, browse through our huge selection of cabochon gems. These are popular with collectors and make nice mementoes as well as stunning jewelry. We currently have 80 different types of cabochons in our stock, including many unusual varieties.
In the past year we've added many rare gem types to our inventory, so if you're buying for a gem collector, consider exotic varieties like clinohumite, seraphinite, idocrase, sphalerite, axinite, scapolite and chrysocolla. We have also a large collection of gem carvings, including some new cameos.
Finally, we are often asked what are the best value fine gemstones today. Everything seems to get more expensive every year, but in our opinion the finest affordable gems are sapphire, tourmaline, spinel, spessartite garnet and zircon.
At this time of year we take special care to make sure our customers receive their orders promptly and reliably. We've shipped gemstones to more than 90 countries and we've become experts at international shipping. So here's some advice to take the worry out of ordering an important gift online.
We strongly recommend FedEx for all holiday gifts. It's fast - around 3 to 4 days to almost anywhere in the world - and you can track your shipment online so you'll know exactly when it will be delivered. It is remarkably reliable as well. Just make sure your give us your correct street address (no post office boxes, please) and provide a telephone number in case of any problems with delivery.
Please note that loose gemstones may be imported duty-free to the USA, but FedEx shipments to other countries may be subject to tax or duty. If you're unsure about the situation in your country, please email us and we'll advise you about the quickest and cheapest shipment method.
FedEx ships to almost every country in the world, but there are a few countries for which we must use registered mail instead of FedEx, due to local customs regulations. Please see our shipping info page for the details.
Finally, please note that if you order a gemstone certificate we will need a few extra days to get your gem tested at the lab. But we'll always tell you exactly when your order will ship.
Rare and Unusual Gems
Each month we feature a rare and unusual gem from our inventory. This month we feature an unusual multicolor tourmaline from Nigeria.

Recently we've seen some very fine watermelon tourmaline from Nigeria. Usually these are cut in long octagons to highlight the green and pink color zoning. But occasionally a piece will be cut in an oval facet to mix rather than separate the colors. The result can be stunning, as in this 13 carat Portuguese cut stone; mixing the pink and green results in a swirl of pink, orange, gold and green. The deep Portuguese cut maximizes the color saturation. This exceptionally clean stone is graded IF (internally flawless).
Customer Questions
Every month we answer questions of general interest from our customers. Please feel free to send your questions to help@gemselect.com.
| | |
| --- | --- |
| Q: | You had a lovely padparadscha sapphire in your October newsletter, but it was sold before I had chance to buy it. Do you expect to get more of these? Thanks so much. CB, UK. |
| A: | True padparadscha sapphires are very rare, but we do have a small number of new pieces that we have just added to our website, including several matching pairs that are very rarely seen. All of our padparadscha sapphires have been certified by the AIGS gemological lab, and you can view the certificates online. Click on the link to view our padparadscha sapphires. |
| Q: | I have inherited a small gem collection but I am not sure what kinds of stones they are. If I send photos to you can you tell me how much they are worth? RD, USA. |
| A: | Before trying to determine the value of a gemstone you need to know whether it's a natural gemstone and if so, whether it has been treated or enhanced. Unfortunately it is impossible for even the best gemologist to do that on the basis of photographs. Gem identification requires testing physical properties of the gemstone, such as refractive index and specific gravity. We recommend you have your stones tested at a gemological laboratory. But please note that gem labs do not generally do financial appraisals; for that you'll need to seek the advice of a professional appraiser. |
A final note - if you send us email, please be assured that we answer all our email very promptly, 6 days a week. But we sometimes have problems with spam filters on the receiving end, so please adjust the settings on your email account so you can receive mail from help@gemselect.com.

Happy gem hunting,

Your friends at GemSelect
First Published: December-01-2009
Last Updated: October-21-2014
© 2005-2017 GemSelect.com all rights reserved.
Reproduction (text or graphics) without the express written consent of GemSelect.com (SETT Company Ltd.) is strictly prohibited.