GemSelect Newsletter - April 2007
In our newsletter this month:
It is rare when we can attribute the creation of a new market to one person. But in the case of gemstones, an American named George Frederick Kunz can fairly be said to have created the modern market for colored stones.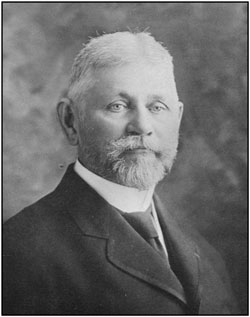 George Frederick Kunz
Kunz was a classic American success story. Born in New York City in 1856, the child of hard working European immigrants, he developed a passion for minerals at an early age. One would think that a childhood spent in urban New York and New Jersey would present few opportunities for an aspiring rockhound. But Kunz took full advantage of the many excavations for new roads, tunnels and railways in the fast growing metropolis. One of his notable finds was a 9 pound, 10 ounce garnet crystal that was discovered by a worker digging a sewer on West 35th Street in Manhattan. Kunz eventually donated the huge garnet to the American Museum of Natural History where it remains today.
Largely self-educated, Kunz was a fanatical collector. By the age of 20 he had amassed a collection of 4,000 carefully labelled specimens weighing over 2 tons in total, which he sold to the University of Minnesota for $400. He was enormously proud and wrote that the sale "officially placed me among recognized mineralogists".
In last month's newsletter we told the story of how the 20-year old Kunz introduced Tiffany & Co. to the wonders of tourmaline. Kunz went on to become a supplier of semi-precious stones to Tiffany & Co. and, at the age of 23, was offered the job of Gem Expert for the firm, a position he was to hold for 53 years. He used his influential position wisely.
Kunz was extremely successful in finding gem sources for the jewelry made by Tiffany. However, he influenced the market in more important ways. He became a prolific author of journal articles and important books on gemstones, such as Gems and Precious Stones of North America (1890) and The Curious Lore of Precious Stones (1913). He was one of the founders of the New York Mineralogical Club and was made Honorary Curator of Precious Stones at the American Museum of Natural History.
Kunz was always a collector. With his position at Tiffany & Co., he began to collect for some of the great names of his time, including a research collection assembled for Thomas Edison, and the famous J.P. Morgan-Tiffany collection of gems, which went to the American Museum of Natural History. He was also instrumental in the purchase of the famous Bement mineral collection for the American Museum by J.P. Morgan. These collections are widely regarded as the greatest gemstone collections in the world.
In 1903, the pink gem variety of spodumene was named kunzite in his honor. He died in New York on June 29, 1932. His enduring legacy will certainly include his work for Tiffany & Co. and the fine books he wrote on gemstones. Additionally, the remarkable gemstone collections that he gathered, including many of the rarest specimens in the world, will be displayed in museums for many generations to come.
Our buyers are in the market every day finding the best value gems for our customers. Here are some of the excellent buys we've made in the last few weeks:
Lemon Quartz Cabochons from Brazil: Another interesting addition to our extensive range of cabochons. These fine lemon quartz pieces come in a variety of shapes, with sizes from 6 to 47 carats.
Sky Blue Topaz Pairs from Brazil: Some lovely matching topaz pairs in a rich saturated sky blue. Perfectly sized for earrings at 4-5 carats per pair in a brilliant round Portuguese cut.
Amethyst from Uruguay: We have been finding some extremely nice amethyst in the market recently and we've bought some terrific pieces. We've added a broad range of sizes and shapes to our stock, including some impressive pieces weighing over 10 carats and some unusual cabochons.
Teal Blue Apatite from Madagascar: This is a very unique color of apatite that we haven't seen before. These highly saturated teal blue pieces come from Madagascar, and are fairly rare. Like most apatite, these have some slight inclusions. Mainly ovals and rounds, in sizes up to about 3.8 carats, with most of the stock between 1 and 2 carats.
Agate from Brazil: We've just made some substantial additions to our stock of this fascinating mineral. We've added pieces in a wide range of colors, including amber, orange, green, blue, brown and a variety of interesting banded and multicolored pieces. All sorts of shapes and sizes are available, with some larger pieces weighing over 80 carats.
Rutile Quartz from Brazil: We've added some new stock to our fascinating rutile quartz gems. Our first lot of these sold out very quickly. In case you missed it, rutile quartz is transparent quartz with inclusions of golden rutile crystals in delicate patterns. Every piece is quite unique. A favorite with collectors.
Color Change Garnet from Madagascar: We've just acquired a small amount of some superb color change garnet gems. These are greenish-blue with a dramatic color change to violet. You'll find the color change in these more intense than the more expensive alexandrite. We have only a small number of pieces, in sizes ranging from about 0.5 to 1.1 carats. The photos show the color change quite well, but when viewed, these gems are even more impressive than the photos.
Tsavorite Garnet from Kenya: We've added more tsavorite to our small inventory of this rare green garnet. We've found some larger pieces as well, with a number of gems weighing over 2.5 carats. The color on these is excellent, ranging from a mid-green to a dark forest green. Like most tsavorite, these have some slight inclusions, but their brilliance is undiminished.
Lavender Chalcedony from Brazil: It's been quite a while since we found some chalcedony with interesting color, so we were very pleased to find these fine lavender specimens this week. Weighing about 15 to 80 carats, these cabochons are unique and inexpensive. A nice addition to any gem collection.
Blue Spinel from Tanzania: Blue spinel is rare and unusual and we hardly ever find it. We've just bought a small number of pieces in oval and pear shapes and weighing from about 0.85 to 2.1 carats. We've also bought some lovely bluish violet spinel.
Emerald Cabochons from Colombia: Just in! Some extremely nice emerald cabochons from Colombia. There are good-sized pieces, from about 2.5 to 5 carats, with one super large specimen weighing over 13 carats! Very good color with some transparency. Like all natural emeralds, these have some inclusions.
Fire Opal from Mexico: Fire opal, a yellow to orange opal from Mexico, has become extremely popular. We've acquired some new stock in sunny yellow, mainly in smaller sizes, weighing about 1.5 to 3 carats.
Fluorite from Namibia: We buy fluorite from time to time, but we've never found such a wide range of colors as in this lot. These are really marvelous pieces, in green, blue-green and violet, with a few extraordinary multicolored pieces, all in an interesting concave cut. If you're a fluorite collector or are just interested in looking at a very unique mineral, please check these out.
Apatite from Madagascar: We've just made a great buy on a new stock of apatite with the intense Paraiba-like blue-green that has become so popular. It has excellent color and we paid a great price on these that we can pass on to our customers. Our last lot sold out quickly.
Red Spinel from Burma: We are great fans of fine red spinel and we buy it whenever we can find it. We've just added some first-rate pieces in red, orange-red and pink-red. If you're a red spinel lover, please have a look at these.
Cornflower Blue Sapphire from Ceylon: If you've been looking for some lighter colored blue sapphire, you'll love these new pieces just in from Sri Lanka. They are mainly ovals and pears with a few marquises, in sizes from about 0.5 to 1.8 carats. These are very nice sapphire gems at prices that are still affordable.
Each month our staff members select some of their favorite gemstones from our inventory. This month they've selected some unusual violet pieces from our recent acquisitions. Click on the photos to go to the product page for the item.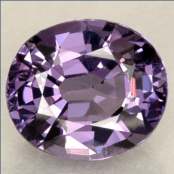 Tanzanian Spinel
Most of the spinel we see comes from the famous mines in Burma, but recently we were lucky to find some Tanzanian spinel in some rare colors, including this lovely violet piece. For brilliance and fire, we think these are the equal of the Burmese spinel, but the blue and violet colors are very unique.
9.8ct VVS-VS Fluorite from Namibia
Fluorite is famous for its wide range of colors. But green fluorite is by far the most common, and many of the more exotic colors are hard to find. Even rarer are multicolored specimens like the one shown here, which shows flashes of green on top of violet. This piece, in an interesting trillion concave cut, is nicely sized for a pendant.
15.72ct Amethyst from Uruguay
We always keep a large inventory of amethyst, but we rarely find exceptional amethyst cabochons like these. They are a stunning dark-violet, have good color consistency, considerable transparency, and are very clean for cabochons. At 15 carats this would make some very interesting jewelry.
Each month we focus on one of the lesser-known gemstones. This month's featured stone is lapis lazuli.

Lapis Lazuli
Lapis lazuli has been used for more than 6,000 years for jewelry and ornamental objects. Its name is from "lapis", the Latin word for stone, and "azul", the Arabic word for blue. Lapis lazuli is made up of 25 to 40 percent lazurite, plus several minerals (sodalite, hauyne, calcite and pyrite) that influence color and its distribution. Based on that varying composition, lapis lazuli is considered a rock, not a mineral.
Its unique deep (lazur) blue color has never lost its attraction. It places lapis lazuli next to its fabulous sky-blue cousin, turquoise. An affordable stone for its carat weight, it is popular as a cabochon for rings and bracelets and an all-time classic stone with a silver setting.
Lapis lazuli is fairly soft, (5 to 6 on the Mohs scale) and sensitive to strong pressure, high temperatures and household chemicals.
For cultures around the world and through history, lapis lazuli has been a stone of truth and friendship. The blue stone is reputed to promote harmony in relationships.
For more information see our lapis lazuli info page.
Every month we answer questions of general interest from our customers. Please feel free to send your questions or suggestions to our support team at help@gemselect.com!
Question
Your prices seem to be lower than other internet sellers. How do you do it? Are all your stones natural? AW, Hong Kong.
Answer
All of the gemstones we sell at GemSelect are natural products of the earth, though some gems are treated by industry-accepted methods. There are several reasons why we can sell at our prices. First, we're located in the most important trading center for colored gemstones in the world, so prices are lower here. Secondly, we buy in volume and we cut many of our stones ourselves. Thirdly, we only sell on the Internet, direct to customers. Last but not least, we are value buyers - we look for the best gems we can find at the best prices.
Question
What countries do you ship to? Can you ship gemstones to Russia? Do you include all the documents necessary for the customs authorities? Thank you. SR, Russian Federation.
Answer
We can ship to almost anywhere in the world, and at last count we had shipped orders to customers in more than 70 countries. All of our orders are very carefully packed to protect the gems while in transit, and we include a full and accurate invoice. We are always glad to share our experience shipping to the far-flung corners of the world. Just ask us and we'll tell you the fastest, most reliable and most cost-effective way to get your order to you.
Keep up with our new arrivals before they hit the newsletter by joining our thousands of fans and followers on our social networking pages. We love interacting with our customers - you can visit us on Tumblr, LinkedIn, Twitter, Facebook or Pinterest!
To ensure you can receive our emails, please be sure to add help@gemselect.com to your list of safe contacts, or you add us into your email address book! Please feel free to contact us with any questions, comments and queries! We respond to each and every email we receive.
Happy Gem Hunting!
Your friends at GemSelect