GemSelect July 2015 Newsletter - Jewels for July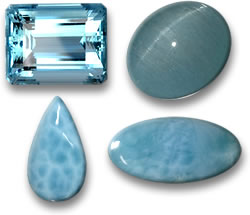 Aquamarine and Larimar Gems
In the heat of the summer, blue is always a nice cooling color that brings to mind a refreshing pool of water, the ocean or a nice cool drink. One of the coolest blues in trend for summer 2015 is aquamarine. This color can be greyish, blue-green or pure blue. When it comes to the beryl gemstone known as aquamarine, the more saturated the color, the higher the value. However, many people prefer the lighter shades of aquamarine gems, which have an icy, watery color. For those who like gemstone cabochons, there is also cat's eye aquamarine, which due to its translucency, appears a little more mysterious.
Another cabochon gem in a cool color is Larimar. This is a gem-quality variety of pectolite that is only found in the Dominican Republic. Larimar can be white, pale blue, greenish-blue or medium sky blue. Larimar often has interesting white marbling along with a sky blue body color, however, the preferred color for Larimar is the purest blue with the least amount of white. Some say that for colored gemstones, the three "C's" are "color, color and color", and this seems true when it comes to most valued blue gems. Larimar is a true cool customer, since it is known to be photosensitive, which means it can fade after prolonged exposure to strong sunlight and heat.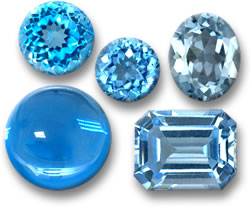 Blue Topaz Gems
One of the most popular blue gems is blue topaz. This is available in a light shade known as "sky blue", medium "Swiss blue" or darker "London blue". These beautiful blue gems are available in large sizes at affordable prices, which makes them among the all time best selling gems. Blue topaz gems tend to be quite vivid blue colors, which makes them attractive. Topaz has very good hardess and is a versatile jewelry gemstone. One important thing to remember, however, is that like diamond, topaz has perfect cleavage. This means that it can be split by the force of a single blow, so it is important to take care when working with topaz and when wearing it daily in rings. Blue topaz can often be found in matching pairs, which makes it ideal for jewelry suites and earrings.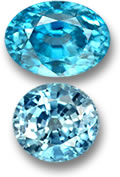 Blue Zircon
Another vivid blue gem is brilliant blue zircon. Although zircon is available in several colors, blue is the most popular. Blue zircon ranges in color from pale to extremely vivid. It can also have a greenish tint when viewed from certain angles. Since zircon has such high brilliance, it has been sold as a diamond substitute in the past. However, zircon should not be confused with the lab-created artificial diamond substitute, cubic zirconia (CZ). The brittle nature of zircon means that it should be treated with care, otherwise, it can wear along facet edges if worn everyday in unprotected settings, such as prongs. When zircon is worn in protective settings, such as bezels, it is extremely durable.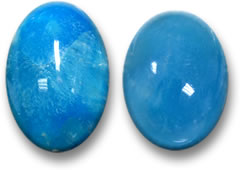 Hemimorphite Cabochons
A uniqely blue and rare cabochon gemstone is hemimorphite, a gem that is closely related to rare smithsonite. Hemimorphite is composed of zinc silicate and can be blue, green or white, and transparent to opaque. Blue hemimorphite is a vivid blue that is reminiscent of a deep-blue Mediterranean sky. This gem would look ideal with crisp, white summer clothing. Hemimorphite has piezoelectric and pyroelectric properties, which means that mechanical stress and temperature change can generate an electrical charge. These properties can help to correctly identify hemimorphite. Hemimorphite has a similar hardness to turquoise, so is best worn in protected settings.
Turquoise Cabochons
For those who like cabochon jewelry, but prefer a slightly more subtle color, turquoise is an excellent choice of summer gemstone which has always been popular for jewelry. This year it has been seen on the red carpet in statement pieces, such as bib necklaces. Turquoise has been treasured for centuries and can therefore be considered a timeless classic choice of jewelry gemstone. As with many other gems, pure uniformly colored, sky blue turquoise is the most valuable. But some like the interesting dark veined inclusions that may be considered to contribute to the character of turquoise. Turquoise can also occur in green, which provides a departure from the usual hue. While turquoise is the perfect summer gemstone, it is sensitive to extreme heat, which can cause color deterioration. To ensure that your turquoise gems remain beautiful, keep them away from household chemicals.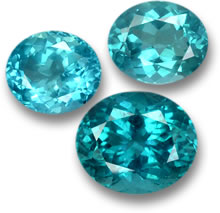 Blue Apatite Gems
A blue gem that has become more popular recently is apatite. Apatite is a rare gemstone that occurs in many colors. Some of the most sought-after colors are "Paraiba-like" blue-green and deeper colored teal. Some blue apatite can appear similar to blue topaz. In fact, apatite shares similarities with several gemstones, which resulted in its somewhat unfair name; "apatite" comes from a Greek word meaning "cheat". Apatite is a beautiful stone in its own right, though apatite jewelry should be properly cared for, since the Mohs hardness score of apatite is only 5 and it is sensitive to acid and heat.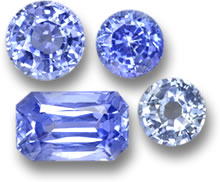 Light-Blue Sapphire Gems
Our last cool blue summer gem is the timeless classic, blue sapphire. The word, "sapphire" comes from a Persian word for "blue". While the highly saturated blue sapphires, known as Kashmir and Ceylon sapphire are the best known and most valuable, other blue sapphires are also interesting and worth a look. Blue sapphire can be pale or dark, and can have a greenish or violet tint. Our pale blue cushion-cut sapphires and sapphire briolettes are beautiful stones with great brilliance. Also, pale blue sapphire gem lots with hints of violet are stunning when set closely together in jewelry. With regard to jewelry, sapphires are one of the hardest and most durable gemstones.
The above are by all means not the only blue gemstones available, there are many more choices in both faceted gems and cabochons, such as iolite, lapis lazuli, blue spinel, sodalite, tanzanite and many more. As with other products of nature, the infinite variety of gemstones is awesome. If a particular shade of blue is required, an appropriate natural gemstone is likely to be available.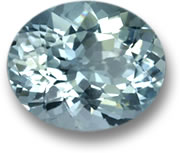 Oval Aquamarine Gem
To be fully appreciated, the video of this aquamarine gemstone should be seen, or even better, it should be viewed with your own eyes. This light-blue oval aquamarine gem sparkles with flashes of green and blue as it turns in the light. We have some new 2-7 carat aquamarine gems from India that show great brilliance and are excellent value for their size and clarity grading. Aquamarine is an excellent jewelry gemstone, due to its great hardness. Also, some of these pale blue gems are matching calibrated sizes; perfect for earrings. Since these are one of the most popular gems, they may not be around for long.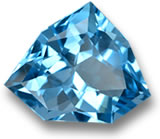 Fancy-Shaped, Faceted Blue Topaz Gem
Blue topaz is an excellent blue gemstone, suitable for any jewelry. In fact, blue topaz is one of the top-selling gemstones. It is an extremely affordable gem, with good brilliance and available in large sizes, making it an excellent choice for large statement rings or pendants. We have recently acquired some interesting and unique shaped blue topaz gems that are worth considering. It should be noted that like diamond, topaz possesses perfect cleavage, so care should be taken not to expose it to hard knocks, which could cause it to split. Most blue topaz gems have great clarity with an attractive vitreous luster.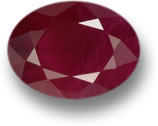 Deep-Red Oval Burma Ruby
Ruby is the birthstone for July, and we have some stunning red hot rubies that weigh over 2 carats, and are calibrated sizes with a deep, blood-red color. Ruby is one of the classic "precious" jewelry gemstones which is highly valued for its color, especially when it exhibits a deep red hue and silky shine like the gemstone on the left. Like sapphire, at 9 on the Mohs scale, ruby is an extremely hard and durable gemstone that is perfect for any jewelry design. Also on our inventory are more affordable round diamond-cut and baguette-shaped red ruby lots.
Gemfields' recent auction in Singapore achieved a total of $29.3 million for rough rubies. A rare pair of rough untreated rubies weighing a total of 45 carats were reportedly bought by a Thai-based company for an undisclosed price. The matching pair were mined at Gemfields' Montepuez Mine in Mozambique. The average price-per-carat for rough rubies was $617, which is lower than was expected.
Graff Diamonds' most recent acquisition is a 132-carat fancy intense yellow diamond, called "The Golden Empress". The diamond is a cushion-cut, golden yellow diamond and serves as an impressive centerpiece to a yellow diamond necklace, which contains around 31 other cushion-cut yellow diamonds. The Golden Empress was cut from a 299-carat rough diamond from the Letseng Mine in Lesotho. The rough yellow diamond also yielded eight smaller gems, the largest of which weighs 21.34 carats.
Every month we answer questions of general interest from our customers. Please feel free to send your questions or suggestions to our support team at help@gemselect.com!
Question
Hi, I recently bought some white gems and colored gems from your excellent site and I notice that my round white gems seem to sparkle a lot more than my colored gems with different shapes, could you explain?
Answer
This is a great question that puzzles even experienced gem buyers. Gemstones can be cut to maximize 'sparkle' (
brilliance and fire
) or color (and sometimes both). Lighter colored gems are usually cut to maximize their brilliance, whereas darker colored gems are cut to show off their color. A darker gem has the ability to show just as much sparkle as the lighter counterpart, but because it is dark, there is simply less visibility.
The round brilliant cut is a shape and style developed to show off the brilliance of white diamond, so it is given to other
white gemstones
to maximize their brilliance. This may explain why your rounds sparkle more than other shapes. The other shapes may have a different faceting style and deeper color as well, which could also affect the brilliance. In addition to this, each and every gem is different like no two snowflakes are alike.
Question
What is the difference between dichroism and pleochroism? Can you see it with the naked eye?
Answer
Dichroism is an
optical phenomenon
whereby a change of color may be seen in one gemstone when it is viewed at a different angle. This means, for example, that a gem may appear to be blue or violet depending on which way you look at it. Pleochroism means that three colors may be seen. Many gems with dichroism or pleochroism are cut to maximize a single color. For example, the intense blue of sapphire and tanzanite is preferred over the violet hue, so these gems are cut to show the blue and minimize the secondary hue. Sometimes in small gemstones it is difficult to see the color change with the naked eye, and in large gemstones it is more obvious. A rare gemstone that is known for its pronounced pleochroism is andalusite. Rather than cutting to reduce pleochroism, andalusite is cut so that the mix of colors can be seen.
We always welcome your questions, comments and feedback! For those who are interested in attending some gem and jewelry events, please see the details below.
Venue
New Munich Trade Fair Centre, Munich, Germany
Event Name
Pawn Expo 2015
Venue
The Mirage, Las Vegas, NV, USA
Event Name
Tokyo Fashion Goods Trade Show
Venue
Tokyo Metropolitan Industrial Trade Center, Taito Kan., 2-6-5 Hanahawado, Taito-ku, Tokyo, Japan
Venue
Embassy Suites, Livonia, MI, USA
Venue
Oregon Convention Center, Portland, OR, USA
Event Name
Oklahoma City Summer Gem, Jewelry, & Bead Show
Venue
Oklahoma State Fairgrounds, Oklahoma City, OK, USA
Event Name
Jewelry Fair Korea 2015
Venue
COEX Exhibition Center, 159 Samsung-dong, Kangnam-gu, Seoul 135-731, South Korea
Event Name
InterJeweller 2015
Location
Russian Federation
Venue
Hotel Zhemchuzhina, Sochi, Russian Federation
Event Name
Luxury Privé New York
Venue
Waldorf Astoria, New York, New York USA
Keep up with our new arrivals before they hit the newsletter by joining our thousands of fans and followers on our social networking pages. We love interacting with our customers - you can visit us on Tumblr, LinkedIn, Twitter, Facebook or Pinterest!
To ensure you can receive our emails, please be sure to add help@gemselect.com to your list of safe contacts, or you add us into your email address book! Please feel free to contact us with any questions, comments and queries! We respond to each and every email we receive.
Happy Gem Hunting!
Your friends at GemSelect